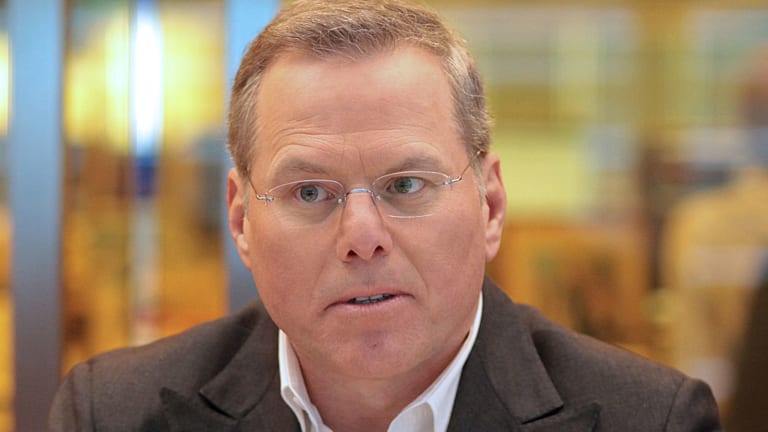 Discovery CEO on Scripps: We Could Create a Terminal Value Tunnel That Makes Us a Big Winner
Discovery Communications views acquiring Scripps Networks Interactive for $11.9 billion as a hedge against the shrinking universe of pay-TV.
It's a risk but Discovery Communications Inc. (DISCA) - Get Discovery, Inc. Class A Report is going to take it.
After weeks of takeover speculation, Discovery said Monday, July 31, it has reached agreement with Scripps Networks Interactive Inc. (SNI) to buy the owner of HGTV, DIY Network and Food Network for $90 a share. The cash-and-stock deal is valued at $11.9 billion including $2.7 billion in assumed debt. The companies anticipated they would close the transaction early next year.
For owners of Scripps Networks, the deal is a windfall. The takeout price -- $63 in cash and $27 in Class C Discovery stock -- is 34% higher than where shares of the cable network company closed on July 18, just before news of the talks sent the stock soaring. By agreeing to be acquired, Scripps CEO Ken Lowe secures a deal that caps more than 30 years at the once modest TV station and newspaper company that grew a set of cable networks that was spun out in 2007.
Those networks, led by HGTV and Food Channel provide marketers with a direct connection to women viewers.
For Discovery, the deal is a bet by CEO David Zaslav, who will lead the merged company, and its largest shareholder, billionaire media mogul John Malone, that the two companies' portfolio of nonfiction networks will have greater leverage when bargaining with pay-TV operators, both cable and online.
On an investor call Monday, Zaslav said the merger provides the combined company with more ways to reach consumers and marketers apart from the traditional route of cable and satellite TV, a business model he called "the terminal value tunnel." The merged company will own nearly 20% share of ad-supported pay-TV audiences in the U.S as well as five of the top-rated pay-TV networks for women, accounting for more than 20% of women watching prime-time pay-TV in the U.S.
"As we combine these brands around the world, we could come out of this terminal value tunnel as one of the big winners in media," Zaslav said. "We love the idea that we're strong, with more optionality in less than two years after closing."
By acquiring Scripps, Discovery will have access to networks with higher operating income, providing a source of revenue to develop so-called direct-to-consumer offerings both in the U.S. and in Europe, where Discovery's Eurosport is a major attraction and Malone's cable networks cover much of the continent.
Scripps shareholders will own roughly 20% of Discovery's fully diluted common stock, and Discovery shareholders will own the remainder. The transaction already has received the blessings of Malone; Advance/Newhouse, another large owner of Discovery shares; and members of the Scripps family, the companies said.
Investors, though, appeared to be skeptical of the deal following the announcement, sending shares of the Silver Spring, Md., company down a formidable 8.3% to $24.57 on Monday. Scripps shares, meanwhile, were up 0.5% to $87.33, still below the takeout price but well above where they was trading just two weeks ago.
"While the deal is very large and offers a myriad of cross-promotional opportunities, the deal also reeks of "playing defense" in a world where there is simply too much capacity in the cable networks sub-space," David Miller, media analyst at Loop Capital said in an investor note. "The deal is also accretive, but only mildly, and not enough to get us overly excited."
For Malone, who holds roughly one-fifth of Discovery's voting stock, the deal marks yet another roll-up of niche networks with passionate audiences, companies that own neither sports broadcast networks. Malone has long referred to such companies as "free radicals."
Zaslav said he sees many opportunities to create direct-to-consumer packages that combine nonsports networks at a price point closer to what Netflix Inc.
(NFLX) - Get Netflix, Inc. (NFLX) Report
offers its monthly consumers, $8 to $12. In speaking with investors Monday, he said Discovery would look to create standalone online platforms for Eurosport, potentially combining packages with networks from Discovery and Scripps.
"We'll evaluate all of them," Zaslav said, explaining that it's likely Discovery will pare its portfolio of 12 networks, considering that 85% of cable TV fees and advertising revenue comes from six or seven of them. "At least for us, we have started to move towards looking at our 12 channels in the U.S. and seeing that a strong eight may be the direction that the industry is going."
The deal announcement, though, comes as both companies encounter more challenging conditions for their respective businesses. In the U.S., Scripps is finding it harder to increase advertising revenue. For the second quarter, Scripps revenue fell short of analyst expectations as ad sales increased 2.2%, compared with a consensus forecast for a 5% increase.
As a result, Scripps lowered its revenue guidance for 2017. Rather than expecting a 6% increase, the company said it projected a 4% gain. For Discovery, ratings at its core channels have been under pressure, a major reason that revenue for the second quarter fell short of analyst projections.
The question for an enlarged Discovery is whether it will be able to demand increased carriage fees from pay-TV operators already under pressure to offer consumers smaller bundles of channels at lower price points. The total universe of pay-TV subscribers dropped by roughly 1 million during the second quarter, according to Wall Street analysts.
In the short term, much will depend on the cost savings that Discovery can squeeze out of Scripps. The companies said they expected to save roughly $350 million as a result of the merger. The deal is expected to be accretive to adjusted earnings and free cash flow within the first year after closing, they said.
Both Zaslav and Lowe acknowledged that they may be forced to close or combine some networks, potentially moving them to online-only rather than in a cable package. The trend toward fewer channels is illustrated in the offerings from online pay-TV services such as YouTube TV from Alphabet Inc. (GOOGL) - Get Alphabet Inc. Class A Report and Sling TV from Dish Network Corp. (DISH) - Get DISH Network Corporation Class A Report . Each offer baseline packages of 50 or fewer channels.
Similarly, Lowe said some of Scripps' networks might be moved to online platforms rather than cable and that new digital video sites could be created as a result of the merger.
He added that Discovery's presence in Europe would allow networks such as HGTV, DIY and Food Network to expand internationally much faster than had Scripps tried to do it alone. Lowe credited Discovery with investing internationally more than 10 years ago, whereas Scripps made its acquisition in Poland five years ago.
"Some of these brands have a very passionate base that may not necessarily for the future be a linear platform, or a platform that we have necessarily though of in the past," said Lowe, who will join the new company's board of directors. "If you look at our opportunities on a global basis, this merger with Discovery just accelerates it in light years."
Discovery gets the bulk of its U.S. viewership from four networks: the flagship Discovery Channel, TLC, Investigation Discovery and Animal Planet. It also owns smaller networks Science, Velocity and OWN, the Oprah Winfrey channel, which is only distributed in the U.S. In recent years, Discovery has made a big bet on Europe, especially in sports, where it acquired cable network Eurosport, which has won the right to broadcast many of the upcoming Olympic Games across the continent.
Scripps also owns Travel Channel, Cooking Channel and Great American Country. It, too, has looked overseas in recent years for higher growth, acquiring Poland's TVN network and securing a joint venture with BBC Worldwide for UKTV, an independent commercial channel. Scripps also owns Asian Food Channel, a pan-regional TV food network in Asia, and lifestyle channel Fine Living Network.
Alphabet is a holding in Jim Cramer's Action Alerts PLUS Charitable Trust Portfolio. Want to be alerted before Cramer and the AAP team buy or sell GOOGL? Learn more now.
More of What's Trending on TheStreet:
This Is Why President Trump Can Now Blame Apple for Atlantic's Reporting