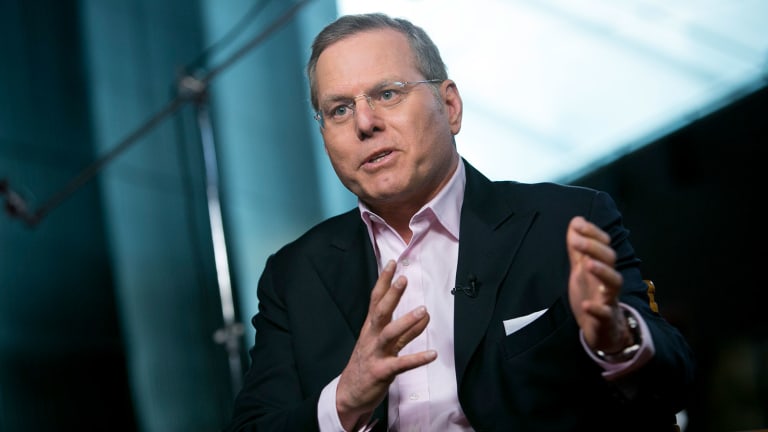 Why Discovery Acquiring Scripps Networks Is Essential for Both Companies
The owner of Discovery Channel, TLC and Animal Planet needs to get larger to survive in a shrinking universe for pay-TV.
As the universe for pay-TV gets smaller, network owners need to get bigger.
On that note, both Discovery Communications Inc. (DISCA) - Get Discovery, Inc. Class A Report and Viacom Inc. (VIAB) - Get Viacom Inc. Class B Report have begun takeover conversations with Scripps Networks Interactive Inc. (SNI) , according to reports from The Wall Street Journal and Reuters. In both cases, talks are in early stages and a deal may not be sealed, the publications said, citing people familiar with the situation.
Scripps shares on Wednesday, July 19, had spiked 14.8% by early afternoon on the reports, while Discovery shares had gained nearly 4%. Viacom stock ticked up 2.1%, and AMC Networks Inc. (AMCX) - Get AMC Networks Inc. Class A Report , a similar company with popular, nonsports TV networks, had added 4.5%.
Scripps, Discovery and Viacom all declined to comment on the reports.
Either transaction would make sense, for one overriding reason: TV network owners that don't also own a broadcast station or sports need size to sustain their positions on pay-TV platforms.
Ironically, as pay-TV providers such as AT&T Inc. (T) - Get AT&T Inc. Report , Charter Communications Inc. (CHTR) - Get Charter Communications, Inc. Class A Report and Dish Network Corp. (DISH) - Get DISH Network Corporation Class A Report  lose subscribers at faster and faster rates, they have more leverage when negotiating fees with TV network owners. While the traditional pay-TV bundle contains more than 80 channels, most of the fees, and ratings, go to the owners of the four largest broadcast networks and a handful of sports networks, principally ESPN. In other words, about 10 networks.
Meanwhile, younger viewers are spending more time on video-on-demand platforms such as Netflix (NFLX) - Get Netflix, Inc. (NFLX) Report and Amazon (AMZN) - Get Amazon.com, Inc. Report as well as dozens of video-centric websites such as Facebook (FB) - Get Facebook, Inc. Class A Report .
That leaves nonfiction network owners particularly vulnerable. Viacom, for one, has steadily lost subscribers in recent years as ratings for MTV have plummeted. Discovery also has had its troubles, having had to cut back on the number of Discovery channels it licenses to pay-TV operators.
John Malone, the billionaire media mogul who owns a 28.7% stake in Discovery, has long been mindful of the need of network owners to diversify. After all, he led the pairing of Starz LLC with Lions Gate Entertainment Corp. (LGF.A) in June 2016 after a series of moves aimed to get the two companies to work together. 
Even a company as large as Time Warner Inc. (TWX) -- owner of TBS, TNT, CNN and HBO -- felt it necessary to merge with a broadband provider, AT&T, to maintain its high place within the global media business. Its proposed $85.4 billion merger is under review at the Department of Justice's antitrust division. 
Scripps has posted better ratings as its networks, including HGTV, the Cooking Channel, Food Network and Travel Channel, either require live viewing or remain popular with female viewers, a demographic prized by many marketers. By merging with Discovery, Scripps could continue to focus on women while Discovery, which took full control of cable TV channel Eurosport in 2015, concentrates on men. Scripps also has expanded internationally in recent years, buying Polish television network TVN in July 2015 for nearly $1.5 billion. 
That both Discovery and Viacom are pursuing Scripps also makes sense considering that it is comparatively small despite a market capitalization that jumped to $9.7 billion in the wake of merger talks.
To be sure, there are reasons that any of these combinations may not adequately address the secular decline of pay-TV subscribers that continues to dog the companies. Time Warner, of course, opted for a vertical merger, combining with a broadband provider, two years after chasing away its longtime entertainment rival, Twenty-First Century Fox Inc. (FOXA) - Get Fox Corporation Class A Report .
The increasing preference among pay operators to roll out "skinny bundles" is sure to lessen the leverage of a combined Discovery-Scripps, Barclays Capital Inc. media analyst Kannan Venkateshwar wrote on Wednesday. 
"It is tough to see how a combination of 16 major networks will have more negotiating leverage with distributors when both legacy and new distributors are focused on making the bundle smaller," he said. "Most of these products exclude both Discovery and Scripps, reinforcing the perception that these are less critical relative to other networks. In this environment, even if the combination does achieve some upfront cost synergies, there are likely to be revenue tradeoffs instead of synergies."
A possible tie-up between Scripps and either Discovery or Viacom comes as all three companies have begun talks in recent months about creating a so-called "entertainment package" whereby pay-TV operators could sell a tier of channels to viewers who don't want to subscribe to sports networks such as ESPN or Fox Sports 1, a channel owned by Rupert Murdoch's Fox. As the extraordinary rise of Netflix Inc. and even Hulu LLC and Amazon.com Inc.'s video channels have demonstrated, millions of people get along just fine without live sports. 
The entertainment package is a response in part to the decision of online pay-TV services such as Dish Network's (DISH) - Get DISH Network Corporation Class A Report Sling TV and Alphabet Inc.'s (GOOGL) - Get Alphabet Inc. Class A Report YouTube TV  to leave Discovery out of its offerings. YouTube TV also took a pass on Scripps and Viacom.
Viacom, which has led the charge for an entertainment package, is seven months into an ambitious turnaround led by new CEO Bob Bakish. After a decade of questionable moves and sagging morale, Viacom has replaced the heads of many of its networks and plans to rebrand its Spike TV network as the Paramount Channel in 2018.
For media industry observers, the biggest question may be why these kind of mergers have taken so long to happen considering the pressure on all of these companies to get larger. Cord-cutting in the second quarter reached its highest churn rate ever, underscoring the reality that today's younger viewers aren't subscribing to cable and satellite TV in anywhere near the same numbers as previous generations.
According to Wells Fargo Securities LLC, pay-TV providers led by Charter Communications, Comcast Corp. (CMCSA) - Get Comcast Corporation Class A Report  and Dish Network lost a net total of 1.28 million subscribers in the second quarter. That's an increase over the first quarter, when the net subscriber decline totaled 748,000. Wells Fargo media analyst Marci Ryvicker's tabulation is just a tad higher than a second-quarter analysis two weeks ago from UBS, which put the industry loss for the quarter at 1.2 million subscribers.
The second-quarter decline equates to a 2.5% annual drop in traditional subscribers and puts the industry on pace to lose 3.4% of its base in 2017 after enduring a 1.5% decline in 2016.
Watch More with TheStreet:
From Catalogs to Catastrophe: A Sears Timeline