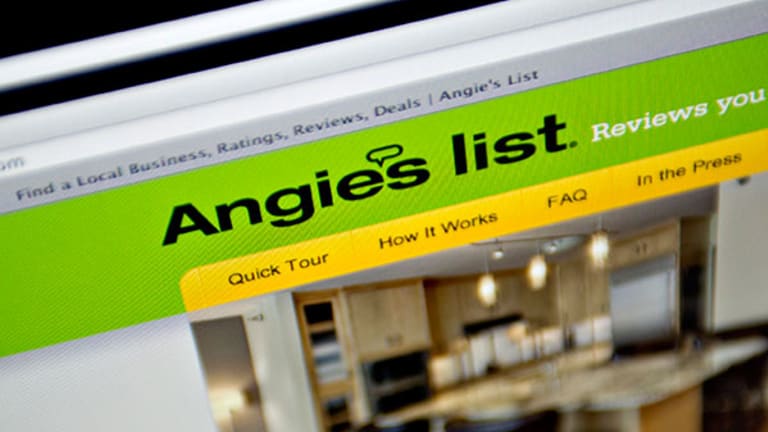 Diller's IAC Has No Interest in Angie's List
As the consumer review site implements a turnaround effort and sees more board restructuring, its M&A story is becoming more complicated, and a logical suitor professes disinterest.
As Angie's List (ANGI) - Get Angi Inc Class A Report continues to implement a turnaround effort, the consumer review site's M&A path is getting more complicated.
The Indianapolis company announced Friday that former Bankrate (RATE) CEO Thomas Evans had been elected chairman of the board. Evans replaces John Chuang, who resigned as chairman and director. Director Steven Kapner also resigned.
Just in March, Angie's reached a settlement with activist investor TCS Capital Management and added three dissident-backed directors to the board including TCS founder and President Eric Semler. TCS held 10.1% of Angie's common shares as of March 15, Securities and Exchange Commission filings show.
The reshuffle of the board -- as well as the reduction in directors to 10 from 11 -- will make a sale easier, Needham analyst Kerry Rice said.
"He was an obstacle to Angie's being acquired," Rice said of Chuang.
Still, M&A is increasingly looking like a waiting game at Angie's.
In November, the website operator essentially was put in play when it received an all-cash $8.75-per-share, or $512 million, offer from IAC/InterActiveCorp (IAC) - Get IAC/InteractiveCorp. Report . Angie's, which had been receiving pressure from TCS Capital to explore options including exploring a merger with IAC's HomeAdvisor, operator of a home improvement marketplace, rejected the proposal, saying the offer undervalued the company and that Angie's remained committed to executing on its so-called Profitable Growth Plan.
By the end of 2016, Angie's List CEO Scott Durchslag, a former Best Buy (BBY) - Get Best Buy Co., Inc. Report executive, will have been at the helm for about a year and will have to show proof the company has made progress on its strategic growth plan, Rice said. If there isn't evidence of traction, "all bets are off," he added.
"We got a quarter left," Rice said, explaining that Angie's still is working to address growth and stabilize business. "It's largely a wait and see."
HomeAdvisor still remains the most logical buyer of Angie's List, but an IAC spokeswoman said the company has no interest in making another offer.
For Barry Diller's IAC, though, combining Angie's List with HomeAdvisor would create an entity with revenue between $700 million and $800 million and a position as a leader in the home services market, Rice said.
"That's worth something -- to control the market," Rice said, noting that it wouldn't be totally surprising to see another prospective buyer come with another bid while also explaining that IAC typically doesn't overpay for its acquisitions.
At the same time, an offer between $10 and $15 per share for Angie's likely would be enough to get a transaction done, he said, acknowledging that such a proposal would be a bit of a risky move given that it's unclear to what extent Angie's strategic initiatives have panned out. Based on the 58.78 million outstanding shares, such a proposal would value Angie's at around $587.8 million to $881.7 million.
Its shares closed at $9.11 on Wednesday, up 2.7%. Shares remain down 2.6% in 2016.
Angie's has a strong brand name and organic traffic, which would be of value for IAC or any potential buyer, Rice said. Nevertheless, Angie's also is grappling with various components of its turnaround strategy.
In June, for example, it took down its paid membership paywall and instead opted to introducing free access to the site. This created a surge in new user registrations but also has yielded mixed results including a bumpy transition to a new tech platform.
Dropping the longstanding paywall is a massive change and created a risk to the business, said an industry source who asked for anonymity, adding that the board change suggests Angie's transition plans aren't going smoothly and that the company will look at M&A from a position of weakness compared with a year ago.
On the other hand, IAC likely is scoping out the market for acquisition opportunities and certainly has enough capital to seal moves on the M&A front, this person said.
An Angie's representative didn't return requests for comment Wednesday.
This article was originally published by The Deal, a sister publication of TheStreet that offers sophisticated insight and analysis on all types of deals, from inception to integration. Click here for a free trial.