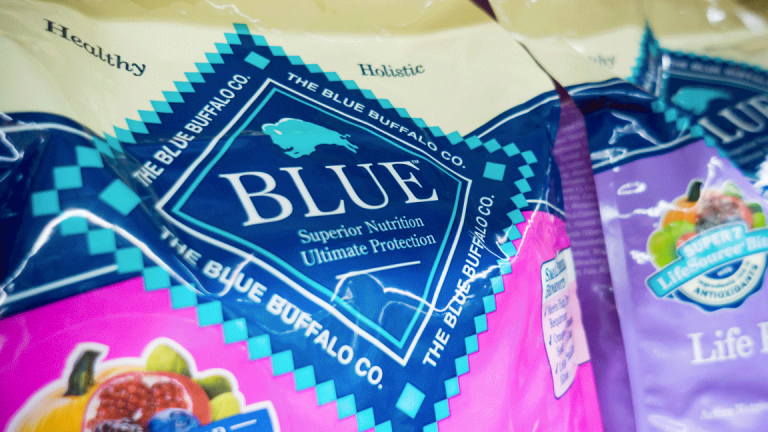 Publish date:
Did General Mills Pay Too Much for Organic Pet Food?
Analysts called the deal "surprising" and "pricey," but industry growth may justify the premium.
Analysts called the deal "surprising" and "pricey," but industry growth may justify the premium.
It's quite the feat to befuddle Wall Street, but General Mills Inc. (GIS) - Get Report pulled it off Friday, Feb. 23, when it announced an $8 billion deal to acquire Blue Buffalo Pet Products Inc. (BUFF) .
The zinger of a deal surprised analysts and insiders left and right because of its premium multiple: General Mills paid more than 26 times Blue Buffalo's earnings before interest, taxes, depreciation and amortization (Ebitda) of about $299 million.
"We find this transaction surprising," Stifel analyst Christopher Growe wrote in a note. "We approach it cautiously particularly given the premium multiple the company is paying, the likely EPS dilution and the potential integration challenges."
RBC Capital Markets' David Palmer also called the deal "surprising and pricey," while Jefferies' Akshay Jagdale said it "raises the stakes" for General Mills' new CEO, Jeff Harmening.
The hefty price tag will result in neutral earnings for General Mills — "something under 5 cents," according to CFO Don Mulligan — and accretive growth by 2020. The packaged foods giant will also reach more than four times debt-to-Ebitda ratio, and will hunker down a combination of cash and equity to complete the deal. This may be why shares for GIS dropped nearly 5% right after the deal was announced. As of Friday afternoon, it's trading at $52.88. Blue Buffalo's shares are surging 17% Friday afternoon, trading at $39.02. 
Typical food company deals, according to Growe, clock in at 17 times the Ebitda. Faster-growth acquisitions average closer to 20 times. Hershey Company's (HSY) - Get Report$1.6 billion acquisition of Amplify Snack Brands Inc. , for instance, had a premium multiple of 19. Campbell Soup Company's (CPB) - Get Report paid 17 times that of Snyder's-Lance Inc. (LNCE) with its price tag of $4.87 billion.
Others, nonetheless, have already judged that the deal a worthy splurge as the organic pet food industry grows.
"They're getting a giant strategic foothold into an extremely lucrative pet market and distribution chain. In five years, we're going to look back at this deal and it'll seem cheap," said Eric Schiffer, the CEO of private equity firm Patriarch Organization, which focuses on tech and consumer holdings.
One doesn't have to look further than current consumer trends, he told TheStreet. The size of the pet industry has more than quadrupled in the past two decades, according to the American Pet Products Association. In 2017, consumers were estimated to have spent more than $69 billion. Of that amount, nearly half, or $30 billion, will be for food. In 2016, about $28 billion was spent on pet food — that's 7% growth year over year.
And while the entire pet food space is growing, the organic-food category within it is expanding even more rapidly, as consumers favor healthier eating for themselves and their pets.
"People are spoiling their pets more," Schiffer said. That's not to mention, millennials — the biggest patrons of healthy eating — now dominate pet ownership, according to the American Veterinary Medical Foundation. Millennials comprise 35% of pet owners in America, compared to Baby Boomers' 32%.
It's no surprise that millennials are also more "humanizing" of their pets, meaning that they are more likely to pay for pet service, buy designer items, hold parties and buy gifts for their pets, the APPA found.
"The possibility of double-digit growth is what they're [General Mills] paying for," said James Angel, a financial markets professor at the Georgetown University McDonough School of Business and a longtime shareholder of General Mills. "To me, it seems like a really good fit."