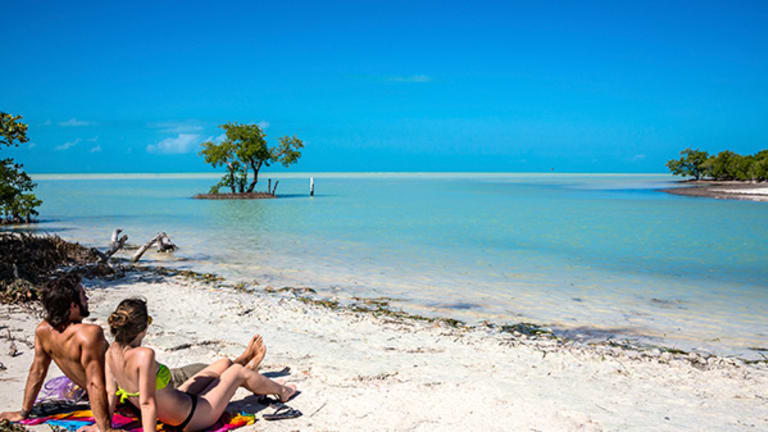 Diamond Resorts Seen Likely to Take Itself Private
Unable to raise its share price due to short sellers and branded competitors, the timeshare company is likely to go private, according to a source close to the company.
With heavy insider ownership and a low trading multiple, Diamond Resorts International (DRII) is a likely candidate to go private as a result of a previously announced strategic review, according to a source familiar with the company.
"The insiders own a tremendous amount of stock, they've LBO'ed it before, [and] the company generates a tremendous amount of cash flow," said the source, noting that about 25% of Diamond's stock is owned by management while private equity firms Guggenheim Capital and Wellington Management Company own 13.18% and 13.99% stakes, respectively, as of Dec. 31.
"I have no knowledge as to whether or not Guggenheim or Wellington would want to roll in, but 50% of the stock is either in direct insider hands or in institutions that invested directly," the source noted, adding that Guggenheim participated in the original Diamond leveraged buyout and has a seat on Diamond's board.
The timeshare company announced Feb. 24 that it had retained Centerview Partners to explore strategic alternatives.
The source believes Diamond could be taken private for $32 to $35 per share, for a total deal value of $2.23 billion to $2.44 billion, pointing to Starwood Hotels and Resorts Worldwide's (HOT) $1.5 billion sale of its timeshare business, Vistana Signature Experiences, to Diamond rival Interval Leisure Group (IILG) following a planned spinoff. Diamond shares closed at $21.22 Wednesday.
"Starwood's deal to sell their business to Interval was 10 times Ebitda," the source said. "I think the comps could support even a $45 price, but they probably don't need to pay that. When the stock was $25 they termed their shares 'materially undervalued' so it's hard to fathom them going that high."
The source anticipates the review will be completed in 60 to 70 days.
Analysts agreed that Diamond is an unlikely strategic target and is more likely a target for private equity due to its low trading multiple.
"Diamond trades at a very low multiple relative to its trading history and relative to where peers currently trade," said Whitney Stevenson of JMP Securities. "There's the opportunity to pick up a high-growth timeshare company at a very inexpensive multiple... but I find it difficult to see them as a strategic target by another public timeshare company."
Las Vegas-based Diamond trades at about four times its 2016 Ebitda, Stevenson said, while Marriott Vacations Worldwide (VAC) - Get Marriott Vacations Worldwide Corporation Report , a former unit of Marriott International (MAR) - Get Marriott International, Inc. (MAR) Report , trades around 5.3.
Gregg Klein of Imperial Capital argued that of all the potential strategic buyers, Wyndham Worldwide (WYN) would make the most sense as a likely buyer, but "Wyndham said in their last earnings call that they're not interested" in timeshare acquisitions.

"Management at Diamond has a lot of private equity background" and could successfully scout out a private equity buyer, Klein said. Diamond President and CEO David Palmer, for example, has previously worked at Onyx Capital Ventures, Vision Capital Partners and Velocity Capital. The source anticipates the review will be completed in 60 to 70 days.
Another factor leading to Diamond's low trading multiple is the result of short activity.
"Diamond specifically has seen a significant increase in its short interest to approximately 30% of the outstanding float," longtime shareholders FrontFour Capital Group and ADW Capital Partners wrote in an Oct. 21 letter to management. The firms believe the shorts' concerns are "unfounded." Nonetheless, "despite commendable execution by the management team, the Company's shares trade at their lowest valuation since being public."
The two funds urged Diamond to explore strategic alternatives, including a possible sale.
Another reason Diamond trades lower than its competitors is that it lacks their name branding.
"One key difference between Diamond and the other public timeshare companies is that they do not have lodging brands behind them," Stevenson noted. For example, Hilton has "the ability to source potential buyer leads" through its Hilton Honors loyalty program.
However, the timeshare industry as a whole has struggled as e-booking companies such as Expedia (EXPE) - Get Expedia Group, Inc. Report and Priceline (PCLN) make travel cheaper and easier. The same week Diamond announced that it would explore its options, Hilton Worldwide (HLT) - Get Hilton Worldwide Holdings Inc (HLT) Reportunveiled plans to split into three companies by spinning off its time share unit and most of its real estate.
Hilton's timeshare spinoff will add a fifth publicly traded timeshare company to the market, alongside Diamond, Wyndham Worldwide, Interval Leisure and Marriott Vacations, which was spun off from Marriott International in 2011.
"Timeshares face structural issues with all the online vacation rentals, which lowers the incentive to own a timeshares when you can go online and book any destination," said Dan Wasiolek of Morningstar. "We think it's a more challenging business than asset-light hotels."
Diamond was formed in 2007 as a vehicle for Stephen J. Cloobeck's $700 million leveraged buyout of publicly traded Sunterra Corp. Cloobeck currently serves as chairman of Diamond, which went public on July 19, 2013.
Along with Marriott, Starwood and now Hilton, hotel chain Hyatt Hotels (H) - Get Hyatt Hotels Corporation Class A Report also recently divested its timeshare business, selling it to Interval for $225 million on May 7, 2014.
Diamond, Centerview, Guggenheim and Wellington did not respond to requests for comment.