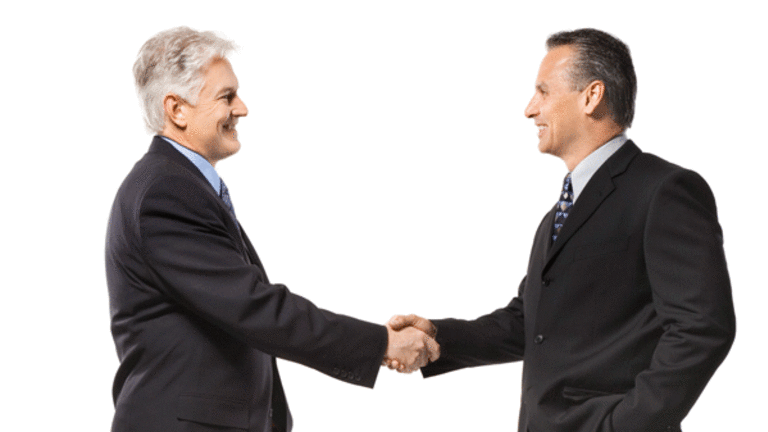 Diamond Foods 'White Knight' Could Be a Stalking Horse
Diamond Foods shareholders remain skeptical even after Oaktree Capital's $225 million investment.
NEW YORK (
) --
Diamond Foods
(DMND)
investors may think the company has found a much needed white knight, but there's still very good reason to be cautious on the maker of Emerald Nuts, Pop Secret and Kettle Chips.
In fact, as Diamond shareholders question whether a $225 million investment by
Oaktree Capital
(OAK) - Get Oaktree Capital Group, LLC Class A Report
is a savior for the company, they should view the private equity firm's investment as a skeptical bet on the likelihood of a resurgence by the San Francisco-based company. 
 
 
 
 
 

Oaktree's Diamond Foods play isn't a green light on shares of the embattled food company

Oaktree Capital is the world's largest manager of distressed debt -- investments that often are worked out in bankruptcy courts -- and the terms of the balance sheet fix and appeasement of creditors should remind Diamond Foods shareholders that Oaktree is well hedged if financial problems persist.
An accounting scandal recently led to the suspension of Diamond top executives, put it on the wrong side of creditors and killed a $2.35 billion acquisition of
Pringles
. Diamond earnings and financial restatements, meanwhile, have been delayed as a result of the accounting issues until June.
Oaktree Capital will give Diamond Foods a $225 million loan at a 12% annual interest rate that expires in 2020 and can be paid-in-kind during its first two years. Oaktree will also get warrants to buy roughly 4.4 million Diamond Foods shares, or 16.4% of the company's outstanding shares, at a price of $10 a share.
As a result of the investment, Diamond Foods lenders, led by
Bank of America
(BAC) - Get Bank of America Corp Report
, will lower the company's total bank debt and provide covenant relief until October 2013. When the transaction closes, which is expected by the end of May, Oaktree managing director Matthew Wilson and advisor Dean Hollis will join Diamond Foods board.
"The investment of new capital by Oaktree, in conjunction with the amended bank credit facility, will provide Diamond with sufficient liquidity to meet its anticipated near-term and long-term funding need," said Diamond Foods in a release.
If Diamond Foods financial position has been shored up compared with recent months when it had to negotiate a forbearance from its creditors, Oaktree's investment still is not a green light for stock investors.
The interest rate of Diamond's new loan is roughly double the rate it paid creditors after reaching a forbearance in March. As part of that agreement, Diamond Foods suspended its dividend and began work with a newly hired financial advisor Dean Bradley Osborne to raise capital and put its balance sheet within debt covenants. Wednesday's deal signals a success on that front.
Oaktree's warrants and preferred shares should be cause for alarm for stock investors. In addition to loaning $225 million at 12%, the warrants to buy Diamond Foods stock at $10 are priced at less than half of its current stock value. Already Diamond Foods shares are off over 30% year-to-date and fell over 5% to $21.79 in afternoon trading on Wednesday.
If Diamond Foods meets undisclosed 2012 walnut supply and profitability targets in the next six months, Oaktree has agreed to tear up its low-priced warrants and instead exchange $75 million in notes for convertible preferred stock at a conversion price of $20.75, 3.5% below Diamond Foods shares on April 25, when the deal was first struck.
Oaktree's creditor status and board positions also have the firm in a familiar distressed investor position were Diamond's finances to deteriorate.
Spokespeople for Diamond Foods couldn't immediately be reached by phone or email for comment.
Diamond Foods troubles began in February when an audit committee review of its finances found significant accounting inconsistencies for its walnut supplies, forcing the immediate suspension of its CEO Michael Mendes and CFO Steven Neil. The review also cast doubt on the accuracy of two years' worth of the company's earnings statements, and delayed all quarterly earnings filings since the second quarter of 2011. Nasdaq has given Diamond Foods until mid-June to file those earnings, putting off a prospective delisting from the stock exchange.
Those accounting restatements, and a significant debt burden taken to buy Pringles from
Procter & Gamble
(PG) - Get Procter & Gamble Company Report
put Diamond in breach of debt covenants with its lenders, leading to lender forbearance agreements and Wednesday's Oaktree investment.
In February, Procter & Gamble pulled the deal and subsequently sold Pringles to
Kellogg
(K) - Get Kellogg Company Report
.
Earlier in May, Diamond Foods hired Brian Driscoll, a former Hostess Brands and Kraft Foods executive as its new CEO.
Oaktree, which completed
in April, is the world's largest distressed debt investor with over $75 billion in assets under management.
Oaktree's $225 million loan may be more like a distressed investment than a vote of confidence in Diamond's shares. A loan rate that implies a high risk of default, and the fact that Diamond Foods "white knight" has been provided with the right to buy stock at an over 50% discount to already battered share prices -- or in the event that Diamond is able to shore up its finances in coming quarters, access to shares at below market values -- suggests a better deal for the distressed debt giant than distressed Diamond Foods shareholders.
After a brief surge, Diamond shares fell 5% on news of Oaktree's investment on twice their average daily volume of shares.
For more on Diamond Foods, see how it
. For more on snacks investments, see
to benefit from lower corn prices and
food and beverage stocks.
--
Written by Antoine Gara in New York