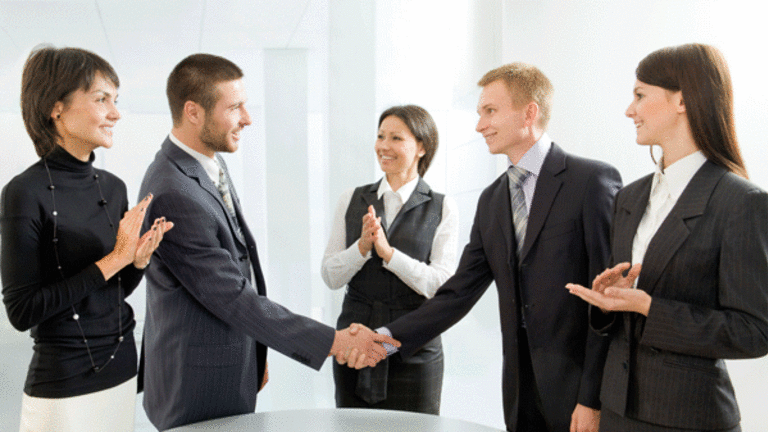 Diamond Foods Choked on Pringles
The fate of Diamond Foods is jeopardized by its Pringles deal, even if it crumbles.
Updated to include added information on Procter & Gamble's Pringles sale starting on page two.
NEW YORK (
) --
Diamond Foods
(DMND)
"transformational" plan to buy
Procter & Gamble's
(PG) - Get Procter & Gamble Company Report
Pringles business may turn out to be the deal that transformed the company into a financial mess.
Diamond Foods may have pushed too hard on its finances to cut the $2.35 billion acquisition - paid in stock and the assumption of debt in April of last year -- in a deal that may not even close as a result of accounting issues. While Pringles would more than double Diamond Foods sales, it also doubled the company's liabilities and may have put the company in a tight position with its lenders.
Diamond Foods may have choked on Pringles
After Wednesday audit committee findings revealed two years of accounting misstatements that prompted
the replacement of top executives
, Diamond Foods is poised to breach covenants on loans needed to finance the deal, putting the company's fate in the hands of its bank creditors, instead of shareholders.
"The company as you knew it is not in control of its own destiny anymore," says Louis Meyer a special situations analyst with brokerage Oscar Gruss & Sons.
Instead, Diamond Foods' lenders led by
Bank of America
(BAC) - Get Bank of America Corp Report
and a syndicate of six other banks including
JPMorgan
(JPM) - Get JPMorgan Chase & Co. Report
,
Barclays
(BCS) - Get Barclays Plc Report
,
KeyBank
and
Suntrust Bank
(STI) - Get SunTrust Banks, Inc. Report
now are a key determinant of the company's fate, as a
Securities and Exchange Commission
investigation and a reported
Department of Justice
inquiry into the company's supplier payments continue. Meanwhile, shareholders reeling from a near 37% Thursday stock drop, may hold little sway.
Audit committee findings that the company didn't properly account for
Emerald Nuts
walnuts supplier payments may force the company to recognize an additional $40 million in 2011 expense, pushing down earnings to a point where leverage covenants on loans are breached. According to those loans, a covenant breach can trigger a default, making Diamond Foods' fate contingent on negotiations with its bankers, as is often the case with stressed debtors.
Meanwhile, shareholders may have little say in what the company does as it tries to survive accountancy issues and sudden management change. Currently,
Wellington Management
,
Fidelity Management
and
TIAA Cref
are the company's biggest shareholders with 10%-plus stakes, as of the most recent
Securities and Exchange Commission
filings compiled by
Bloomberg
.
Del Mar Asset Management
and
BAMCO
, both were the large sellers of the company stock recently, according to the SEC filings.
While Meyer says that it's unlikely the lenders would want to put Diamond Foods into bankruptcy, they will "extract higher compensation for the increased risk that is now associated with lending to this company." Those lenders are also going to look at how to maximize the value of Diamond Foods, whether that means selling assets or continuing the business with a revamped management and operating model. In a November note, Meyer valued Diamond Foods at $21 a share if accounting issues that surfaced last fall were confirmed and shareholder suits moved forward. In December, Bank of America chose not to trigger a covenant breach after Diamond Foods delayed its earnings statements, subject to a filing by March 2012.
Negotiations between Diamond Foods and its lenders have begun in relation to Wednesdays findings, according to a source familiar with the situation.
On top of accounting issues, Diamond Foods announced on Wednesday that Chief Executive Michael Mendes and Chief Financial Officer Steven Neil were placed on administrative leave.
Former Del Monte Foods CEO Rick Wolford was named acting president and CEO of Diamond Foods and Alix Partners Managing Director Michael Murphy was named acting financial chief
. Turnaround specialist Alix Partners has experience leading companies through management change, improvement of financial controls and bankruptcy. Diamond Foods shares slid nearly 37% to $23.13 after the announcement.
Consensus estimates of analysts polled by
Bloomberg
give Diamond Foods a price target of $38.50 a share. In a Thursday note, D.A. Davidson analyst Timothy Ramey said the sum of the company's parts is worth $44 a share.
Casting aside accountancy issues that make it so two years of Diamond Foods' previous financial statements "should no longer be relied upon," according to its audit committee, the company's peril may be a result of taking on too much risk with its Pringles acquisition.
When Diamond Foods cut the deal, it simultaneously arranged a $500 million term loan and a $550 million revolving credit facility with its bankers for the purpose of funding the deal, and the $850 million in debt that came with it. Those loans were subject to covenants that forced the company to have financial leverage below 4.5 times earnings before interest taxes depreciation and amortization (EBITDA) into 2013 and less thereafter. After entering the deal, Diamond Foods said it expected leverage of less than 4 times EBITDA. However, in reaction to Wednesday's findings, analysts said that the accounting change would cause a breach of the covenant, signaling a thin margin for error.
Rapid Ratings Chief Executive James Gellert said that Diamond Foods warranted a high risk rating in 2010, while it's yet-to-be restated 2011 earnings signaled medium risk. Moody's, Fitch and Standard & Poor's do not have ratings for Diamond Foods since the company hasn't issued corporate bonds.
"We assume that the net $40 million EBITDA reduction caused a violation of DMND's debt covenants," wrote Jefferies analyst Thilo Wrede in a Thursday note. Wrede calculates that the company's interest rate could more than double to 10% following a debt restructuring, shaving off 91 cents in earnings per share. In addition, Wrede estimates that Diamond Foods is liable for $66 million in fees to Procter & Gamble if the Pringles acquisition fails, which he considers likely. He gives Diamond Foods a share valuation of $27 with a "hold" rating.
After hearing of the audit committee findings, Procter & Gamble spokesman Paul Fox said Wednesday of the
Pringles deal with Diamond Foods
: "We're keeping all options open." The company said that it had received inquries about its Pringles business by interested parties, without adding further detail.
Bloomberg
reports that Procter & Gamble will seek a termination of the deal, citing unnamed sources.
"If cancelled, options for the Pringles business are to sell Pringles to another buyer or continue to operate the profitable business. Either option is likely be a better deal for shareholders than the DMND transaction, given DMND's current share price," wrote Wells Fargo analyst Timothy Conder in a Thursday note.
PepsiCo
(PEP) - Get PepsiCo, Inc. Report
is the market leader in the salty snacks with its Frito Lays, Doritos and Ruffles brands. Meanwhile, snacks and cereals company
Ralcorp
(RAH)
recently completed a spin of its Post cereals business, an acquisition of
Sara Lee's
(SLE)
refrigerated doughs business and spurned a $94 a share takeover from
ConAgra Foods
(CAG) - Get Conagra Brands, Inc. Report
in September.
Kraft Foods
(KFT)
also has large salty snacks businesses with its Ritz, Triscuit, Nabisco and Wheat Thins brands. For more on snack foods M&A see,
three deals that changed everything
and
the 5 most M&A crazy companies since the financial crisis
.
San Francisco- based Diamond Foods sells Kettle Brand potato chips, Emerald nuts and snacks and Pop- Secret popcorn. With Pringles added, the company had expected to earn up to $4 in earnings per share by 2015 on greater than $2.4 billion in revenue. "The addition of Pringles business is transformational to Diamond and its shareholders," said Diamond Foods then CEO Mendes when announcing the deal.
In 2008, Diamond Foods bought
Pop Secret
for $190 million and it bought
Kettle Foods
from Lion Capital in 2010, opening a an equal sized line of credit with its current creditors for the purchase.
While full audit committee findings haven't been released publicly and agencies investigating Diamond Foods accounting haven't made public rulings, the impact of internal review on loan covenants signals that the company was operating on a close margin.
The price of Diamond Foods shares was also a key to the $1.5 billion stock portion of the deal, which could significantly change the company's financial leverage, even if earnings waned. The stock piece of the acquisition priced at roughly $51.47 a Diamond Foods share, but could change in value within a share price "collar", impacting the debt component of the deal. If the company's shares were above the top end of the exchange offer, then the company would contribute its shares at a value of roughly $56.62, shaving $200 million in debt. However, if shares faltered and were near the lower bound of $45.60, Diamond Foods would assume an additional $150 million in debt.
The collar arrangement on Diamond Foods share price was a result of the tax-free "Reverse Morris Trust" deal structure, which forced Procter & Gamble shareholders to have a greater than 50% share in Diamond Foods, limiting the benefit of the company's share price appreciation. Nevertheless, a drop in Diamonds shares, would make the total debt component of the deal equal to its entire bank financing arrangement "The amount of debt to be assumed by Diamond could increase by up to $200 million or decrease by up to $150 million based on this adjustment mechanism," the company said in a press release announcing the deal.
A November
article by
Barrons
pointed to a connection between Diamond Foods pending Pringles deal and the "momentum payments" that the company's audit committee has now deemed improper.
All told, as Diamond Foods now negotiates with its creditors, the irony is that one of the company's most immediate risks comes from loan financings for a deal is no longer expected to happen.
The company's troubles started in earnest in November, when it revealed an audit committee investigation into "momentum" payments made to its walnut suppliers. A flurry of shareholder lawsuits followed. However, Diamond Foods share slide began when the company began disclosing the payments in October filings that contained little explanatory detail.
Diamond Foods shares briefly surged in December when results of an investigation by tax attorney Robert Willens included in a KeyBank analyst report by Akshay S. Jagdale signaled that the company's accounting inquiry wouldn't lead to restatements. About the audit committee's findings, Willens said "They must have found something that cast doubt on the validity of the
supplier contracts." Improper emails, letters or utterances could have caused the contracts to be superseded, Willens added.
A SEC investigation into Diamond Foods' accounting practices was formally disclosed by the company shortly thereafter in mid-December. In mid-January,
Bloomberg
reported that the DoJ could also open an inquiry.
Still to be seen is what Diamond Foods next steps are with lenders, regulatory authorities or shareholders. However, as the company battles for its life, its April acquisition of Pringles may turn out to be a key seed of its demise. It is unclear from the company's audit committee investigation whether accounting misstatements were intentional or not.
Spokespeople for Bank of America, Alix Partners and Barclays declined to comment to queries on debt negotiations, other lenders didn't respond to requests for comment on loan agreements. Diamond Foods did not respond to emails seeking added comment on its audit committee findings.
--
Written by Antoine Gara in New York