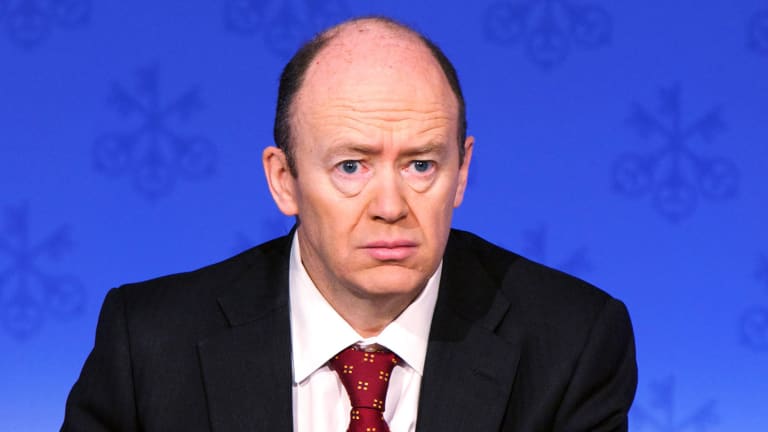 Deutsche Bank, Commerzbank Union Seen as Non-Starter
Top executives of both lenders highlight the need for consolidation in the banking sector
Could grafting on struggling Commerzbank (CRZBY) to problem-plagued Deutsche Bank (DB) - Get Free Report help restore Germany's leading lender to health?
It sounds unlikely but a report of early-stage deliberations about a union at Deutsche Bank on Wednesday lifted stocks in both banks, despite the best attempts of Deutsche Bank CEO John Cryan, pictured, to nip speculation in the bud.
The excitement emanated from an article in Germany's Manager Magazin, which conceded that Deutsche Bank's deliberations were theoretical, at an early stage and may not translate into action. It said Deutsche Bank is "moving towards options that until now were unthinkable with regards to its difficult situation" and debating "even more radical alternatives" to Cryan's eight-month-old, five-year restructuring plan.
Cryan at a banking conference in Frankfurt said a German merger wasn't in the bank's sights as Reuters reported that the two had held talks earlier this month but decided not to proceed. But Cryan stoked speculation by declaring that Europe, including Germany, was "overbanked," with lenders struggling against a backdrop of wafer-thin margins and in need of mergers. Commerzbank chairman Martin Zielke enthusiastically reprised the theme of a surfeit of bank branches in his own commentary at the Handelsblatt conference directly after Cryan spoke.
A combo would create a bank with close to 4,000 branches. It would fuse companies with a combined market value of about €26 billion ($29 billion), vastly strengthen Deutsche Bank's business serving Germany's "Mittelstand" small and medium-sized business clients and give it attractive e-commerce operations, particularly in Poland, as it reduces the importance of investment banking.
But uniting the two - even if regulators permitted it - still doesn't make sense, said M.M. Warburg analyst Andreas Plaesier.
"Deutsche Bank is in a restructuring process - it would be like operating on an open heart. A merger would completely set it back - it couldn't take care of customers and staff would become even more demotivated. When you can't see the end of the tunnel it would be difficult."
He added, "A merger would be an extremely alarming sign that its operating performance could get worse than it is already."
The Manager Magazin report comes amid ongoing capital worries at both banks - downplayed by the institutions themselves - and after the market value of the lenders have plunged in the past year. Deutsche Bank has lost about half of its market value and recently dropped out of the Euro Stoxx 50 index, along with Credit Suisse Group, while Commerzbank has fallen about 35%.
Second-quarter results at both German banks fueled investors' concern. Deutsche Bank eked out a small net profit, instead of the loss expected, though net profit plunged 98%. Cryan at the time said the lender may need to step up its restructuring efforts after it announced it would cut 3,000 German jobs. The bank expects its second consecutive year of full-year losses, while Commerzbank has indicated it's unlikely to exceed last year's €1.06 billion net profit and will probably miss several key performance targets.
Costs at Deutsche Bank in a low-interest rate climate where it is hard to make money are part of the problem, as are its vast loan books, including credit to the troubled shipping sector.
Deutsche Bank is also bogged down in a quagmire of transatlantic litigation and warned in July of more costs to come from various conduct-related lawsuits.
Meanwhile, Commerzbank was one of the worst performing of leading European banks subjected to European Banking Authority stress tests in July. Both banks have repeatedly insisted their capital position is sound, though the International Monetary Fund created panic in June when it said Deutsche Bank was the biggest net contributor to systemic risk in the global banking system.
Shares in the lenders closed up in Frankfurt on Wednesday, galvanized by the two top executives' talk of the need for banking sector restructuring. Commerzbank was up 3.1% at €6.25 and Deutsche Bank, which is more than double the size by market value, was up 2.1% at €13.15.
Media representatives at both banks declined to comment on the Manager Magazin report.