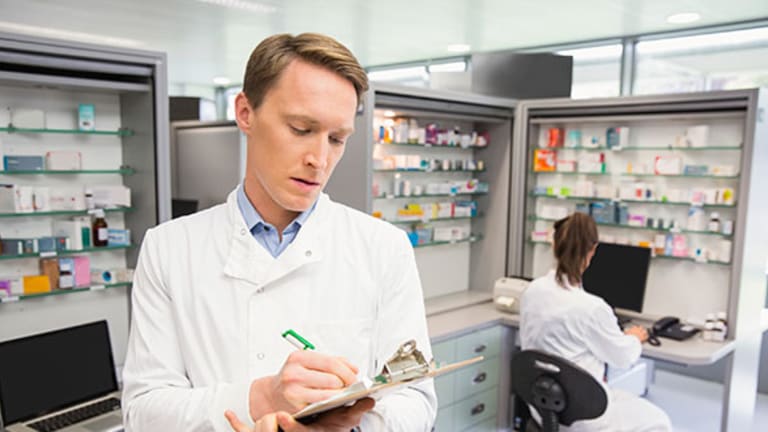 Depomed Reports Dip in Earnings, Reduces Revenue Guidance
Despite a win in court over its patents and a deal with activist investors, Depomed shares dropped after it gave a reduced guidance for 2016 revenues.
Despite good news about winning a patent battle over one of its premier drugs and settling with activist investors, pain drug maker Depomed (DEPO) delivered bad news with its third-quarter financials.
The Newark, Calif.-based pharmaceutical company reported a 5% bump in revenues year over year to $111 million, but that figure was "well short" of the company's expectations, according to CEO Jim Schoeneck.
Depomed shares took a hit in after-hours trading, with shares falling from a close of $22.89 on Nasdaq to $20, a 12.63% drop.
The company has been the target of persistent takeover rumors after it fended off a hostile $3 billion bid by Horizon Pharma (HZNP) - Get Horizon Therapeutics Public Limited Company Report a year ago. On an investor call, Schoeneck declined to directly comment on the rumors, saying it was company policy not to expand on market buzz. "There are always rumors, sometimes people get very hyped up on them, sometimes they don't."
Media reports have stated that possible merger partners have had to sign confidentiality agreements. The Deal previously identified KKR & Co.-backed Arbor Pharmaceuticals LLC and Purdue Pharmaceutical Products LP as possibly targeting Depomed.
The company is working with Morgan Stanley, which advised it on the Horizon fight. Both the company and the investment bank have declined to talk about the latest engagement.
The dip in expected revenues was blamed on a "disconnect between prescription demand and wholesaler shipments." In a statement the company also cited adjustments to reserve accounts tied to managed care as well as PBM rebate submissions which drove down net sales.
And for the first time ever, the company furnished guidance at the quarter. On a call with investors after the close of the market, company officials said new yearly revenue guidance shifted downward from a range of $480 million to $505 million to $445 million to $465 million, a decrease of 5.5% at the low end and 8.6% at the high end.
Though Depomed faces a "sensitive pricing environment," the company said it is not ruling out reviewing its drug pricing structure. Schoeneck noted that its agreement with managed care organizations gives Depomed the ability to raise rates as much as 9% without any additional rebate rights kicking in.
The company focuses on developing medications addressing pain relief for mild to severe acute pain as well as moderate to severe chronic pain including neuropathic, migraine and breakthrough cancer pain. The company currently markets six medicines including Nucynta ER as well as Nucynta, both opioid-based medications. Gralise is a once-daily medication for apostherapy shingles. The company also produces Lasanda, a fentanyl-based nasal spray for cancer patients, non-steroidal anti-inflammatory liquid-filled capsules Zipsor and migraine medication Cambia.
The company used the Monday, Nov. 7, call to announce that Chief Commercial Officer R. Scott Shively was no longer with the company. Shively, formerly with Zogenix (ZGNX) - Get Zogenix, Inc. Report and Pfizer (PFE) - Get Pfizer Inc. Report , had only joined the company in August 2014. The company did not elaborate on his departure.
Depomed reported a net loss of almost $12.9 million for the quarter, and increase of $1.1 million from one year ago. Adjusted Ebitda was $35.4 million and adjusted earnings were 28 cents a share.
The company is coming off a win in U.S. District Court for the District of New Jersey Sept. 30 when the court upheld the company's patents on Nucynta ER, Nucynta and Nucynta Oral, a trio of opioid drugs in the company's portfolio.
The patents had been challenged by Allergan (AGN) - Get Allergan plc Report , Alkem Laboratories and Roxanne Laboratories when they filed Abbreviated New Drug Applications. The win gives the company control over the patents for nine more years, adding to the value of Depomed as a takeover target.
The company also brokered a peace with activist investor Starboard Value LP in October, adding three dissident directors to its board and getting Starboard to agree to a standstill agreement. The hedge fund had disclosed a stake in the company in April, stating it was unhappy with Depomed over capital allocation and corporate governance issues.