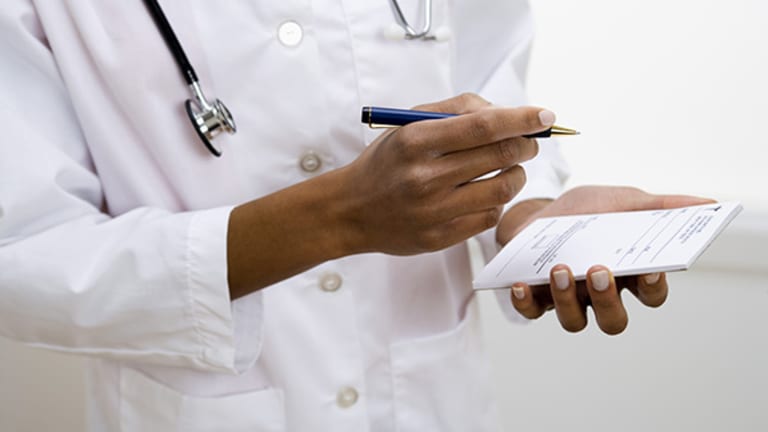 Depomed Focuses on Flagship Drug Rather Than M&A: CEO
The company's new CEO tells analysts it continues to believe the novel painkiller Nucynta can be a blockbuster.
New Depomed (DEPO) CEO Arthur Higgins said his immediate focus will be bolstering the company's Nucynta painkiller franchise rather than searching for new drug candidates to acquire.
Higgins discussed his business development plans in a call with analysts after the company reported first quarter earnings and announced another revamp of its sales force.
Depomed shares were down sharply in premarket trading Wednesday after the company reported a 14% wider loss in the first quarter and unveiled steps the company is taking to shore itself up. But the market appeared to have a more positive reaction later in the morning as investors absorbed Higgins' upbeat vibe. The shares finished the day up 12 cents or 1.09% to $11.08.
Total revenue fell from last year's first quarter from $104.8 million to $90.45 million while product sales fell from $104.57 million to $90.29 million.
Higgins, the former CEO at Bayer Healthcare, took the reins a Depomed after the company in March reached a settlement with activist investor Starboard Value that led to the replacement of previous CEO James Schoeneck. Higgins is also the former president of Abbott Laboratories Pharmaceutical division and has been a senior adviser at the Blackstone Group.
The settlement dampened talk that Depomed itself would be sold. Starboard had pressed for a sale of the whole company but rumors died out as an offer from KKR was deemed to be too low.
"My focus for the next six to nine months is to get Nucynta ER and IR back up to where the potential of these products deserves," Higgins said, referring to the "immediate release" and "extended release"versions of the product.
Only after that will the company begin to consider new opportunities. "I have seen on too many occasions, people dropping the ball because they're focused on things that will come in the future," he said. "First and foremost, I don't want my team to be distracted. I want them to focus on getting growth and sustainable growth back into the company."
Depomed bought the U.S. rights to the Nucynta franchise from Janssen Pharmaceuticals Inc. for $1.05 billion in 2015.  The company views the product as a potential blockbuster because tests have shown it to be less addictive and likely to cause nausea than other opioids.
In note Wednesday Canto Fitzgerald analyst Chiara Russo maintained a neutral rating on the shares, calling the purchase of Nucynta a "smart, accretive" acquisition. However, "Depomed's overall financial health is heavily weighted toward its flagship product" and any negative development for the drug could be material to the company, Russo said.
Higgins also announced realignment of Depomed's salesforce to put more emphasis on Nucynta, a more he said corrects the previous management's decision to push other painkillers Gralise and Cambia too, which he said robbed Nucynta of resources.
"That was a misstep," he said. "We need to correct that as fast as we can. There's nothing like momentum to position you for then looking at external opportunities, but it's a two-step process, build a solid foundation, get growth back in the business and then look at how we can hyperdrive that to inorganic [outside] opportunities."
During the first quarter, total Nucynta sales were $60.7 million, down from $69.4 million in first quarter 2016 and down from $74.7 million in 2016's fourth quarter.
Broken down, Nucynta ER prescriptions in the first quarter 2017 were 83,000, an increase of 3% from first quarter 2016. That compares to a 9% decline year-over-year in the long-acting opioid market. Nucynta IR prescriptions were 116,000 in 2017's first quarter, a decrease of 4% from first quarter 2016 against an 8% decline year-over-year in the short-acting opioid market.
The initiatives discussed by Higgins Tuesday were aimed at bolstering Nucynta, including directing the Pain salesforce, which was recently increased from 190 to 258 people to carry Nucyunta ER and Nucynta IR as their primary focus.
The Oncology salesforce will be eliminated due to the significant deterioration within the Fentanyl market, and will be allocated to the Neurology salesforce to enhance the support of drugs Gralise and Cambia.
The size of the company's overall sales force won't change.
The company is implementing an approximately 30-person reduction in force at its headquarters, representing 20% of the home office staff. As a result, Depomed will take a one-time charge of approximately $5 million in the second quarter.
"These changes were designed to primarily increase the support and growth of Nucynta IR in primary care, and we expect to have a spillover effect onto Nucynta ER." 
Higgins said the reorganization would address doctors' concerns over opioid addiction, which made them reluctant to prescribe the IR version.

"It has become readily apparent that the decision to significantly expand our reach with Nucynta IR into primary care physicians in the face of their increasing reluctance to prescribe opioids was misguided," he said.