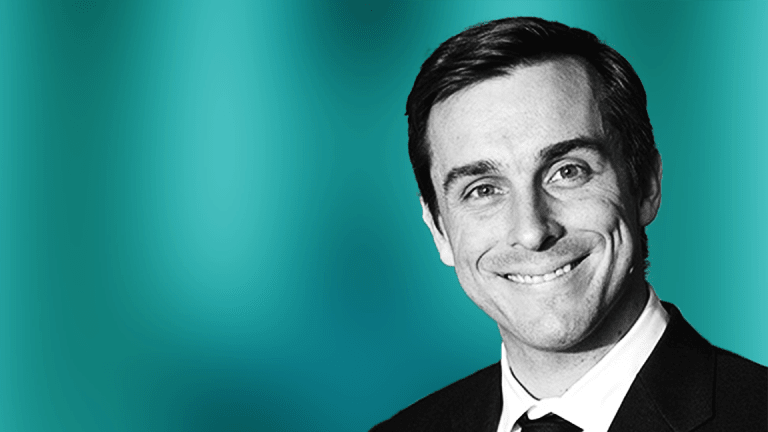 Democratic Pick for SEC Wins Praise From Governance Advocates
Columbia Law School Professor Robert Jackson is the White House's choice for a Democratic slot on at the Securities and Exchange Commission's five-member oversight panel. Governance experts, insurgent managers and those who back shareholder 'say' on CEO pay are excited.
Expect activist hedge fund managers, governance experts, and backers of strict limits on CEO pay packages to be pleased with the Trump Administration's decision to name Columbia University Law Professor Robert Jackson its pick for a Democratic seat at the nation's securities regulator.
That's because a look at the candidate's track record, his academic studies and comments suggest on balance he will be a shareholder advocate and a countervailing force to big business groups such as the U.S. Chamber of Commerce -- if confirmed by the Senate for a position on the five-person Securities and Exchange Commission.
Jackson teaches law at Columbia Law School where he is an expert on executive compensation and governance. Before joining the school, he spent about sixteen months during the height of the financial crisis in 2009 and 2010 helping "pay czar" Kenneth Feinberg set executive pay restrictions for big financial institutions at the center of the 2008 economic meltdown. Financial crisis poster-child, American International Group Inc. (AIG) - Get Free Report and Citigroup Inc., (C) - Get Free Report were both targeted with pay limits partly set by Jackson.
"Professor Jackson should not be viewed as a commissioner who is strictly an academic," said Feinberg. "He labored in the vineyard with me for over a year as we grappled with different sources of political pressures leaning on us from Congress, Treasury, the Federal Reserve and Fannie Mae as we were doing our job. The stress and political tensions didn't impact his ability to do the job and do it right."
Before Columbia and his stint advising Feinberg, Jackson worked at business-friendly, activist-defense law firm Wachtell Lipton Rosen & Katz -- though don't expect that experience to be a driving force in his decision-making at the SEC.
Consider a study Jackson worked on 2013 that looked at a controversial SEC rule regarding when activist fund managers must disclose their particular company investments. Activist fund managers and other investors are required publicly to report their stakes within ten days of acquiring at least 5% of a public company when they have plans to discuss strategic options for the business, which they must explain in a regulatory filing called a Schedule 13D.
Wachtell, Lipton criticized the disclosure timeframe and in a 2011 court petition urged the SEC to have activists file the 13D reports one business day after crossing the 5% ownership threshold rather than ten. The law firm argued that technological developments and faster trading systems allow activist hedge funds to rapidly accumulate "control stakes" at companies in total secrecy, partly because of the disclosure threshold. Activists have long fought against faster disclosure requirements, arguing that they need the flexibility to accumulate the shares confidentially at prices that make their campaigns affordable.
Activists continue to fight the more rapid disclosure requirements, arguing that they need the flexibility to accumulate the shares secretly at prices that make their campaigns affordable.
In 2013 Jackson, Duke University finance Professor Alon Brav and two other professors waded into the debate by producing "Pre-Disclosure Accumulations by Activist Investors," a report refuting the prevalent perception that insurgent fund managers accumulate large stakes in the ten-days after they cross 5% and before they have to report their investment. The report found that in many instances, activists don't wait the full ten days to disclose and when they do, their purchases seem to be disproportionately concentrated on the day they cross the threshold and the day afterward.
More recently, in 2015, Jackson joined Harvard Law School Professor Lucien Bebchuk in filing a comment letter concluding that "existing research and empirical evidence" provide no basis for tightening the disclosure obligations of outside blockholders. It's unclear how SEC Chairman Jay Clayton or other commissioners view the issue. But if a battle emerges, expect Jackson to support the status quo, providing strong opposition to corporate lawyers and the U.S. Chamber of Commerce.
"Rob has seen the evidence, which suggests that changing the disclosure threshold wouldn't have a significant impact, given that activist investors don't seem to trade a lot in the days after they cross the 5% ownership threshold," Brav said. "He's [Jackson] a thoughtful academic and well versed in the literature around shareholder rights so he will carefully scrutinize evidence like an academic, which is a good trait."
Expect Jackson to be a staunch defender of shareholder rights and investor voting on executive pay packages. In 2010 the Office of the Special Master for TARP Executive Compensation issued a report, which backed a provision in post-crisis legislation mandating that shareholders receive a non-binding vote on CEO pay as part of an effort to "address compensation issues that contributed to the financial crisis." Feinberg noted that Jackson backed the recommendations.
Jackson also appears to be a strong defender of tough corporate governance standards. In an interview with The Deal in 2016, he defended a point of criticism made by activist hedge fund manager Jim Mitarotonda about a corporate director who at the time served on the boards of two competing companies. Jackson argued that a director in this scenario had a "duty of loyalty problem" in a variety of situations. He envisioned a possible scenario in which the director became aware of an acquisition opportunity that could be attractive to both competing companies. For Jackson, that director only has two options - bring it to both boards or keep it to themselves.
Beyond activism and governance, Jackson also is a strong supporter of a Democrat-backed effort to pressure the SEC to force corporations to disclose political spending. Jackson's support for the effort was likely a key reason why he received a nomination for the empty slot. A previous candidate for the same position, law professor Lisa Fairfax, never publicly took a position on the issue. Her lack of public support for the Democratic cause likely derailed her candidacy. The issue is critical for top Democrats, led by influential lawmaker Sen. Elizabeth Warren, D-Mass., and Democratic Senate leader, Chuck Schumer, D-N.Y., who continue to urge the SEC to adopt political donation disclosure.
Jackson is being paired with Hester Peirce, who is the Trump Administration's nominee for an empty Republican seat at the commission. Peirce, who had been nominated previously, is a senior research fellow at the Mercatus Center at Virginia's George Mason University. Before that, she was a staffer for Sen. Richard Shelby, R-Ala. and the Senate Banking Committee after 2008's financial crisis. She also worked previously as an SEC employee.
Pierce may be a significant opponent of activism, at least when small investors' campaigns are launched to have non-binding shareholder proposals reach a vote. In an April Deal interview, Pierce said that the current system for shareholders to submit proposals at corporations is a major drain on the SEC and a significant cost to companies. She argued that the system doesn't achieve what shareholders of companies want.  
Both candidates still need to be confirmed by the Senate Banking Committee and full Senate.
More of What's Trending on TheStreet: