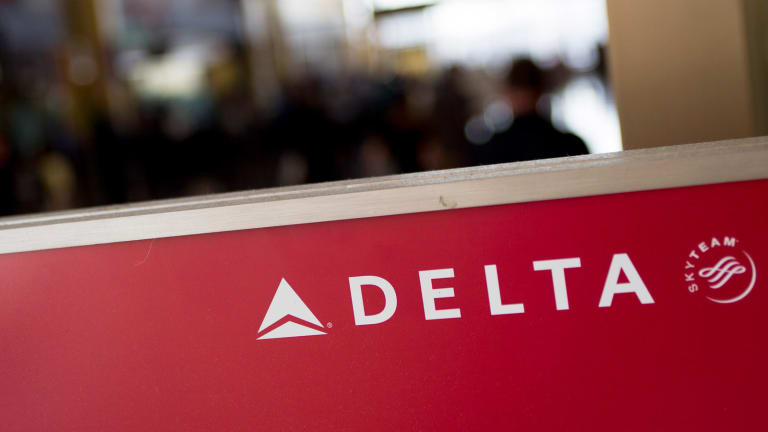 Delta, United, American Wary as Labor Unrest Roils Small Airlines
There is a spectre haunting the airline industry.
NEW YORK ( The Deal) -- Tension is growing between airline management and workers. That's worrisome for an industry better known for bankruptcies and failures than it is for long-term stability.
Two smallish carriers, Larry Ellison-owned Hawaii Island Air and Sun Country Airlines, in recent weeks have either cut service or threatened to do so in response to pilot squabbles. On Tuesday the union representing pilots at Southwest Airlines (LUV) created a strike committee, a move that although unlikely to lead to a work stoppage speaks volumes about the group's level of frustration over ongoing contract talks.
The conflicts are popping up during what has been a golden age for domestic airlines, as a series of first restructurings and then mergers reduced capacity and allowed the companies to return billions to shareholders in the form of dividends and share repurchases. Airline workers, by and large, have been rewarded as well, with expansion creating new jobs and profit sharing allowing labor to share in successes.
But beneath the surface some pressures remain. Airlines used bankruptcy filings to cut costs, including in many cases dumping pension plans and rewriting work rules. In the eyes of management and most investors those changes were permanent. Many rank-and-file workers would disagree.
The question for investors is whether this unrest will show up at one of the industry's Big Three, high-flying American Airlines (AAL) , Delta Air Lines (DAL) and United Continental (UAL) . Delta's pilot contract, its lone significant union deal, becomes amendable at year's end. Though conflicts are possible with other groups, history has shown that pilots have a unique ability to bring an airline to its knees.
Delta in recent years has enjoyed better labor relations than its primary rivals, and the industry will be looking to see if that harmony can continue even as pilots watch the airline this week commit to returning more than $5 billion in capital to shareholders. Cowen & Co.'s Helane Becker believes Delta will attempt to get a revised deal done well before the current contract is amendable, likely attempting to offer increased wages in return for a reduction in profit sharing.
While profit sharing was embraced by airlines during a more cyclical period in the industry, a belief by management in the ability to make money in good times and bad have them craving the better visibility of fixed pay over bonuses.
If Delta can get a deal done without major conflict, there would at least be a template in place for United Airlines and its pilots -- two parties that have had a more contentious relationship in years past -- when that contract becomes amendable in early 2017. Meanwhile American Airlines appears to be secure, as that company's pilots voted in January to approve a new five-year pact that at long last tied up loose ends dating back to American merger partner US Airways' 2005 deal with America West Holdings.
Investors have flocked to airline shares in recent years on a belief that for the first time since deregulation the industry has the ability to weather downturns and build viable businesses. If the Big Three can avoid the kind of labor disruptions that have clipped the wings of companies in years past, maybe it really is different this time.
Read more from: