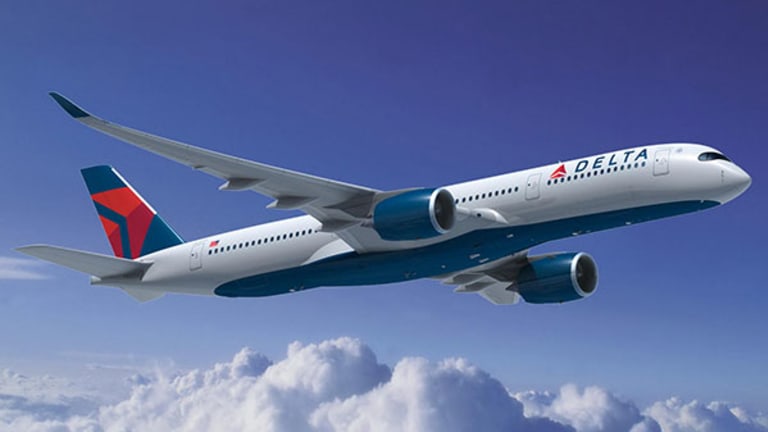 Delta Needs Creativity to Avoid IRS Tax Liability Turbulence
Delta's recent success means the airline will try to get creative about taxes.
Delta's recent success means the airline will try to get creative about taxes.
Delta Air Lines (DAL) - Get Report spent considerable time and cash in 2015 expanding its global footprint by making investments in foreign carriers. Next year, it might be more interested in moving some of its tax liabilities overseas.
Atlanta-based Delta has developed a reputation for creativity. For example, in 2012, it acquired a refinery in Trainer, Pa., to help ensure a steady, and cheaper, supply of jet fuel in the Northeast. More recently, the company has been building its global route map via investments in Virgin Atlantic Airway, Grupo Aeromexico (GRPAF) , GOL Linhas Aereas Inteligentes (GOL) - Get Report of Brazil and China Eastern Airlines (CEA) - Get Report .
Delta was early to the trend of U.S. airlines, flush with cash, trying to tie down foreign partners in order to ensure they will be able to offer a full slate of global destinations to lucrative business travelers.
One thing U.S. airlines haven't had to worry about until recently is taxes, with the industry's long history of boom-and-bust cycles and bankruptcies creating billions in net operating loss, or NOL, carryforwards. But for suddenly thriving Delta, those NOLs are likely to run out by early 2018, if not sooner.
U.S. law requires airlines to be domestically owned, so there is no risk of the sort of tax inversion that has become popular in other sectors. But there are other ways to avoid taxes. Delta told the crowd assembled for its investor day earlier this month that it was considering reorganizing its trans-Atlantic business in such a way that would allow it to keep the revenues from foreign sales in the countries where they are booked.
Delta is a member of the international SkyTeam alliance and has a joint venture with Air France-KLM (AFLYY) , so much of that revenue comes out of France and the Netherlands. Company officials, in the past, have mentioned the Netherlands in the context of lowering the airline's effective tax rate, leading some to believe the airline could establish one or more international subsidiaries to capture and store international profits.
As Delta seeks to establish joint ventures elsewhere, including Mexico, it could consider similar steps to limit its U.S. tax burden via those markets.
There are also more exotic, and potentially controversial, avenues the airline could take, including a sale-leaseback agreement that would put its jets and other hard assets overseas, though such a move seems more likely to attract the ire of regulators.

An interesting subplot in the tax discussion is the U.S. government's failure to date to see Delta's way in the airline's ongoing dispute with Middle Eastern competitors. Delta has led a coalition of U.S. carriers who complain their Gulf rivals, including Emirates and Etihad, have received more than $40 billion in unfair subsidies from their governments during the past decade.
Delta also fought an unsuccessful campaign to block reauthorization of the Export-Import Bank, which the airline complained is used by foreign carriers to lower their borrowing costs when buying Boeing Co. jets. It is possible that, given the year it has had in Washington, D.C., Delta sees little reason not to rock the boat when it comes to taxes.
While its exact plan is uncertain, the industry expects to see some tax plan from Delta in 2016.
"This isn't a sexy idea (or even new) and likely won't get the attention it deserves despite the positive impact to the bottom line," Cowen & Co. analyst Helane Becker wrote in a note following the investor day.
Let the new era of airlines as consistent profit makers begin.