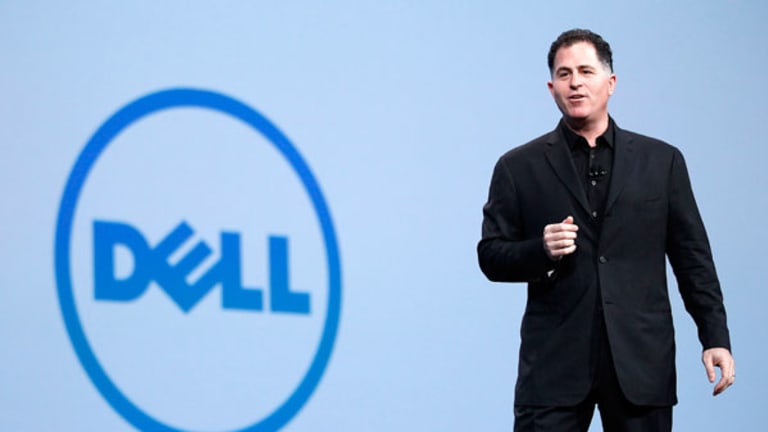 Dell's $24.4 Billion Buyout: Is This What the Fed's Ben Bernanke Wanted?
If so, the central bank's low-rate policy is doing little for economic growth, particularly in private equity deals.
Updated to reflect Moody's bond rating downgrade
NEW YORK (
) -- Beleaguered PC maker
Dell
(DELL) - Get Dell Technologies Inc Class C Report
reached a deal to be
by company founder Michael Dell and investors that include software maker
Microsoft
(MSFT) - Get Microsoft Corporation Report
and private equity firm
Silver Lake Partners
.
The
is noteworthy because Dell's namesake is raising his bet on a turnaround of the world's third-largest PC maker with a controlling stake in the buyout, as the company shifts into IT services, analytics and software businesses that could put it in closer competition with
IBM
(IBM) - Get International Business Machines Corporation Report
,
Oracle
(ORCL) - Get Oracle Corporation Report
and
Cisco
(CSCO) - Get Cisco Systems, Inc. Report
.
The $24.4 billion price for Dell also amounts to the largest leveraged buyout since the financial crisis and, in fact, stands as one of the biggest private equity deals of all time. As such, Dell's takeover may be a strong indicator of growing animal spirits on Wall Street after the
Dow Jones Industrial Average
closed Monday near 14,000 and within reach of record highs.
Still, Dell's buyout and the reported $15 billion in debt needed to pay for the company may actually hurt its transition from PCs to tech services, instead of providing a buffer from shareholders. The deal, in that sense, may raise questions about whether M&A markets and a surge in stocks augur well for economic growth.
Notably, Dell's takeover raises one crucial concern: Is this what Federal Reserve Chair Ben Bernanke wanted?
Technically, Michael Dell's fortune, Microsoft, Silver Lake and investment banks
Barclays
(BCS) - Get Barclays Plc Report
,
Bank of America Merrill Lynch
(BAC) - Get Bank of America Corp Report
,
Credit Suisse
(CS) - Get Credit Suisse Group AG Report
and
RBC
(RBC) - Get Regal Beloit Corp Report
are financing the $24.4 billion takeover.
But, in reality, the deal also is being financed by the Federal Reserve, by way of easing policies that put most interest rates, including those of risky debts, near record lows.
According to a January
Fitch Ratings
, a Dell takeover would likely warrant a sub-investment-grade rating for the company.
Low rates promoted by the Fed have, in effect, created record demand for any debt carrying a substantial yield -- for instance, the billions in leveraged loans that are a crucial part of Dell's proposed takeover. In 2012, the Fed's low-rate policies and asset purchases helped create a record year for junk bond sales, according to
Dealogic
, and yields fell to record lows, according to
Bank of America Merrill Lynch's Global High-Yield Index
.
In Dell's takeover, Michael Dell is reportedly putting up about $4 billion in equity, mostly by contributing his 14% stake in the company. Meanwhile, Silver Lake will put up a reported $1 billion in equity, and Microsoft will provide a $2 billion loan.
While Dell said it will also use some cash on hand to finance the deal, it is likely to be paid for mostly with debt.
Terms weren't fully disclosed in a
press release
.
Those looking at a leveraged buyout of Dell or booming junk bond markets as a positive signal for economic growth or employment may ultimately be disappointed.
Dell's growth prospects may not improve in the hands of private investors, such as the company's founder and Silver Lake, given the constraints of leverage. Some analysis suggests a worsening of Dell's turnaround prospects in a debt-financed takeover.
"Our primary concern is that taking Dell private does not eliminate the fierce competition provided by Apple, Samsung, IBM and others. Dell will still be severely challenged by those players, particularly since it does not have much to offer in terms of smartphones and tablets," Gimmie Credit ratings analyst Dave Novosel said Jan. 16.
Record low interest rates for risky debts may not be helping struggling businesses such as Dell invest in employees, new products or plant expansion. For instance, an end-of-year bond market rush was largely used to finance special dividends to investors such as
.
"We would expect the basis for any going-private transaction would revolve around transforming the company into a smaller, higher-margin business over the next three to five years that would command a higher enterprise value multiple upon exit than it's currently being awarded in the public equity market," Fitch Ratings wrote in a late January analysis of a potential Dell takeover.
"High leverage would greatly limit the company's flexibility to address challenges in the highly competitive and evolving technology industry. Dell will continue to face formidable competitors, such as EMC, IBM, Cisco, Oracle, Accenture, HP and others, all of which will have far greater financial flexibility," Fitch said.
Notably, Dell will be hamstrung to make large acquisitions that can further its transition.
Dell ended 2012 as one of the most acquisitive tech companies of the year, buying up
Quest Software
. At the early part of the year, it cut a flurry of deals for IT-services specialists such as SonicWall, Wyse Technology and AppAssure Software.
Meanwhile, declining cash flow that otherwise could have been put to research and development -- for instance a push into the tablet market -- is likely to be needed to service increasing debt burdens. Fitch Ratings also notes a sub-investment-grade rating from an LBO could weaken Dell's ability to finance large customer orders, one of its remaining competitive advantages.
Dell's primary U.S. competitor in the PC-market, Hewlett-Packard, said the Tuesday deal may be an opportunity for it to gain ground on turnaround efforts.
"
With a significant debt load, Dell's ability to invest in new products and services will be extremely limited," said HP in a
statement
.
"HP plans to take full advantage of that opportunity," the company added, according to the statement.
On Tuesday, Moody's
Dell's bond ratings from A2 to Baa1, citing the company's proposed takeover. Further multi-notch downgrades are likely, according to Moody's, which holds Dell's Baa1 rating on review for a cut.
"Moody's expects that conclusion of the review will likely result in a multi-notch rating downgrade of the long term rating to below investment grade given the proposed transaction's planned use of debt and Dell's continuing business challenges," the agency
.
Still, Dell's debt-fueled takeover may be a bailout for shareholders, even if large hurdles remain in the proposed deal.
Dell's buyout represents a premium of 25% over the closing share price of $10.88 on Jan. 11, the last trading day before
Bloomberg
reported the prospect of a potential deal.
Tuesday's proposed shareholder payout -- which is much lower than it would have been a year ago -- may be an exit point for investors, given the company's declining sales and market share. In January, Gartner calculated that Dell sold 37.6 million PCs in 2012, a 12.3% year-over-year decline that reflected market-share losses to
Lenovo
.
According to a press release, Dell formed a special committee after the company founder Michael Dell approached the Board of Directors with a takeout proposal in August 2012.
Shortly thereafter, boutique investment bank
Evercore Partners
(EVR) - Get Evercore Inc Class A Report
was hired to field competing bids to the Michael Dell-led consortium. However, it appears no bids in excess of Tuesday's $13.65 price tag have emerged. Dell will hold a 45-day "go-shop" period to find a higher bidder.
"
The go-shop process provides a real opportunity to determine if there are alternatives superior to the present offer from Mr. Dell and Silver Lake," said Alex Mandl, the lead director of Dell's Board of Directors, of the takeover process.
Any competing bids during the 45-day period will carry a $180 million termination fee. Bids outside of that period will be subject to a $450 million fee, according to a press release.
"I believe this transaction will open an exciting new chapter for Dell, our customers and team members," Michael Dell said in a statement. "We can deliver immediate value to stockholders, while we continue the execution of our long-term strategy and focus on delivering best-in-class solutions to our customers as a private enterprise."
Michael Dell will remain chairman and CEO in the proposed leveraged buyout, which will go to a shareholder vote. Dell expects the deal to close in its fiscal second quarter.
Investment bank
Goldman Sachs
and law firm
Hogan Lovells
are acting as advisers to Dell.
JPMorgan
, Evercore Partners and law firm
Debevoise & Plimpton
will advise the special committee of Dell's Board of Directors.
-- Written by Antoine Gara in New York
For more on Dell's takeover, see why the company's bondholders
. Also see why it and Best Buy are
.