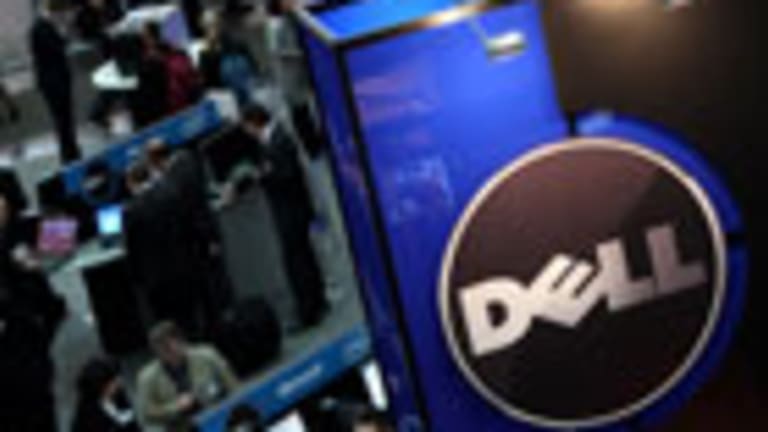 Dell Shareholders Mull Stay or Go
Two new offers give shareholders the option to stay with the company or get cash and go.
NEW YORK (
TheDeal
) -- The two new offers Dell Inc. received by the expiration of the go-shop period on March 22 from Carl Icahn and a consortium led by Blackstone Group LP have one thing in common: They give shareholders the option either to stay with a still-public company or to cash out.
"We are pleased that the alternative proposals submitted to the Dell special committee are structured to give shareholders the opportunity to continue to participate in the company's future prospects, while also providing a higher cash component for shareholders who choose to exit their investment," said shareholder Southeastern Asset Management, which holds an 8.4% stake in Dell.
The latest offers, which the company revealed Monday, March 25, allow shareholders to cash out of Dell at a higher price than the $13.65 per share that Michael Dell and Silver Lake have already offered, if they so choose. While Blackstone's consortium is offering more than $14.25 per share, Icahn's bid offers those taking their leave $15 per share.
It's not known what Michael Dell's fate at the company he founded would be if any of the rival bids succeed. The CEO has said that he is willing to explore the possibility of working with third parties regarding alternative offers, however.
Icahn's offer is for a 58% stake in Dell, leaving the remainder of the company publicly traded. Although Icahn has not said whether retaining Michael Dell is in his plans, he started raising his nearly 4.6% stake only after Southeastern kicked up a fuss about the CEO's offer to acquire the company alongside Silver Lake, meaning his involvement is more as an opportunist than an aggrieved shareholder.
Blackstone, meanwhile, will apparently take as much of Dell as it can get, since it hasn't put a limit on its stake. The firm did not specify if it would want Michael Dell to continue running the company. However, it has been reported that Blackstone is eyeing other people for the CEO post in case its bid succeeds.
Dell's stock price has risen 36.6% so far this year, buoyed by the buyout news. Shares gained 2.6% on Monday to close at $14.51.
Considering Dell's declining PC business, which accounts for almost half of its revenue, some shareholders might take the opportunity to sell. After all, in the 12 months before the original buyout offer was made in February, Dell's shares were on a downward trend, slipping almost 23%.
However, it remains to be seen if Michael Dell and Silver Lake will be back with a higher offer, or if a bidding war will ensue. At least one analyst believes a better bid could materialize. "With three forces at work, we believe a higher buyout bid is in the cards and we continue to believe that an $18.00 buyout price for Dell makes sense," Topeka Capital Markets Inc. equities analyst Brian J. White wrote in a research note.
Others aren't betting on higher offers. "In our view, fourth-quarter results (notably the adjusted gross margin decline), aggressive go-forward PC pricing and the continued weakness in the PC market provide little incremental shareholder leverage for a higher take-out price, though some shareholder adamancy over Dell's inherent value could eventually force one," said Maynard Um, an equities analyst with Wells Fargo. "However, we do not see a price outside of our valuation range of $13 to $15."
Sterne Agee Group Inc. analyst Shaw Wu said in a report that while a superior bid would be great news for shareholders, the reality is that the PC business continues to deteriorate, with market research firms now forecasting double-digit unit declines in the first quarter of 2013. "Despite efforts to transform itself with $13 billion in acquisitions since 2008, we estimate that about 70% of its business is tied to PCs that is under secular and structural pressure from mobile devices," he wrote.
Separately, one interesting factor the new bids illustrate is that private equity firms are evidently not afraid to jump on another firm's deal.
An ongoing shareholder lawsuit in the U.S. District Court in Boston accuses some of the largest private equity firms, Blackstone included, of colluding to fix deal prices. The firms are accused of agreeing to not make rival bids for, or "jump" on, others' announced proprietary leveraged buyout deals during the mid-2000s when so-called club deals were common.
Although the judge dismissed most of the lawsuit, one count that still remains accuses Bain Capital LLC, Kohlberg Kravis Roberts & Co. LP and Merrill Lynch Global Private Equity of collusion in the 2006 $33 billion buyout of hospital operator HCA Inc. Blackstone, Carlyle Group, Goldman, Sachs & Co. and TPG Capital allegedly conspired to back off from placing rival bids for HCA, the plaintiffs have claimed.
Written by Taina Rosa in New York. Chris Nolter contributed to this report.