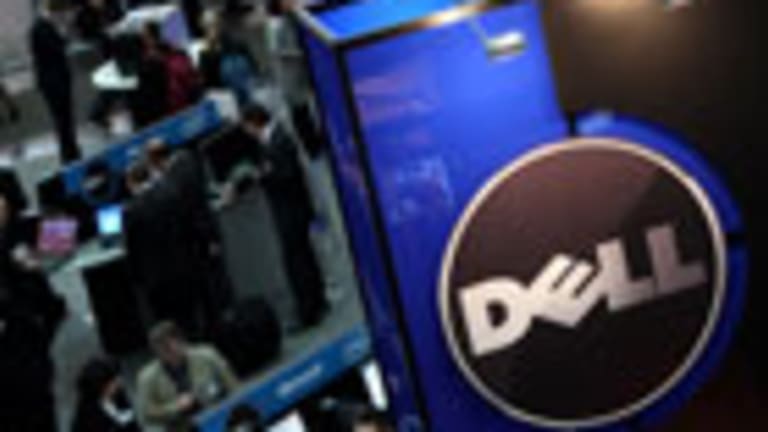 Dell Reboots Takeover With Blackstone, Icahn Offers (Update 1)
Dell said it has received a $14.25 a share takeover offer from Blackstone and a $15 a share deal from Carl Icahn.
Updated from 8:27 a.m. ET with additional commentary and data throughout.
NEW YORK (
) -- The biggest private equity buyout since the financial crisis has received a reboot after
Dell
(DELL) - Get Dell Technologies Inc Class C Report
said on Monday it has two new takeover proposal that trump a $13.65 a share
the company struck with founder Michael Dell and private equity firm
Silver Lake Partners
in early February.
A special committee seeking a higher takeover price for Dell said that a consortium of investors led by the
Blackstone Group
(BX) - Get Blackstone Inc. Report
have submitted a $14.25 a share propsal that would allow Dell shareholders either to receive a cash payment at that value or continue to own their publicly traded holding.
Francisco Partners
and
Insight Venture Management
will participate in the Blackstone investor group.
Dell also received a $15 a share bid from Carl Icahn's holding company,
Icahn Enterprises
(IEP) - Get Icahn Enterprises L.P. Report
, which will roll the activist investor's $1 billion stock stake into a takeover and use a mix of stock, debt and financing from Dell's factoring business to fund the deal.
To be seen is whether the Michael Dell-led consortium will try to improve on their February 5 offer to take the struggling PC giant private.
Were Michael Dell to remain a participant in negotiations, he will now have disclose his projections for valuing a bid notes Alex Khutorsky, a managing director at M&A advisory
The Valence Group
.
"Any competitor coming in with a bid between
Michael Dell's own private bid and his public valuation for the company will force him to either give up the company or raise his offer and diminish the return."
The initial deal values Dell's shares at $24.4 billion and relies on over $12 billion in debt financing to go with an equity contribution from Michael Dell worth nearly $4 billion.
"We intend to work diligently with all three potential acquirers to ensure the best possible outcome for Dell shareholders, whichever transaction that may be," Alex Mandl, chairman of the Dell committee, said in a Monday statement.
According to the Blackstone-led group's offer, investment bank
Morgan Stanley
will lead debt financing for the takeover deal, however, the private equity firm didn't specify an exact financing need on its $14.25 a share offer.
The offer, which was sent on March 22 is signed by Chinh E. Chu and David Johnson of Blackstone, Robert A. Kindler, vice chairman of Morgan Stanley and David Fox and Daniel Wolf of law firm Kirkland & Ellis.
Icahn Enterprises' offer seeks to acquire up to 58% of Dell's shares and consists of about $4 billion in cash and an additional $1 billion by way of the company's recently acquired stock for a total of about $5 billion in equity.
Remaining sources of financing will consist of $7.4 billion of cash currently available at Dell, $1.712 billion in new factoring receivables and $5.218 billion in new debt.
"We understand that this Proposed Merger contemplates less total leverage on the Surviving Company than under the February 5 Merger Agreement," Icahn Enterprises noted in its offer.
Southeastern Asset Management
and
T. Rowe Price
, two of Dell's largest independent shareholders that opposed the initial $13.65 a share February deal, would need to roll over their share holdings into the surviving company under the Icahn Enterprises offer.
Were investors to support Icahn's proposal, Icahn Enterprises would own 24.1% of Dell's remaining shares, while Southeastern and T. Rowe Price would hold 16.6% and 9.3% stakes, respectively.
Icahn's proposal references investment bank Jefferies as having advised the firms bid.
"I would find the Icahn deal less attractive," said Howard Ward, chief investment officer at
Gamco Investors
, in a
CNBC
interview when asked to contrast the Blackstone and Icahn Enterprises offers disclosed by Dell.
There are clear contrasts in the Silver Lake, Blackstone and Icahn bids, even if some details remain unclear.
Silver Lake's $13.65 a share offer is a full buyout, however, Blackstone's $14.25 offer and Icahn's $15 a share recapitalization will require a valuation of Dell's public equity. Such analysis may prove tricky given uncertainty as to whether founder Michael Dell will remain with the company or what its financial strength will be in the wake of a deal.
"Given significant challenges facing the PC business (~50% of DELL's revenue) and a long transformation ahead, we would not anticipate the existing bidders (e.g., Silver Lake and CEO Michael Dell) to raise their offers meaningfully above competing offers, but wouldn't rule out an increase of their current bid to near the ~$15.00 range," Brian Marshall, an analyst at
ISI Group
wrote in a late Sunday note to clients.
"In our view, the emergence of new bidders helps limit downside to Dell stock in the near-term, but we see more long-term risk if no bid is ultimately approved due to deteriorating fundamentals in the PC business," added Marshall, who reiterated a neutral rating and noted minimal upside for those seeking to speculate on Dell's takeover process.
Competitor PC-makers
Hewlett-Packard
and
Lenovo
were reported to have studied Dell's books in its so-called 'go-shop' process, however neither firm is mentioned as a participant in any offer for the company.
Prior to Dell's disclosure Southeastern Asset Management had been reported as interested in making a bid for the company. Both Southeastern Asset Management and Icahn also supported a dividend recapitalization of Dell earlier in March, in a move they said would reflect the company's true value.
Dell shares were trading higher by over 3% to $14.58 in Monday afternoon trading. The Round Rock, Tx-based company' shares have gained over 40% in 2013, amid takeover speculation.
Shares, nevertheless, have fallen over 11% in the past 12 months, indicating strains the company faces in the deteriorating PC market.
-- Written by Antoine Gara in New York