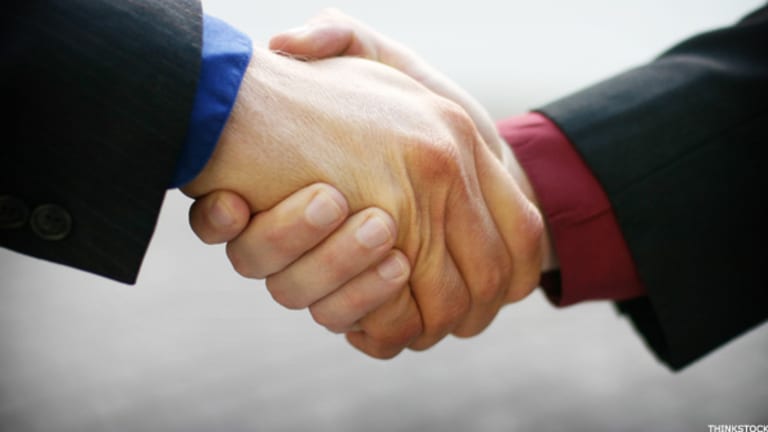 Publish date:
DELiA*s Puts Up For Sale Sign, Said to be in Talks With Strategic Buyer
DELiA*s has put up a "for sale" sign and rumors have surfaced that the troubled retailer is in talks with a strategic buyer.
DELiA*s has put up a "for sale" sign and rumors have surfaced that the troubled retailer is in talks with a strategic buyer.
NEW YORK (The Deal) -- DELiA*s (DLIA) has put up a "for sale" sign and rumors have surfaced that the troubled retailer is in talks with a strategic buyer.
The New York-based chain of clothing stores for teenage girls said Tuesday, Sept. 30 that it has hired advisers to review strategic alternatives, including a sale of the company after receiving inquiries from interested parties. The company also noted that it may still opt to pursue debt or equity financing options instead of an M&A deal.
Financial advisers from Janney Montgomery Scott LLC and legal advisers from Honigman Miller Schwartz and Cohn LLP will guide the strategic review, the company said.
The Honigman team includes Michael Ben, Donald Kunz, John Kanan, and Melanie VanAntwerp, The Deal has learned.
While rumors have surfaced that dELiA*s could be sold to a strategic buyer, sources expect that, if the troubled apparel retailer can actually find a buyer, a private equity firm would be more likely than a strategic acquirer.
According to Howard Davidowitz, chairman of national retail consulting and investment banking firm Davidowitz & Associates Inc., the retailer's small size could dampen its appeal to potential buyers.
"There's not enough meat on the bone," Davidowitz said by phone, adding, "I think a company of this size is going to be much less attractive [for a deal] outside of bankruptcy because of its lack of critical mass."
As Davidowitz sees it, dELiA*s has a range of options, from the worst-case scenario -- bankruptcy -- to the best-case scenario - an M&A deal.
Davidowitz noted that the company's teen retailer competitors, which include Aeropostale (ARO) , American Eagle Outfitters (AEO) - Get American Eagle Outfitters, Inc. Report  and Abercrombie & Fitch (ANF) - Get Abercrombie & Fitch Co. Class A Report , are not performing well. Since they are in a store-closing mindset, they would be unlikely to buy another retail chain and add on more stores, he said.
Aeropostale inked a $150 million financing and strategic partnership deal with consumer and retail-focused private equity firm Sycamore Partners LLC in May, which got the company "out of hot water," in Davidowitz's words.
That PE firm also picked up poorly-performing women's clothing retailer Talbots Inc. for $369 million, including the assumption of debt in 2012, proving that it's not afraid of turnaround situations under the right circumstances.
One current investor in dELiA*s, who asked not to be named, pointed to Sycamore as one PE firm that is on the hunt for retail acquisitions and could be a fit for dELiA*s.
Davidowitz noted that Sycamore has a lot to offer in terms of its central operations that can help its buyout targets cut costs, but he remains skeptical.
"Would Sycamore be interested in something this small?" he asked.
Officials at Sycamore couldn't be reached for comment.
"The company has to go through some kind of restructuring to go forward," Davidowitz concluded.
DELiA*s warned in a quarterly report filed with the Securities and Exchange Commission on Sept. 16 that it expects to run out of liquidity to meet its cash requirements in the next twelve months absent additional funds.
The current investor, who asked not to be named, remains optimistic about the company's financing prospects.
"This has always been a bet on [CEO] Tracy Gardner, and it seems like there are people who are willing to make a bet on her in a private setting," the investor said by phone, referring to the company's revelation that potential acquirers are knocking at its door.
That investor noted that dELiA*s still has friends and believers in the retail space, citing Morris Goldfarb's participation in a February private placement sale of preferred stock. Goldfarb is chairman and CEO of retailer G-III Apparel Group Ltd.
The company's stock, which is listed on the Nasdaq under the symbol DLIA, rose 11.55% on the news of the strategic review, closing at 26.8 cents with a market cap of $17.06 million on Tuesday, after closing at 24 cents on Monday.
The company explained in its Tuesday statement that no formal or binding offers have been made, and said there is no timetable for the strategic review.
"Management remains focused on executing its strategic plan and laying the groundwork to develop a more relevant, engaging and integrated customer experience across our omni-channel platform," Gardner said in the statement, adding, "At the same time, we are focused on optimizing our working capital and continue to look for opportunities to leverage cost efficiencies. We maintain our belief that dELiA*s can fulfill its potential as an authentic brand with a unique competitive position in the marketplace."
DELiA*s replaced a five-year, $25 million revolving credit facility from GE Capital Corp. with a four-year, $30 million revolving credit facility from Needham Heights, Mass.-based Salus Capital Partners LLC in June 2013, and later reduced the cap on the Salus loan to $25 million.
GE Capital's corporate retail finance division also provides a the company with a $15 million letter of credit facility, which includes a cash collateral requirement to support the letters of credit issued under the facility. The company currently has $8.3 million in restricted cash that serves as collateral for those borrowings.
The company recorded $75.59 million in assets and $37.55 million in liabilities as of Aug. 2, according to the Sept. 16 quarterly report.
The Salus facility bears interest at either 6.25% or an unspecified base rate plus 300 basis points, whichever is higher, and matures on June 14, 2017. The loan, which does not include any financial covenants, is secured by substantially all of the company's assets.
A company spokesman didn't respond to requests for comment on Tuesday.