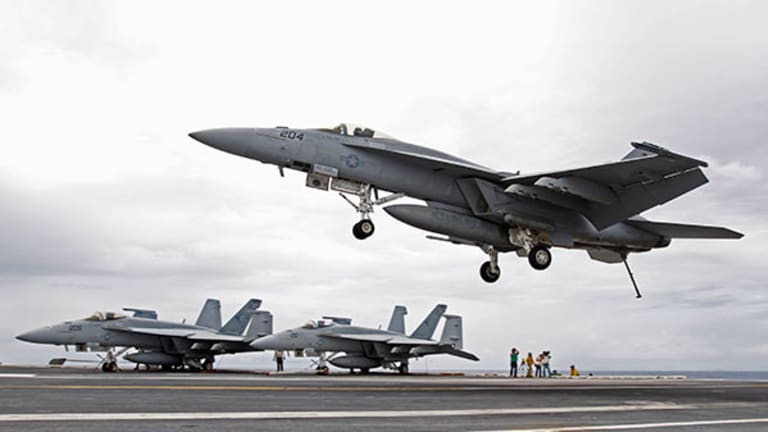 Publish date:
Defense Firms Sound the Call to Arms
After years of budget cuts and sequestration, the spending spigot is ready to open. The scramble to capitalize will include consolidation, but no megadeals.
After years of budget cuts and sequestration, the spending spigot is ready to open. The scramble to capitalize will include consolidation, but no megadeals.
Editors' note: This article was originally published by The Deal, a sister publication of TheStreet that offers sophisticated insight and analysis on all types of deals, from inception to integration. Click here for a free trial.
Defense investors had been looking towards 2017 well before Americans went to the polls in early November, but the prospect of traditionally military-friendly Republicans occupying the White House and controlling Congress has only fueled already high expectations for the sector. The question now is whether companies can generate the kind of growth investors are dreaming of, and if so what might have to be done to achieve it.
Aerospace and military-focused companies have performed well for some time, but that was as much attributable to what Barclays analyst Carter Copeland called "the scarcity value of limited downside" and, for lack of a better term, the defensiveness of the group. Defense businesses were hit hard by the budget battles of the early Obama years, and the industry was optimistic going into the election that sequestration caps would soon be history no matter who won the White House.
Now, with one party set to control both the Congress and presidency, the chance of a budget showdown has diminished significantly. Fitch Ratings in December upgraded aerospace from stable to positive in part due to expectations for an uptick in defense sales. The ratings agency expects global defense spending to top $400 billion in 2017, with the U.S. accounting for at least 45% of that total.
Editor's pick: This story was originally published on Dec. 19, 2016.
Specifically, Trump has called for increasing the Army ranks by 17%, or about 90,000 additional soldiers, and wants to build a Navy with 350 vessels (from 272 currently) and add an additional 100 fighter jets. Coupled with a renewed emphasis on modernizing nuclear and missile defenses, that alone could be an increase of upwards of $100 billion annually.
But that surge in spending will not happen overnight. Lawmakers in mid-December passed a continuing resolution long in the works to fund the Pentagon at fiscal 2016 levels through April 2017, as expected. Though the new Congress is expected to add to allocations by May, it could be fiscal 2018 before a real spending uptick is in the budget.
That gives companies plenty of time to plan, and a chance to focus their efforts on the areas where Trump and his advisers seem most interested in providing additional support.
One thing that seems unlikely to change is the Pentagon's resistance to large-scale M&A, which has been unofficially prohibited since the DoD's 1998 move to block Lockheed Martin's (LMT) - Get Report planned acquisition of Northrop Grumman (NOC) - Get Report ended a wave of post-Cold War consolidation. Defense officials over the last 20 years have been primarily concerned with keeping a vibrant supply base, and have been unwilling to allow major deals out of fear of becoming overly reliant on a single company.
The DoD was critical of the Department of Justice's decision last year to allow Lockheed to acquire helicopter-maker Sikorsky Aircraft, an indication that the mood inside the Pentagon has not changed. Secretary of Defense nominee James N. Mattis has spent the last three years on the board of General Dynamics (GD) - Get Report , likely getting some corporate perspective into M&A, but seems unlikely to go against a strong internal Pentagon consensus against megadeals.
Even if large-scale dealmaking is off limits, there have been plenty of mergers. More than $20 billion has been spent to acquire aerospace and defense assets in the first nine months of 2016, according to PricewaterhouseCoopers data. M&A activity in 2016 "exceeded expectations," according to Fitch Ratings, with the agency warning that capital allocation and further M&A could go so far as to "nullify many of the benefits of positive defense budget trends."
Companies as large as Boeing (BA) - Get Report and General Dynamics and as small as $100 million in sales have all felt compelled to buy to bolt on new capabilities or invest in new areas of interest, like drones and electronics, or to gain scale in a particular area in an effort to bring down costs. Though not as headline-grabbing as a $50 billion megadeal, those transactions figure to continue in the years to come as small firms build scale and position themselves as takeout targets for prime contractors seeking to move the needle in a particular sector.
Services firms, an area of aggressive dealmaking in 2016, could be positioned for accelerated growth and M&A attention if the Republican Party continues its traditional predisposition towards downsizing the federal workforce via outsourcing functions to private contractors. Analysts name ManTech International (MANT) - Get Report and Science Applications International (SAIC) - Get Report as two companies that are expected to seek out deals in the $300 million to $600 million range, and either could also be a target in a government services roll-up.
Among the large companies most interesting to watch is General Dynamics, which according to Cowen analyst Cai von Rumohr is heavily involved in Trump's key focus areas. The company's large maritime division should benefit from a buildup of the Navy, and a push to grow the Army should benefit its land systems unit. General Dynamics is also a provider of government services and should benefit from an outsourcing push.
General Dynamics and Raytheon (RTN) - Get Report also enjoy particularly strong balance sheets, making them well-positioned to participate in industry M&A or to return significant cash to shareholders should no deals surface.
General Dynamics according to von Rumohr also offers less headline risk as the company is considered less likely than Boeing or Lockheed Martin to raise the ire of Trump if the president-elect seeks to rein in sector profitability. Boeing, the world's largest aerospace vendor, has already faced Trump backlash over the planned replacement of the Air Force One presidential jet. A week later Lockheed was criticized for cost overruns in the F-35 fighter program, which is now expected to cost more than $1 trillion over its 50 year operational life.
Conventional wisdom is that in a growing defense budget environment there are no losers, but companies who differentiate themselves can end up winners. Sequestration is over. The next 12 months will decide who the winners will be.