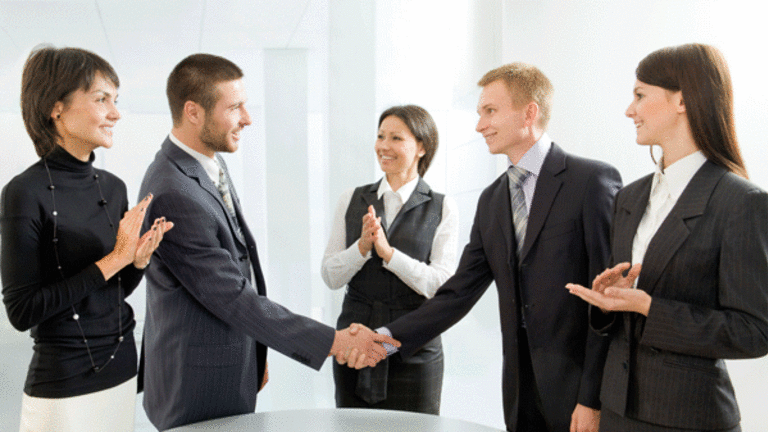 Deals to Watch: PE Wants Into Shale, Paper Wants out of Content
KKR bid rumors for Samson are upped and a U.S. paper is looking to dump PaidContent.com
NEW YORK (
) -- After completing its $3.5 billion sale of Eagle Ford drilling and production assets to
Marathon Oil
(MRO) - Get Report
earlier in November,
KKR
(KKR) - Get Report
is reported by
Bloomberg
to be considering a $7 billion takeover of privately held shale driller
Samson Investment
, upping previous bid rumors by $2 billion according to unnamed sources familiar with talks.
If rumors prove to be true, it would be KKR's biggest private equity deal since the financial crisis. The buyout would also be the largest private equity buyout of the year, according to data compiled by
Bloomberg
, topping an October $6.3 billion takeover of
Kinetic Concepts
(KCI)
by a consortium led by Apax Partners.
For KKR, which became a Wall Street buyout legend in the 1980s for its $25 billion takeover of
RJR Nabisco
, it would be a further push to shale drilling. In particular. The deal puts the firm into the Bakken shale in North Dakota and Marcellus shale in Pennsylvania. Its previous Hilcorp investment focused on oil and gas shale in 141 acres of the Eagle Ford in East Texas.
In 2009, KKR cut its first shale deal, investing $350 million in
East Resources
to get a foothold in the Marcellus shale. Eleven months later, KKR sold the investment in shale assets stretching from New York to West Virginia for $4.7 billion to
Royal Dutch Shell
(RDS)
, making it one of its most lucrative post-crisis investments.
According
Bloomberg
reports of Samson and KKR sale talks, the deal won't include its Gulf of Mexico operations. Itochu of Japan, Crestview Partners and NGP Energy Capital Management will join KKR in a Samson bid, according to separate reports from
Reuters
, citing unnamed sources. KKR is expected to take a 60% holding in Samson, while Itochu set to take a 25% stake, the sources said.
Founded in 1971 by Charles Schusterman, privately held Samson is headquartered in Tulsa, Okla., and has 1,200 employees that manage its oil and gas operations, which require in excess of $1 billion in annual capital expenditure, according to its Web site. The company derives 70% of its revenue from gas drilling and 30% from oil liquids, and has spent $4 billion in oil and gas asset acquisitions in recent years.
A Samson takeover would signal that the shale oil and gas M&A boom still has legs. This year, Australian energy and commodities giant
BHP
(BHP) - Get Report
bought Petrohawk Energy for $12.1 billion and more recently Norway's
Statoil
took over of
Brigham Exploration
(BEXP)
for $4.4 billion.
The Guardian Media Group
may sell PaidContent for up to $20 million, allowing the British newspaper founded in 1907 as the
Manchester Guardian
to recoup its initial investment according to reports from
AllThingsD
The newspaper headquartered in Manchester, England that sells
The Guardian
and
The Observer
daily newspapers along with Web and radio businesses, has hired a boutique investment bank
Coady Diemar Partners
to sell PaidContent. The unit serves as one of
The Guardian's
online media hubs covering trends in the digital media businesses. Guardian Media Group bought the digital journalism Web site that goes by the motto "the economics of digital content" in 2008 for $30 million according to
AllThingsD
reports.
The sale rumors of the website property founded in 2002 with its flagship paidcontent.org, come as
The Guardian
is cutting costs in a move to improve its finances and build U.S. operations with the opening of a New York -based Web site.
"Following a strategic review Guardian News & Media has decided to seek a buyer for ContentNext Media. ContentNext is a high-quality asset but our focus in the US is on building the Guardian. It's early days but we have received several expressions of interest and are talking to a select number of potential buyers," the company said according to an email statement obtained by
AllThingsD
.
The
Tokyo Stock Exchange
the largest equity exchange in Japan said on Tuesday it will merge with the
Osaka Securities Exchange
for $1.1 billion, creating the third largest stock exchange in the world.
Currently,
NYSE Euronext
(NYX)
and
Nasdaq OMX
are the world's largest exchanges, ahead of the $3.6 trillion in stock traded on the now merged Asian exchanges, according to
Reuters
reports.
The deal appears to be a way to keep pace with a trend of consolidations among exchanges in 2011. Earlier this year, NYSE Euronext cut a $9 billion merger with Deutsche Boerse, which is pending regulatory review and this September, the
London Stock Exchange
announced a bid for derivatives platform
LCH.Clearnet
.
In the 1980s, the Tokyo Stock Exchange dominated global equity trading as an asset bubble pushed equity prices to unsustainable levels, which have since fallen by 75%. While the exchange merger might boost Japan's competitiveness against U.S., European and Chinese stock trading, there are potential issues.
A proposed $3.2 billion merger between the London Stock Exchange and the
Toronto Stock Exchange
fell apart this Summer on regulatory concerns, and a larger NYSE Euronext and Deutsche Boerse merger has undergone intense regulatory review by the
European Commission
.
--
Written by Antoine Gara in New York
.