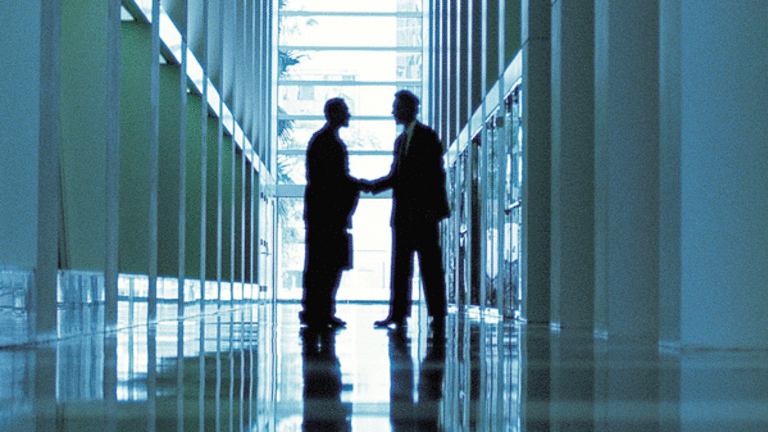 Deals to Watch: M&A Vampires and Undead Deals
Lions Gate, AT&T and Yahoo! give rise to M&A talks among vampires and the undead.
NEW YORK (
) -- Vampires are whetting the appetite of dealmakers while the largest merger in 2011 tries to rise from the dead.
Freed from the grip of an eternally deals thirsty Carl Icahn,
Lions Gate Films
(LGF)
is now in talks to merge with vampire movie maker
Summit Entertainment
, according to
Bloomberg
reports citing three unnamed sources.
For Lions Gate, which survived a multiyear epic with Icahn that included him sweeping up over 30% of the company's shares and pushing for and against an MGM Studios merger along with multiple hostile takeover attempts and a lawsuit, the filmmaker is interested in Summit Entertainment's immensely popular
Twilight Saga
of vampire movies that have grossed over $1 billion to help restore its profitability.
Lions Gate Films shares fell under 1% in early Tuesday trading to $8.49. Its shares have risen over 30% year-to-date, significantly beating all major indices.
Summit Entertainment was co-founded in 2007 by Robert Friedman, a former Paramount Entertainment executive. With the help of a $1 billion financing arrangement from
Merrill Lynch
, the company was able to acquire the rights to the film adaptations of the Twilight vampire saga of books. According to
Box Office Mojo
, the first four films in the five-part saga have grossed over $1 billion in ticket sales, with a fifth movie set for release in 2012.
Meanwhile, Lions Gate Films has seen recent success with its cable T.V. franchise
Mad Men
and is now trying to crack into the seemingly perennially lucrative vampire book-to-movie market with its upcoming release of
Hunger Games
, the first in a highly anticipated trilogy.
A key hindrance of the deal may be Lions Gate's long term debt stock of $550 million and still uncertain ability to make a profit in 2011. The company may be looking for a deal to boost cash and profitability after it slipped to a $24.5 million net loss in the third quarter after reporting profits in the first two quarters of 2011. The Santa Monica -based company has lost money in every year since 2007.
Lions Gate was founded in Vancouver in 1997 and had its first box-office success in the film adaptation of the 1980s cult Wall Street lunatic- novel
American Psycho
. Recently, its entered partnerships with
Relativity Media
,
Roadside Attractions
and is a co-owner of pay TV channel
Epix
, while the company's also cut distribution packages with
Universal Pictures
. Its highest critical acclaim has come from its Emmy-winning show Mad Men.
In 2009 as MGM Studios was teetering toward bankruptcy, Lions Gate tried to buy the film maker, only to be opposed by large shareholder Carl Icahn, who also was a big holder of MGM debt.
After increasing stakes in both companies and quashing an early merger, Icahn then pushed for a merger in 2010 as the company sorted through its sale or restructuring options. While talks were underway, Lions Gate sued Icahn and in November 2010 its MGM bid failed as the movie maker opted for a pre-packaged bankruptcy sale to
Spyglass Entertainment
.
In August, as part of a settlement with Lions Gate, Icahn liquidated his over 30% stake in the company, netting him investments company headaches instead of capital gains.
AT&T
(T) - Get Report
has been working secretly on an 11th-hour deal to bring its $39 billion merger with
T-Mobile USA
back from the dead, according to reports from
The New York Times'
Andres Ross Sorkin.
AT&T is in talks with
Leap Wireless
(LEAP)
to sell it a big piece of T-Mobile's customer accounts and some of its wireless spectrum, the
Times
reported, citing people involved in the negotiations.
AT&T hopes the deal will lessen the
U.S. Department of Justice's
antitrust concerns about the merger enough for it to drop opposition outright, or make a court case more convincing, according to reports. The merger would combine the second and fourth largest wireless carriers. In November, the
Federal Communications Commission
also formally opposed the merger on antitrust grounds.
AT&T shares fell slightly to $27.02 a share in early trading, its stock is up over 1.5% year-to-date beating the
S&P 500 Index
.
By contributing customers and spectrum,
The Times
reports that Leap would become a fourth competitor to a merged AT&T and T-Mobile, which would take the market lead from
Verizon Wireless
(VZ) - Get Report
an put third competitor
Sprint
(S) - Get Report
into a distant third.
If the merger were to go through as AT&T had planned, it and Verizon would have controlled roughly 70% of the U.S. wireless market, leaving Sprint in a far off third with a sub-16% share. Leap Wireless holds just under 2% of the overall North American wireless market, according to 2010 data compiled by
Bloomberg Industries
.
When opposing the merger on antitrust grounds in August, the Department of Justice said, "the proposed $39 billion transaction would substantially lessen competition for mobile wireless telecommunications services across the United States, resulting in higher prices, poorer quality services, fewer choices and fewer innovative products for the millions of American consumers who rely on mobile wireless services in their everyday lives."
The potential Leap cure seems to be an acknowledgement of antitrust concerns in the wireless market if there were with no clear fourth competitor. Sprint has filed a lawsuit against AT&T opposing the merger on competition grounds. According to
New York Times
reports, bankers involved in the merger assessed its prospects of success as low as 60% as a result of antitrust issues.
As part of the proposed deal, AT&T agreed to give T-Mobile a breakup fee of $6 billion in cash and wireless spectrum if the acquisition fell through. In November, AT&T announced that it would provision for a $3 billion cash and $1 billion spectrum charge in its fourth quarter results as the merger's become increasingly unlikely.
Throughout the merger process, AT&T has stated that the combination would put its service within reach of rural communities and bolster its 4G network coverage, making it better equipped to serve the data needs of consumers using smartphones like the
Apple
(AAPL) - Get Report
iPhone.
Thomas H. Lee Partners is interested in buying the U.S. operations of
Yahoo!
(YHOO)
, sources familiar with the matter told
Reuters
.
THL is hoping to do a leveraged buyout of Yahoo!'s U.S. business, which could be worth $5 billion to $6 billion, and draw on its experience running other media assets such as
Nielsen
,
Clear Channel
and
Univision
to turn around the ailing company, the sources said.
THL's approach is different than other private-equity firms such as Silver Lake, KKR and TPG, which are expected to put in bids for a stake of up to 20% in the company,
Reuters
noted.
Separately,
The New York Times
reported late on Tuesday that Silver Lake may partner with
Microsoft
(MSFT) - Get Report
on a bid for 20% of the company, as an outright company sale becomes less likely, according to unnamed sources.
With a minority stake sale, Yahoo! may be able to appease unhappy shareholders with a special dividend, while management would retain control of the Web giant co-founded by Jerry Yang and David Filo.
Yahoo! shares rose 1.4% to $15.57 in early trading Tuesday.
Earlier in November, reports signaled that while some private equity firms and potential bidders signed non-disclosure agreements that would preclude them from making partner bids for Yahoo!. Other interested parties like
Blackstone
(BX) - Get Report
and Yahoo!'s Asian partners
Alibaba
and
Softbank
have resisted signing agreements, according to reports. New rumors surfacing late on Monday about a potential Microsoft and Silver Lake co-bid, have cast previous reports in doubt as to whether they've signed NDA's.
Speculation about Yahoo!'s fate began in earnest when the company ousted Carol Bartz as CEO in early September and hired investment bankers to undertake a strategic review of its options.
Scenarios that have been discussed in the press have included a full company sale, a divestiture of minority owned Asian assets like Alibaba and Yahoo Japan, or a push for growth in online ad sales through acquisitions.
After firing Bartz, Yahoo! confirmed in a letter to employees that it had hired advisers to consider strategic alternatives to maximize shareholder value -- code for potential sales. In the letter, Yahoo! said it needed to "reignite" its business and anticipate how consumers would take in media content in the future
Yet it's still unclear whether Yahoo! will actually decide on a full or partial sale of the company. Previously, management rejected a $44 billion merger offer by Microsoft in 2008 for $31a share.
In Case You Missed It :
:
American Airlines
and its parent
AMR
(AMR)
have filed for
Chapter 11 bankruptcy protection and CEO Gerard Arpey has retired.
The filing comes after the world's third-largest carrier reached a point when it seems unable, after five years of talks, to reach a contract deal with its pilots union.
AMR shares fell 87% in early trading Tuesday to 20 cents.
Facebook's heavily anticipated
initial public offering public offering could arrive in April 2012, according to a published report.
The Wall Street Journal
, citing unnamed people familiar with the matter, said late Monday that the social networking giant is targeting a public market debut in the April-June 2012 time frame.
-- Written by Antoine Gara in New York