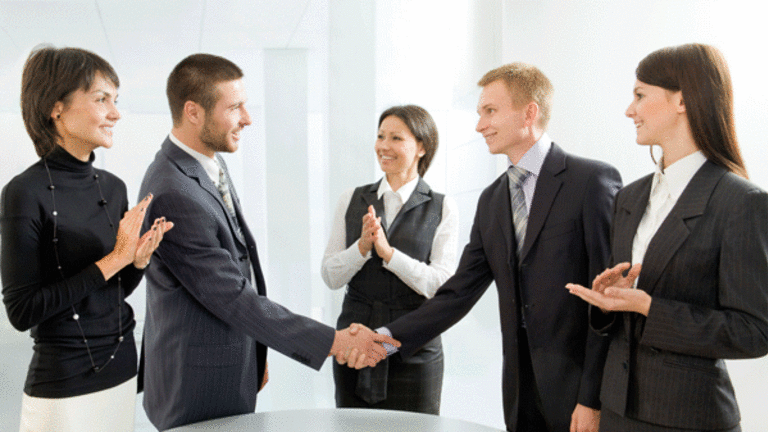 Deals to Watch: Google Searches for Motorola Approval
Google will seek approval for its $12.5 billion Motorola Mobility takeover while BNY Mellon pushes into Australia.
NEW YORK (
) --
Google
(GOOG) - Get Report
will seek
European Commission
approval of its $12.5 billion purchase of
Motorola Mobility
(MMI) - Get Report
, according to the regulator's website on Monday.
The deal announced in August would allow Google to bolster its Android smartphone operating system by adding Motorola Mobility's mobile device making operations - turning the U.S. search giant into a clear competitor to
Apple's
(AAPL) - Get Report
iPhone. In November, it received 99% of shareholder approval earlier in making both U.S. and European Union antitrust regulatory approval on of the final hurdles before the deal is sealed. Currently, Google expects the deal to close in late 2011 or early 2012.
Google's purchase, while cheered by Motorola Mobility shareholders who received an over 60% premium to shares prior to Google's bid, has already faced increased regulatory scrutiny. In September, Google said in a post on its corporate blog that its purchase of
Motorola Mobility
(MMI) - Get Report
was under increased scrutiny by antitrust enforcers at the
U.S. Department of Justice
.
The purchase was also spurred by activist investor Carl Icahn, Motorola Mobility's largest shareholder, who advocated that the company sell its patents following a boom in patent sales this summer that also included
Nortel Networks
$4.5 billion sale of patents to a consortium to tech companies including Apple and
Research In Motion
( RIMM).
In the post, Google Senior Vice President Dennis Woodside said that as part of the merger process they have been talking to the Department of Justice since the merger was announced in August and that "Today we received what is called a "second request," which means that the DOJ is asking for more information so that they can continue to review the deal."
Woodside's post indicated that the deal to buy Motorola Mobility, the Schaumburg, Illinois based handset maker may be delayed. According to Woodside, "this means we won't be closing right away, we're confident that the DOJ will conclude that the rapidly growing mobile ecosystem will remain highly competitive after this deal closes." He also called the second inquiry "routine" and mentioned that the Mountain View, California- based company has gotten similar requests from the DoJ before.
In 2010, Google received a second request from the Department, of one of the U.S.'s antitrust authorities along with the Federal Trade Commission when acquiring travel-data software company ITA Software for $700 million. Though the acquisition was opposed by
Expedia
(EXPE) - Get Report
,
Travelocity
,
Kayak.com
and
Microsoft's
(MSFT) - Get Report
Bing, regulators gave the deal approval this August contingent on Google's continued licensing of ITA's products to other travel search competitors on "commercially reasonable terms."
In recent deal rumors about its potential involvement in a
Yahoo!
(YHOO)
bid, Google has faced credulity on its ability to cut deals as a result of its dominance in core search functions. Currently Google is the world's largest online search provider with over a 80% market share of revenue according to data firm
eMarketer
, with
Microsoft's
(MSFT) - Get Report
Bing partnership a distant second.
In October, Microsoft's $8.5 billion purchase of Skype was approved by the European Commission, avoiding a second stage of review. Currently, Microsoft has antitrust complaints against Google.
Bank of New York Mellon
(BNY) - Get Report
today made a push intro Australia by buying clearing services of exchange traded funds from
Penson Financial Services Australia
for $33 million. The unit will be merged into BNY Mellon's Pershing business which provides execution, clearing and tech solutions to over 1,500 institutional investors. The deal will make Pershing the top retail clearing firm in the U.S., the UK, Ireland and Australia, according to a press release announcing the deal.
"Acquiring a firm with strong growth prospects in such an important geography is a compelling global expansion opportunity. The deal allows us to build upon BNY Mellon's existing presence in Australia, where we see great growth prospects in the investment services business broadly and the broker-dealer and advisor markets specifically," said Brian T. Shea, Pershing's Chief Executive in a statement.
The deal will bolster BNY Mellon's 35-year presence in Australia. The bank, which is a leading asset servicer with over $20 trillion in assets under management, also provides wealth management services to investors and cash management services to businesses.
--
Written by Antoine Gara in New York
.
Readers Also Like:
10 Dividend Stocks to Keep You Safe Into 2012