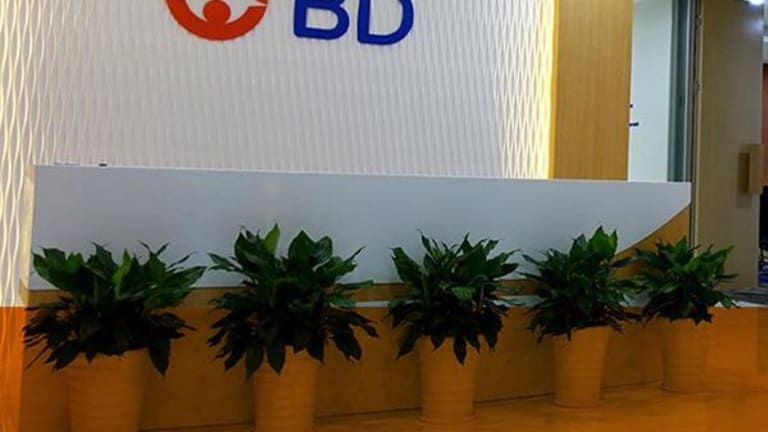 Deals of the Week: Reason for Optimism
Predictions that M&A would accelerate any day now might have started to come true.
There's at least one sign this week that the predictions made left and right by M&A mavens that dealmaking activity will pick up this year might come true.
Although deal volume is up significantly over the same period last year, dollar size has essentially been flat so far in 2017 compared with values seen during the same period last year.
But that may be starting to change. Consider the fact that for the first time in recent memory, a deal this week cracked the top 10 for the year, as reflected in the tables below.
That deal was Becton, Dickinson's (BCX) - Get Free Report $24 billion acquisition of fellow medical device maker C.R. Bard undefined , which like the buyer is based in northern New Jersey but primarily offers devices for vascular medicine, urology, oncology and surgery, whereas Becton specializes in syringes and infusion products. The deal was not only the biggest ever for 120-year-old Becton but also the biggest of the week and one that ranks as the 5th biggest of the year. 
Still, that deal was more than three times as big as the next-largest transaction of the week, luxury goods maker LVMH Moet Hennessy Louis Vuitton's $7 billion purchase of the 25.7% of Christian Dior that it didn't already own. And of course that was simply the acquisition of a stake. Moreover, the deal's value was more than $3 billion short of that of the 10th-largest of the year, aircraft engine maker Safran's SA $10.6 billion bid for aircraft interior maker Zodiac Aerospace. 
So in a sense, we're still awaiting the full reawakening of what Keynes called "animal spirits" and the experts, or deal salesmen, keep trying to conjure.