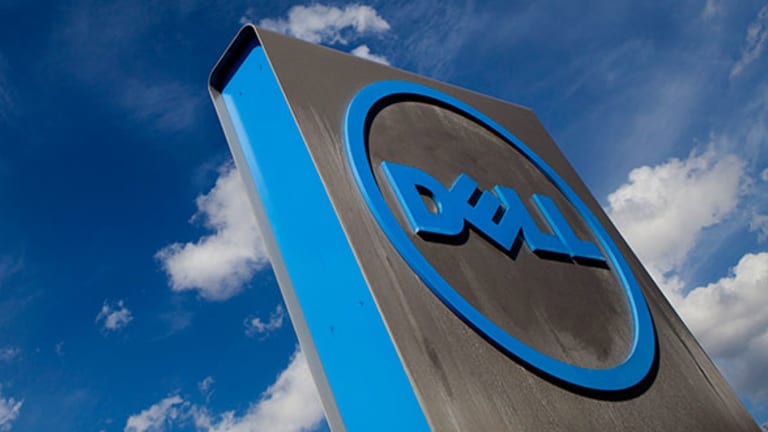 Deals and More Deals on the way to the New Dell
Dell must claw its way through financing and asset sales as it prepares to swallow EMC and then perhaps go public again.
Dell must claw its way through financing and asset sales as it prepares to swallow EMC and then perhaps go public again.
The success of Dell Inc.'s most recent bond has won the computer giant breathing room as it futzes its finances to keep creditors comfortable with its leverage while it moves toward the completion of its $67 billion buy of peer EMC Corp. (EMC) in the fourth quarter. The financial finagling needed to pave the way to the biggest tech deal in history involves some significant and not uncomplicated debt financing and asset divestitures. Ultimately, all that deal-making may be required to enable the revamped company return to the public markets, which given Dell's size is seen as its PE sponsors' only viable exit strategy. 
Although Dell faces a long process of intermediate deal-making on the way to its ultimate deal, the company has gotten off to a good start. Dell in mid-May experienced strong demand for a $16 billion bond, allowing it to increase the issue to $20 billion. The unexpectedly robust interest and bigger volume will allow the company to readjust other parts of its financing plan that include syndicated loans to banks and institutional investors as well as an unsecured bond.
"They issued secured bonds that were issued at investment grade," said Gimme Credit LLC senior investment analyst Dave Novosel in a phone interview. "The fact that they were able to do this at investment grade opened the door to a slew of traders."
Round Rock, Texas-based Dell and its private equity partners in October announced an all-stock agreement to take EMC Corp. private to lessen its dependence on the waning PC market and challenge corporate computer juggernauts such as Hewlett-Packard Enterprise Co. (HPE) - Get Report , IBM Corp. (IBM) - Get Report and Amazon.com Inc. (AMZN) - Get Report .
The deal's valuation makes it the biggest-ever pure technology acquisition. Dell, along with Silver Lake Partners LP and Singapore sovereign wealth fund Temasek Holdings Pte., have offered to pay EMC shareholders $24 a share as well as 0.111 of a tracking stock in EMC's VMware Inc., whose software allows a single computer server to act as several.
When announced, the offer represented $33.15 per EMC share, a 19% bonus on the day it was unveiled. The deal has since cleared the FTC and the European Commission and will face an EMC shareholder vote later this summer. It also needs the approval of Chinese officials.
It's expected to close in October.
Dell, operating through parent company Denali Holding Inc., immediately began cobbling together an as-much-as $49.5 billion financing package for the agreement. Late last year it began shopping what is known as Term Loan A, which includes a three-year and a five-year $3.5 billion bank loan. About 30 banks are reportedly in those loans.
It also hopes to complete a $3 billion revolving credit loan before embarking on marketing its next two major debt offerings - the proposed $8 billion Term Loan B and an unsecured, high-yield bond worth $9 billion. Analysts said the size and success of the secured bond now allow it to potentially adjust the size of those two issues or even return to Term Loan B for an increase.
"They want to issue the same dollar amount of debt. I'd expect that will come out of something else," said Standard & Poor's analyst David Tsui in phone interview.
The three investors will also sink $4.25 billion of their own cash into the deal.
Just as it was lining up debt for the offer, the company also announced plans to sell off activities that either overlap with EMC or will become uninteresting given its goal of becoming a major supplier of corporate servers. The proceeds from those divestments will in turn be used to cut the combined company's liabilities--it's expected to start life with debt of $58 billion and gross leverage of about 6 times, with that falling to $44 billion and 4 times by the end of 2017, according to Moody's.
And analysts also expect it to take a page from the playbook of its most recent leveraged buyout--the Silver Lake-backed take-private of Dell itself in 2013 for $24.9 billion. After that deal, Dell, led by namesake billionaire Michael Dell, relied heavily on the company's cash flow to trim liabilities.
The divestments have already begun and are expected to bring in $6 billion this year already.
In March it announced an agreement to sell its Dell Services unit to Japan's NTT Data Inc. for $3.05 billion. It bought the unit for $3.9 billion in 2009 when it was known as Perot Systems and had reportedly sought $5 billion when it launched the auction in January.
Four strategic suitors made it to the final round, a source told The Deal, a sister publication of The Street.
The company in November told credit agencies it was targeting a total $10 billion in asset sales before EMC the deal closes, according to Reuters. In addition to the services sale, the company is already in talks to sell its Quest Software Inc. corporate software maker, which competes with EMC's VMware, as well as SonicWall cybersecurity unit.
Both are expected to fetch $2 billion--Dell paid $2.4 billion for Quest and $1.2 billion for SonicWall in 2012. Private equity firms Kohlberg Kravis Roberts & Co. LP (KKR) - Get Report, Thoma Bravo LLC and Vista Equity Partners LLC have reportedly joined the Goldman Sachs Group Inc.-led auctions for the companies.
All three bidders as well as Dell refused to comment.
"We don't think this is going to be a long-term speculative company," S&P's Tsui said. He said asset sales coupled with cash flow and synergies may allow Dell to return to an investment grade rating 18 months to two years after the deal closes.
"Debt needs to be sustained below the 3 times level," he said, noting that deterioration in the server market could extend the time Dell needs to get back to investment grade, but that it isn't expected to stumble as it pays down debt.
Dell also has a number of other companies it could put on the block, including EMC's RSA Security Inc. cybersecurity unit, which directly competes with Dell's own Secureworks Inc.SCWX as well as SonicWall. A sale of RSA appeared to become even more likely when Dell surprised investors in April by allowing Secureworks to sell only a sliver of itself on Nasdaq.
EMC picked up RSA in 2006 for about $2.1 billion.
EMC's Documentum unit, which the target was rumored to be selling even before Dell's overtures, is likely to hit the block as part of a sale of its Enterprise Content Division but not its Pivotal wing, according to Constellation Research Inc. analyst Holger Mueller.
Documentum, which EMC bought in 2003 for $1.7 billion, and the ECD unit help businesses manage paperwork digitally while Pivotal helps companies create their own software using a specific method known as "agile".
However, some of the divestments may be difficult, Mueller said, because Dell clearly needs to offload something but wants to hang onto the top performers. He said the list of businesses Dell would be willing to part with is very long since its made its focus on corporate customers clear.
"It's a tough situation," he said.
Other units that could hit the block could be overlapping hardware such as Dell's Compellent and EqualLogic storage devices or its DR Series data protection equipment.
Although no one expects Dell to fail in its bid to swallow EMC, the deal carries a $2.5 billion breakup fee for EMC and a $4 billion termination fee for Dell.
"We believe that the company is committed to attaining investment-grade status over the long term, especially since its primary competitors have investment grade senior unsecured ratings," wrote Moody's Investors Service Inc. analyst Stephen Sohn in an e-mail. Moody's didn't respond to several interview requests.
Ultimately analysts say Dell is likely to be re-listed to give both Silver Lake and Temasek a way to capitalize on their investment in the record-breaking deal. Finding another buyer for Dell itself would likely prove impossible to allow the pair to walk away.
"Who actually could buy it at that point? It's such a huge company," said Gimme Credit's Novosel. "The idea down the road would be to take this public again."
This article originally published in The Deal, a sister publication of TheStreet on Friday, June 10. Click here to learn more about The Deal.