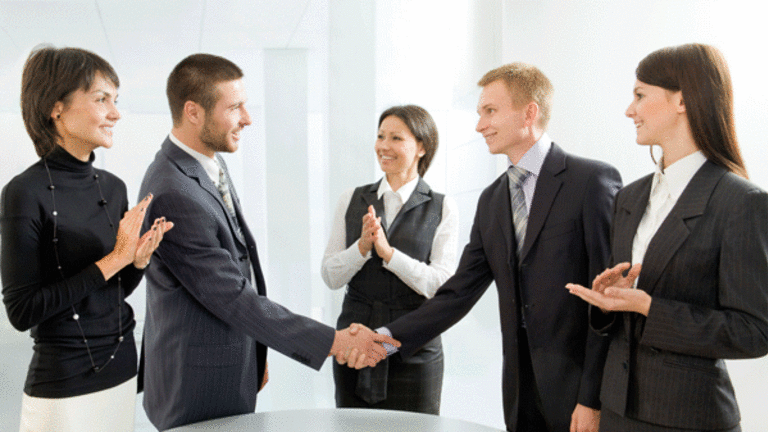 Deal Stocks Remain Market Bright Spot
Shares of takeover targets have skyrocketed. The key for investors is to know where and when to trade.
NEW YORK (
) -- Takeovers have been a boon to some company stock prices regardless of what markets are showing about recession, a Eurozone banking crisis and global government indebtedness.
While stock markets are trading down over 4%, commodities plummeted and bond yields hit record lows on Thursday,
Goodrich
( GR) rose 11 percent, above $120 for the first time in company history on news that it would be bought by
United Technologies
(UTX) - Get Free Report
for $127.50 a share.
The contrast is striking for previous M&A targets.
Lubrizol
( LZ),
Temple-Inland
( TIN),
NYSE Euronext
(NYX)
,
Constellation Energy
( CEG),
Petrohawk Energy
and Goodrich all hit new yearly highs when takeover talks broke about each company. They also hit their highest point since the worst of the financial crisis in 2008, and the subsequent Great Recession.
Earlier in the year, blockbuster deals like
AT&T's
(T) - Get Free Report
now stalled acquisition of
T-Mobile
pulled merger and acquisition markets to pre-recession levels. In January,
Thompson Reuters
reported in its review on M&A activity that mergers increased 23% in 2010 to $2.4 trillion, putting deal making at the highest level since 2008. Merger activity continued to roll in the first half of the year, rising 30 % from 2010 to $1.19 billion.
Recently, market fears have taken the wind out of the market.
So far in the third quarter, mergers are down 10.3% to $492.3 billion, according to data compiled by
Bloomberg
. With bank financing gone and fear rising, mega-mergers are unlikely to continue, but smaller ones may still be in the cards.
But for some investors that have seen their shares plummet with every new twist in our slow economic recovery, takeovers may be their best hope for a decent return. The key for investors is to sit back and think about what types of deals companies are going to do to withstand a continued economic slowdown.
"I don't think we are going to see a situation where M&A activity lifts the markets," says R.J. Hottovy a research director at
Morningstar
who focuses on merger activity. "We don't think the M&A market is dead," Hottovy adds. He expects "small all cash deals to continue throughout the remainder of the year," even if larger deals are put on hold.
Companies appear to agree with Hottovy that getting smaller is better.
Conglomerates like
Kraft Foods
( KFT),
Sara Lee
( SLE),
Fortune Brands
( FO) and
Tyco
(TYC)
have all recently announced plans to split up into smaller companies, each with more simple business lines.
By breaking up, activist shareholders and company executives frustrated by low stock prices may be trying to tempt larger companies to use their cash in a takeover. "Once you break up the businesses, they potentially could become acquisition targets for strategic acquirers," says Hottovy.
Philip J. Orlando, Chief Equity Market Strategist at
Federated Investors
(FII) - Get Free Report
says unlike when deal markets froze after the failure of
Lehman Brothers
in 2008, "The fact that you've got M&A going on tells you that companies have cash, that stocks are cheap and that companies have confidence in the future." He adds, "companies looking to expand may find it more time and price efficient to go and buy a competitor that's selling at a dirt cheap valuation" than to develop new business lines.
In a quarterly assessment of potential takeover targets published at the beginning of the year, Hottovy and his research team at Morningstar identified
Constellation Energy
and
Petrohawk Energy
as ripe for a takeover.
Exelon
(EXC) - Get Free Report
bought Constellation for $7.9 billion in April and
BHP Billiton
(BHP) - Get Free Report
, the Australian mining giant, bought Petrohawk for $12.1 billion in July.
Morningstar's index of 80 companies that could be takeover targets outperformed overall stock markets by 3-to-4% before falling to just 1% as of mid-September because Hottovy says, "we've seen takeover premiums work their way out of stock prices."
In its September 14th update of potential takeover targets to reflect worsening merger markets, Morningstar identified
Ultra Petroleum
undefined
,
SandRidge Energy
(SD) - Get Free Report
,
Leap Wireless
(LEAP)
,
Riverbed Technology
(RVBD)
,
Collective Brands
(PSS)
and
AeroVironment
(AVAC)
as the most likely takeover candidates citing consolidation in the energy industry, investment by large carriers in communications and network services and a continuation of the breakup trend.
Even if markets continue to find new lows for the year, prepare for more breakups and a steady flow of small merger deals at prices that may increasingly be at a premium to market prices. Even with falling markets, Hottovy says, "I would expect
takeover premiums to remain pretty high."
-- Written by Antoine Gara in New York