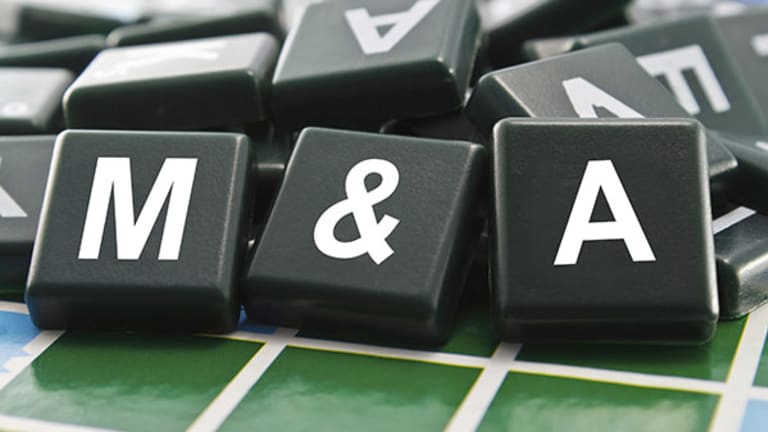 The merger and acquisitions market isn't going to break any records in 2016. Unless someone's got a trillion and a half dollar deal aborning in the next week, the $3.5 trillion worth of transaction value for this year is going to compare rather unfavorably to the $5 trillion in transactions executed last year, and won't even catch up with the $4.6 trillion notched during the previous one year high recorded in 2007.
Who cares? They don't give out laurels for M&A transactions. (Who, for the sake of the argument, would you give it to? We might suggest the intrepid reporter who chronicles merger activity on a regular basis.)
Editors' pick: This article was originally published on Dec. 18.
The M&A calendar in 2016 was pocked with a few hiccups, but was nevertheless fairly robust. "It's not like the year was a car on fire about to plunge over the cliff," Jeremy Swan, principal and national director of the private equity and venture capital industry at CohnReznick, a leading accounting, tax and advisory firm, said in a recent interview, as he characterized the M&A environment.
So while the backdrop wasn't like something in a 1970s action drama -- think The Rockford Files, for instance -- there were some challenges: global economic uncertainty, capital market volatility and the outlook for interest rates, both in the U.S. and around the world. "The best word to describe 2016," Swan added. "Interesting."
EDITOR'S NOTE: This article was originally published by The Deal, a sister publication of TheStreet that offers sophisticated insight and analysis on all types of deals, from inception to integration. Click here for a free trial.
"It was really a tale of two halves," Russell Thomson, leader of U.S. M&A Services Practice at Deloitte, said in an interview. "After the record levels we saw in 2015, we got off to a very slow start in 2016. But starting in September, we began to see a meaningful pickup in activity," Thomson added, both in the value of deals and the number of deals. "The momentum is positive right now."
Deloitte's recent survey indicated 75% of respondents anticipated an increase in deal flow in 2017. "Our recent survey would tell you it's going to be a nice seamless ride into 2017," Dan Tiemann,U.S. Lead Partner for Deal Advisory and Strategy at KPMG, said in an interview. "The confidence to execute transactions comes with an environment of certainty."
The market has managed to cultivate some certainty since November's U.S. presidential election. "The biggest consequence of the election is that it's over," Thomas Bonney, founder and managing director of CMF, the Philadelphia-based consulting firm that provides financial, operational and financial executive search services to private equity firms and their portfolio companies. "From an M&A standpoint, the animal spirits and confidence were muted by the election in 2016."
Now we're back to basic blocking and tackling in the ground game of the M&A tar pits. There's a lot of capital on corporate balance sheets -- in fact, more than ever, given the public equity market's stunning post-election performance -- and a lot of dry powder for financial sponsors, who sit on some $3 trillion in capital that they've got to get to work.
"I think any hesitant sellers from the last several years are going to bring assets to the market," Bonney said.
There are some uncertainties in the market. The outlook for interest rates, for instance, is a significant overhang. "As interest rates increase, the impact on valuation becomes significant," KPMG's Tiemann said.
There is some measure of fluidity in that equation, though. Deloitte's Thomson said, "The equity markets have started to adjust to the expectation of moderate interest rate increases, while the bond market and the foreign exchange markets have already adjusted.
"I think all that is significant," Thomson added.
There's also the question of regulation. Bob Saada, U.S. Deals leader at PwC, said "A wave of recently announced megadeals across several different industries shows that the appetite for megadeals isn't going away." He cited, among others, the AT&T (T) - Get AT&T Inc. Report  purchase of Time Warner (TWX) , and the NXP Semiconductors (NXP) - Get Nuveen Select Tax-Free Income Portfolio Report  acquisition by Qualcomm (QCOM) - Get QUALCOMM Incorporated Report . "What remains to be seen however, is how closely these deals get scrutinized under the new administration, and whether they actually make it to the finish line."
Qualcomm and AT&T are holdings in Jim Cramer'sAction Alerts PLUS Charitable Trust Portfolio. Want to be alerted before Cramer buys or sells QCOM or T? Learn more now.
The combination of constructive factors -- the dry powder in the vast wallets of private equity firms and the huge levels of capital on the balance sheet of corporations, coupled with the accommodating debt structures -- means that one thing won't change in the M&A world: valuations are elevated, and likely to remain so. "I think it's a little shocking that valuations have stayed up there," CohnReznick's Swan said. Nevertheless, the expectations of sellers regarding the value of their assets remains elevated. If it's adjusted, it will probably only do so modestly.
"This could be the year where, for certain assets, sellers expectations come down half a turn," CMF's Bonney said. "Buyers' tolerance for those elevated prices comes up half a turn. And the two sides kind of meet in the middle."
Ultimately, as Saada pointed out, the M&A market remains conflated by two factors: the resilience of the U.S. economy, which makes inbound acquisitions especially attractive, and one stark reality: even with a fairly resolute domestic economy, growth is tough to come by. When organic growth isn't predominant, the best opportunity -- to keep the boardroom supportive, to keep shareholders happy, and to sate the desire of the C-Suite to show some growth -- is to build through buying.