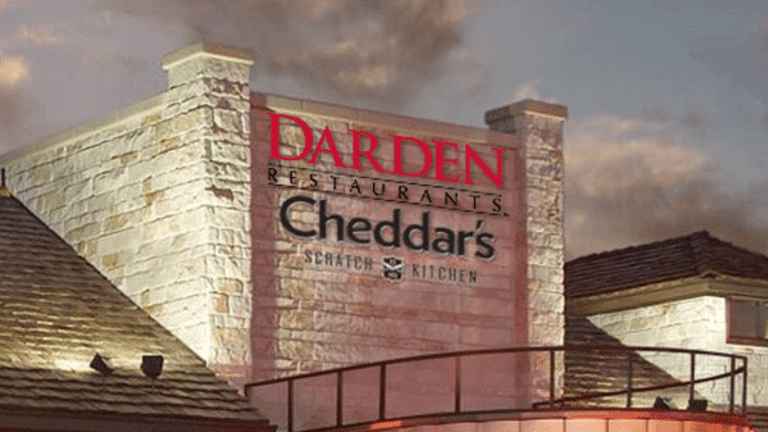 Can Darden Deliver on Cheddar's Acquisition?
The Texas-based Cheddar's has 165 locations.
Darden Restaurants (DRI) - Get Darden Restaurants, Inc. Report , announced Tuesday that it plans to acquire privately held Cheddar's Scratch Kitchen for $780 million from L Catterton and Oak Investment Partners.
The all-cash deal is expected to be completed by Darden's fiscal 2017 fourth quarter and is subject to customary closing conditions. As a result of the deal, by fiscal 2019, Darden expects between $20 million and $25 million of annualized pre-tax run rate synergies. 
Still, analysts are skeptical of the deal, Darden's third-largest deal since 2007.
"We view the merit of the Cheddar's acquisition as a show-me story for several reasons," wrote Jeff Farmer of Wells Fargo in a note Tuesday. "Barring a very quickly growing ToGo sales mix or some other unforeseen competitive advantage with Cheddar's, we believe investors should view the concept as a show-me story."
The deal follows Darden's 2012 acquisition of Yard House for $585 million from TSG Consumer Partners and its 2007 acquisition of LongHorn Steakhouse parent Rare Hospitality International for $1.4 billion. According to Wells Fargo's Farmer, those deals worked out to 12.5 times and 10.4 times Ebitda, respectively. Cheddar works out to about 10.4 times its trailing 12-month adjusted Ebitda ending December 2016. 
Both Rare Hospitality and Yard House, "despite their scale, drove little operating margin or SG&A leverage" and "DRI's return on invested capital saw a healthy decline after both acquisitions," wrote Farmer. "Cash used to help fund the acquisition could have been used to fund share repurchase," he added.
On the other hand, the deal does have its benefits, according to Piper Jaffray analysts Nicole Regan and Joshua Long.
"Cheddar's acquisition brings differentiated brand with unit growth potential" the Piper analysts wrote in a note Monday evening. "Although we have limited to no financial data on the company, we are familiar with it from a brand perspective and believe it is a good addition for Darden.
Cheddar's will add to Darden's portfolio of various brands, which includes Olive Garden, LongHorn Steakhouse, Yard House, Capital Grille, Seasons 52, Bahama Breeze and Eddie V's. Cheddar's was founded in 1979 in Arlington, Texas, and features made-from-scratch food at competitive prices; it has 165 locations, including 140 owned and 25 franchised, across 28 states, and average annual restaurant volumes of $4.4 million.
"Cheddar's is an undisputed casual dining value leader with broad appeal and strong average restaurant volumes," said Darden CEO Gene Lee. "Cheddar's is a great fit in the Darden portfolio because it complements our existing brands. This addition will also enable Darden to further strengthen two of our most important competitive advantages: our significant scale and our extensive data and insights."
Ian Baines, CEO of Cheddar's, will remain president of Cheddar's and report to Lee.
"Our operating philosophy and values are similar and we believe this transaction provides a great opportunity for our team members to continue to grow and develop in their careers," Baines said in a press release. "Additionally, Darden's expertise will enable us to further capitalize on our growth potential."
The deal comes as Darden also announced results for the quarter ended Feb. 28.
Darden reported EPS of $1.32 beating consensus estimates of $1.27 and KeyBanc Capital Markets' estimate of $1.26.
"Variances between actual results and our projections were due primarily to higher-than-expected sales and profits at both Olive Garden and LongHorn Steakhouse [about 6 cents] and a lower-than-expected tax rate, (24.5% versus 26% projected or around 3 cents in EPS)," KeyBanc's Chris O'Cull and David Carlson wrote in a note Tuesday.
Also, Darden reported that same restaurant sales increased 0.9% and included Olive Garden's SRS gains of 1.4%, also above both the Street's and KBCM's estimates, and LongHorn's games of 0.2%, above both's estimates. KBCM raised its fiscal year 2017 estimate to $3.98 EPS to reflect its Q3 estimate. KBCM noted that SRS were positive at six of Darden's seven brands in a time when the sector of fast-casual dining has declined almost 3%.
BofA Merrill Lynch is acting as exclusive financial advisor and Hunton & Williams is acting as legal advisor to Darden. Morgan Stanley & Co. is acting as exclusive financial advisor to Cheddar's and DLA Piper is acting as legal advisor to L Catterton, Oak Investment Partners and Cheddar's.
Hunton & Williams advised Darden on its Yard House acquisition.