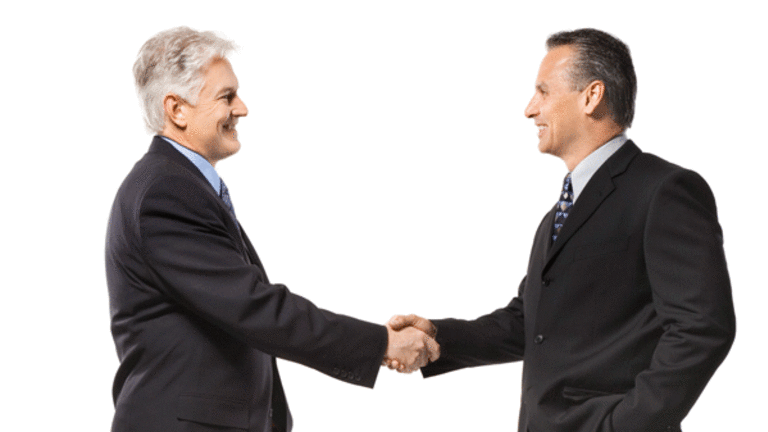 Danger May Be Ahead for Debt Investors in the Oil and Gas Fields
Funds aimed at distressed energy firms have proliferated, but pitfalls await overzealous managers.
Funds aimed at distressed energy firms have proliferated, but pitfalls await overzealous managers.
NEW YORK (The Deal) -- Debt investors are amassing hefty war chests to target struggling energy companies, but many managers of those funds profess to be apprehensive about the bond market's high valuations as the severity of the next distressed cycle remains uncertain.
"I've frankly got the sense recently that people feel like they've looked at every single energy name there is, and [are thinking], 'Now what do we do?'" said one restructuring lawyer who asked not to be identified.
Must Read:Warren Buffett's Top 10 Dividend-Paying Stocks for 2015
Although some investors have already articulated their strategies, many others haven't, and if the latter don't figure it out soon, they could very well be required to return the funds they raised for distressed-energy-debt investing at the end of the year.
A barrel of West Texas Intermediate oil is $47.30, which is down from the more than $53 it sold for at the start of the year. So debt investors are thinking about the best ways to play the next energy industry distress cycle, but they are doing so with the utmost care.
Why the caution?
Mostly because the secondary-bond-market opportunities aren't what they used to be, so investors are betting on new secured debt, bankrupt companies' bonds, and upside/downside strategies that hold promise in either a best-case or worst-case scenario. Other financing structures, such as product payments, may require further clarity, and opportunities to replace bank lenders haven't started materializing yet.
Pitfalls abound, of course.
Investors have to be mindful of perils such as loose bond indentures industrywide, which often allow for debt to be added in a position senior to the existing bonds. Other hazards include misunderstanding the best hedging strategies, energy-specific state laws that can trump the bankruptcy code, the fine art of perfecting liens, uncertainty over how master limited partnerships would restructure and frothy valuations.
Complicating the process is just how varied the energy space is.
The services sector is getting crowded, while the midstream segment, which involves infrastructure, pipelines, plants and gathering systems among other assets, is being overlooked, according to industry watchers.
Must Read:7 Bank Stocks That Could Make or Break Your Portfolio in the Era of Low Oil Prices
The vertiginous sell off in energy bonds that took place after Thanksgiving when the Organization of the Petroleum Exporting Countries opted to maintain production levels despite plunging oil prices is already a point of nostalgia for debt investors, as the plum opportunities available then are long gone.
Jacob Mercer, the senior portfolio manager at Minneapolis-based investment firm Whitebox Advisors, which invests in distressed debt, recalls that bloodbath well -- energy companies' stock and bonds reached bottom in mid-December, and his firm actively bought up energy debt from then to mid-February.
But the pendulum swung too far, and Whitebox Advisors started taking profits and exiting the names it was involved in as the valuations of some companies became too rich, he said.
"This isn't a buy-and-hold type of strategy," Mercer said. "You have to be very dynamic."
Mercer declined to name the specific companies in which Whitebox Advisors has invested, but he noted that the firm has been involved in the energy sector for a long time and has a "deep bench" of employees with energy experience.
There was "almost indiscriminate buying in energy names" during the post-Thanksgiving carnage, and that caused the market to overheat, he said.
Indeed, as oil and gas commodity prices traded lower, bond prices moved higher because the demand for the paper was so competitive, Mercer said.
"When people aren't doing any fundamental research on securities and buy anything [in] sight, that led us to our belief that too much money was being thrown at the space," he said.
Jeffrey E. Eberwein, founder and chief executive of Greenwich, Conn., hedge fund Lone Star Value Management, also reminisced about the late 2014 sell off, noting that there were good profits to be made investing in energy companies with attractive assets with bonds that were hit unfairly hard, such as Wayne, Pa.-based Penn Virginia (PVA) and Houston's Sanchez Energy (SN) - Get Report.
Both Penn Virginia and Sanchez Energy saw their unsecured bonds trading above par before the bloodbath, but then they dipped down into the 70s and 80s, offering a swell buying opportunity.
Must Read:High Alert for Signs of Biotech Collapse Makes for Nervous Investors
Now, however, trading in the energy bond market is a different story.
Many companies with solid balance sheets and attractive assets saw their bonds go rapidly from par to the mid-70s during the sell off, but now those same bonds have recovered to levels in the mid 80s to 90s, Eberwein said.
Penn Virginia and Sanchez Energy have both seen their unsecured bonds rise back up into the 90s.
Even bonds with significant bankruptcy risk are priced too high to be appealing, Eberwein said.
His preferred energy investment strategy at the moment is to wait until a company files for bankruptcy and then buy into its bonds.
Eberwein employed that strategy with BPZ Resources Inc., a Houston-based oil and gas company that filed for Chapter 11 bankruptcy protection on March 9 in the U.S. Bankruptcy Court for the Southern District of Texas, and with Endeavour International, which filed for Chapter 11 on Oct. 10 in the U.S. Bankruptcy Court for the District of Delaware.
Eberwein noted that BPZ's bonds were trading at par as recently as October, and careened down to the teens post-filing.
Some firms aren't comfortable with companies in bankruptcy, while others have charters that expressly prohibit them from holding bankrupt bonds, which causes forced selling and creates opportunities for investors with a higher risk tolerance, he said.
The Texas-born Eberwein has extensive energy industry experience and is used to valuing oil and gas assets to identify the fulcrum security, which would entitle its holders to the equity of a reorganized company in a restructuring.
Still, "even if I was highly confident that I'd identified the fulcrum security, I wouldn't want to own it until [the company] filed," he said.
Must Read:Five Things to Know About the Fed Raising Interest Rates
The restructuring lawyer who asked not to be identified said that waiting for filings poses its own challenges when a multitude of dollars is chasing opportunities.
"You're risking [that] someone else who just raised billions of dollars might try to come in and do a distressed financing before they file," the lawyer said.
As a result, you may be "waiting for a great deal and passing up what could be a good deal," the attorney said.
Like Eberwein, Mercer said that he is "not afraid of bankruptcy," and, in fact, Whitebox Advisors is no stranger to debtor-in-possession and exit financing or active roles in reorganizations.
Whitebox Advisors declined to comment about specific companies, but the firm was part of a group of senior noteholders that provided a $50 million debtor-in-possession loan to oil and gas exploration and production company GMX Resources, when it filed for Chapter 11 bankruptcy protection in the U.S. Bankruptcy Court for the Western District of Oklahoma on April 1, 2013.
The senior noteholders exchanged their debt for 100% of the company's reorganized equity during the bankruptcy case.
Whitebox Advisors was also part of a group of second-lien noteholders that took control of privately owned oilfield services provider Platinum Energy Solutions during its out-of-court restructuring in October 2013. Through the restructuring, the company's second-lien debt was swapped for equity in the reorganized company, and Whitebox Advisors became a major shareholder in the company.
More recently, Whitebox Advisors was part of a group that provided a $350 million debtor-in-possession loan on March 6 to bankrupt NII Holdings, which provides wireless telecommunications services mainly in Brazil and Mexico.
Whitebox Advisors will often get involved at the top of the capital structure, including bank debt, revolvers and first-lien bonds, but it is also interested in second-lien bonds, unsecured bonds, convertible debt and equity, Mercer said.
Whitebox Advisors will buy a security and hold it for a month or two, while it has other investments it has held for more than six years, he said.
Must Read:10 Stocks Billionaire John Paulson Loves
"Broadly speaking, it comes down to valuation, which really is a moving target," Mercer said.
He expects more opportunities to surface later in the year as companies face liquidity issues when their hedges fall off and their borrowing bases are redetermined.
Whitebox Advisors isn't jumping back in yet but is watching valuations and some specific companies closely, waiting for them to get closer to their price targets so his fund can start accumulating again, Mercer said.
The wait-and-see strategy is popular.
A hedge fund investor who asked not to be identified said that energy bonds are still too pricey relative to the companies' fundamentals, adding that bonds trading in the 80s look expensive when the risk of a restructuring looms if oil prices stay low.
Nonetheless, some major debt investment firms have laid out their battle plans.
For example, Angelo Gordon & Co., a well-known firm in the energy industry, is out looking for high-quality paper, according to people familiar with the situation.
The New York-based hedge fund has a reputation as a top-of-the-capital-structure player not interested in loan-to-own.
The fund focuses on the upstream sector, which involves oil-and-gas exploration-and-production companies, and it is willing to do deals that banks won't do-provided that it is in the first position with favorable terms, sources said.
Oaktree Capital Group and Third Avenue Management, meanwhile, look to buy in at low prices and are especially interested in second-lien notes.
Must Read:Federal Reserve Drops 'Patient' From Statement, Remains Dovish
Those funds have more of a trading-oriented strategy, sources said, meaning that they don't fear restructuring but are willing to simply sell their investments at a profit.
Then there is Chicago-based alternative asset manager Victory Park Capital Advisors, which is looking to buy in at any part of the capital structure and looks for loan-to-own situations, sources said.
Officials at Angelo Gordon, Third Avenue and Victory Park didn't respond to requests for comment, while those at Oaktree Capital Group declined to comment.
Sources said that many of the larger energy funds have been raised to do loan-to-own deals.
But that outcome may take a while.
"A lot of these [energy] companies are hedged at least through the end of 2015, so I think you probably won't see a wave [of loan-to-own scenarios] unless the market stays depressed into 2016 when these hedges run off, so that they become very unprofitable," said the restructuring lawyer who asked not to be identified. "I think that 2016, if the cycle hasn't turned, might be the year of straight loan-to-own as opposed to now, [investors are] just helping a company get through this cycle with the investor having upside and downside protection."
The lawyer has witnessed some investors pursuing a so-called upside/downside strategy, which involves buying secured bonds that are ahead of unsecured bonds in a company's capital structure on the notion that the bonds will be a good investment in a restructuring or a recovery.
"They either get -- if the cycle turns -- a really nice attractive return on their investment [or] if the cycle doesn't turn and the company files for bankruptcy, a second-lien piece of paper that may end up being the equity of the company taken at exactly the bottom of the commodity downturn," the lawyer said. "That equity in the new company may have a lot of value once the commodity cycle does turn around."
Demand still exists for fresh bond offerings from troubled energy companies, especially for 1.5- and second-lien bonds that jump in line ahead of existing bonds.
"We've seen a number of situations that we thought were going to be restructurings, but the company was able to attract mezzanine financing issued below the senior debt but above the bonds," said Mark Liscio, partner and co-chairman of the bankruptcy and restructuring department at Kaye Scholer. "That's creating liquidity for a lot of these companies to let them ride out short-term issues."
Must Read:Fed Policies Haven't Helped Savers
One company that had warned that a major cut to its borrowing base loomed ahead, oil and gas explorer and producer Energy XXI (EXXI) , succeeded in getting ahead of its base recalculation by issuing $1.45 billion in 11% second-lien bonds due May 15, 2020, this month. Those bonds jumped ahead of the Hamilton, Bermuda, oil producer's existing unsecured bonds in priority.
Frisco, Texas, oil and gas company Comstock Resources (CRK) - Get Report made a similar move this month, raising $700 million in 10% senior secured notes due 2020, leapfrogging over previously issued unsecured bonds.
Perhaps the most stressful dynamic in the energy industry besides the fluctuations of oil prices is the relationship between banks and their troubled energy borrowers. Some investors are hoping that this tension will create investment opportunities.
Federal banking regulators have increased the standards for loan safety with recent leveraged loan guidelines, constraining the debt levels that regulated institutions can allow.
Revolving credit facilities in the energy industry traditionally have borrowing bases that are calculated, usually every six months, based on the value of a company's reserves.
A lot of redeterminations are set for this spring and fall, and observers are heatedly debating how patient lenders will be as their regulators pressure them to play it safe.
Some sources think that the large lenders with a traditional presence in the energy sector are there to stay.
"I do not see the regulated entities and existing lenders rushing out of this space, at least for now," Liscio said. "I think that the big lenders to the industry have gotten used to the profits off of the energy deals, and I'm sure they don't want to give up the business ... On the senior loan side, I don't really see banks and buy side shops giving up the field to alternative lenders,"
Although big exits may not be in the cards, the lawyer who asked not to be identified thinks that some smaller banks and foreign ones may bow out.
"I do think there are players who are going to exit the space, [and] I think that there are investors who would love to be in these revolvers because they're very safe pieces of paper," the lawyer said.
Must Read:Staples Agrees to Buy Office Depot: What It Means for Investors, Consumers
Debt investors would be attracted because borrowing bases on these loans are designed to make sure that there are enough assets backing the loan to ensure full repayment and that the documents are written to give the lender consent rights over what the company can and can't do.
"So it's a really attractive place for some of these distressed investors," the lawyer said.
Foreign banks may not have the same incentives that they once did to lend to the energy industry. For some foreign banks, the attraction of making loans to energy companies was the ability to do derivatives.
As some of those foreign banks are leaving the commodity derivatives space, the allure of lending to energy companies will wane, the lawyer said.
Then there is the little-known production payment as an option. A production payment is a financing agreement that gives an investor a royalty-like payment with a maximum amount based on factors such as a specific amount of oil produced.
Under the federal bankruptcy code, production payments aren't part of an energy company's bankruptcy estate. The reason for that is that exploration and production companies lobbied Congress to get extra protections, which would create attractive financing structures that would make lenders comfortable.
That latter fact, of course, attracted the interest of some non-traditional energy lenders, which provided production payment financing to Houston-based ATP Oil & Gas, sources said.
But when ATP filed for Chapter 11 bankruptcy protection in the U.S. Bankruptcy Court for the Southern District of Texas on Aug. 17, 2012, those firms were in for a surprise.
In essence, Judge Marvin Isgur questioned whether the production payment financing was a true production payment and suggested that it was actually a secured loan masquerading as that bankruptcy-proof form of financing.
The buyers of the bulk of ATP's assets didn't pursue a case against the providers of the production payment, but as the rest of the assets are sold in the coming months, more guidance could come to light on this issue.
Must Read:One Big Risk in a Potential Merger Between Staples and Office Depot
"Over the next couple months, you may see some ATP case law that makes its way through this production payment issue," said the restructuring lawyer who asked not to be identified.
"The area of Wall Street that was looking into production payments was spooked by it all," the lawyer said. "The ripple effect it might have throughout the industry and [on] people thinking about whether they want to get into these things going forward could be a big deal, if it has a chilling effect."
The lawyer hasn't seen investment firms pursuing production payment deals and suspects that either they are waiting for the ATP case to play out or, alternatively, that most oil and gas companies have simply succeeded in raising money by issuing bonds or other loans ahead of their unsecured debt.
But getting an accurate picture of what energy company debt looks like can be tricky. Indeed, energy debt documents can be quite a minefield.
"There are a number of bond indentures that provide issuers with the flexibility to fix their liquidity problems, at least on a short-term basis and in limited amounts, and they provide that other debt can be issued senior to the bond level," Liscio said.
As he sees it, the most common weakness in energy industry bond covenants is the ability to issue new debt senior to the existing bonds.
Mercer advises investors looking to invest in the energy industry to do their homework and scour the company's debt indentures.
"We think that indentures, in general, especially on the E&P side, are very weak," he said. "Companies are bringing in debt in front of the current bondholders, and it's allowed in most public companies bond indentures."
In the vast majority of cases, this issuing freedom hasn't turned out well for the existing securities, Mercer said.
"Companies want to bring in capital and will take it in at almost any cost, so the current investor needs to be careful," he said.
Must Read:Why Tesla Needs an Activist Spark to Ease Growing Investor Anxiety
Debt investors should also make sure their liens are properly recorded and perfected, at the county level where necessary.
This is important when it comes to upstream oil and gas companies, according to Jeffrey N. Huddleston, a managing director at turnaround advisory firm Conway MacKenzie, adding that trade vendors can try to prime the bank with a lien if they aren't paid.
What it takes to have a perfectly perfected lien and what determines lien priority can vary by state, and if it isn't well understood upfront in a deal, it can result in holes in a first-lien collateral package later in a bankruptcy, he said.
As a result, Huddleston recommends that a secured creditor uncertain about the how well a lien is perfected should undertake a full legal review, including at the state level.
The lawyer who asked not to be identified said that many issues regarding lien priorities and property rights for oil and gas companies are decided by state law, not necessarily by the bankruptcy code.
"So understanding where all the assets are located -- and it could be in a multitude of states -- and how each of those states may treat lien priority and property rights differently is really critical to assessing what would happen in a downside scenario," the lawyer said. "Even more than in [for example] a retail company, you need to be deeply in the weeds of each state where assets are located with local attorneys who fully understand the ramifications."
Some states have extensive case law that makes it easier to predict how issues might play out in a restructuring.
"Texas is pretty settled in what it's done. It won't surprise anyone to learn that they respect property rights in a way that is probably E&P-company-favorable," the lawyer said.
Not all states have fully fleshed out their energy-specific laws in restructuring scenarios.
"I think the law in Louisiana is pretty unsettled, sparse and inconsistent, so I think there's a lot of uncertainty on how things could play out in Louisiana," the lawyer added.
Must Read:Warren Buffett's Top 10 Stock Buys
And legal issues aren't the only ones that cause debt investors consternation.
Investors in the oil and gas space don't always understand, much less prepare for, downside risks, Huddleston said.
He suggested that investors might be less concerned about the commodity risk as prices have already come down from very high levels, but there are still various other operational, managerial and technical risks that need to be addressed.
Investors can spend too much time focusing on the upside without modeling the downside of a deal enough, Huddleston said.
Another pitfall is hedging.
Hedging may be counter-intuitive right now because anyone who is buying in is hoping to enjoy the upside when commodity prices rise again by being fully exposed, but hedging should be considered if the company has a multiyear drilling program as companies need stability in terms of cash flow, Huddleston said.
Master limited partnership structures have been all the rage among energy investors in recent years, but those vehicles could be wild cards in a restructuring.
"I think investors should be very cognizant of the impact of the MLP structures in bankruptcy," Liscio said. "Corporate governance and tax basis are issues that may hold some unpleasant surprises for credit investors."
An MLP is a publicly traded limited partnership comprising a limited partner that provides capital and receives income distributions from the entity's cash flow and a general partner, which manages the business and takes performance-based compensation.
"If the MLP files, it's not a traditional corporate structure with a board of directors and a [chief operating officer] and the like," Liscio said.
Must Read:Not Every Company Is Getting Hurt by the Strong U.S. Dollar
"It's really managed by another entity," he said. "Investors need to think through what happens when the MLP files and it's managed by the general partner."
Investors don't have solid precedents that could show them how MLPs will deal with governance issues in a restructuring, Liscio said.
It is possible that debt investors would have to learn on the fly if an MLP filed for bankruptcy. And it isn't beyond the realm of possibility these days, as 2015 has already seen a handful of energy industry bankruptcies.
For example, marine contractor Cal Dive International filed for Chapter 11 bankruptcy protection in Delaware on March 3. Houston-based exploration and production company Dune Energy filed for Chapter 11 on March 8 in the U.S. Bankruptcy Court for the Western District of Texas after a planned merger with Eos Petro fell through.
Nine days later, oil and gas producer Quicksilver Resources of Fort Worth, Texas, filed for Chapter 11 bankruptcy protection in Delaware.
The hedge fund investor who asked not to be identified already has a nominee for the next restructuring candidate.
"If I had to pick one name that's closest to blowing up, Hercules would be it," that source said.
Hercules Offshore (HERO) , a Houston-based company that provides offshore contract drilling, liftboat and inland barge services to the oil and gas industry, is taking advice on restructuring options from Lazard's Daniel Aronson, according to people familiar with the matter.
Officials at Hercules Offshore couldn't be reached.
Paragon Offshore (PGN) , which owns offshore rigs and equipment, is another name that sources have flagged as especially troubled.
Must Read:Here's an 'Attractive Entry Point' for Investors to Get Back Into Stocks
On March 16, Paragon Offshore made a $262 million debt prepayment that it had tried to avoid, and now the Houston-based company is looking for alternative financing to replace that capital.
Another hedge fund investor who asked not to be identified doubts that new investors will step in to replace the $262 million loan and worries about Paragon Offshore's ability to generate cash going forward.
"Bankruptcy is a real possibility at some point," the investor said.
This person said that Paragon Offshore's earnings before interest, taxes, depreciation and amortization exceeded $900 million last year, but according to the investors' expectations, Ebitda is likely to drop to somewhere around $150 million by 2017, which wouldn't be enough to support the company's $2.16 billion in debt.
A Paragon Offshore spokesman said that the decline in Ebitda estimates may be based on an assumption that the company's existing rig contracts won't be renewed because customers are only interested in new rigs, an assumption that he disputes.
The spokesman noted that, since Paragon Offshore's August spin off, the company has added $454 million of contract backlog to its standard-specification fleet, and yet it has 11 new rigs that were delivered last year or will be this year that are idle.
As he sees it, that fact disproves any thesis that customers are only interested in working with new rigs.
Paragon Offshore faces uncertainty related to its contracts with major customer Petróleos Mexicanos, even though discussions over those contracts are continuing, the company said on March 16.
Paragon Offshore aimed to assure investors that its liquidity was adequate and new contracts were a positive tailwind for its business in its March 16 statement.
However, the hedge fund investor didn't think the new short-term contracts would move the needle.
Must Read:Biotech Stocks Are Selling Off Just Like 2014 -- and That Might Be a Good Thing
Not surprisingly, some energy companies have already hired advisers to deal with their issues.
Denver oil and gas explorer and producer Venoco is in the midst of a strategic review with Blackstone Advisory Partners's Jonathan Lurvey, and Samson Resources, a Tulsa, Okla., oil and gas explorer is working with Blackstone Group and Kirkland & Ellis on a possible restructuring, sources said.
Saratoga Resources, a Houston-based E&P company that said this month that it hired Conway Mackenzie's Huddleston and John T. Young Jr. to advise on debt restructuring; Littleton, Colo., oil and gas company American Eagle Energy is working on its liquidity issues with advisers; and Sabine Oil and Gas is working with Kirkland & Ellis and Lazard on a review of capital structure alternatives.
Other energy companies that made it onto various stressed and distressed lists include Cayman Islands-based offshore drilling contractor Vantage Drilling; Houston-based Goodrich Petroleum, an oil and gas company that just raised $100 million in new 8% second-lien notes this month in order to pay down its revolver; Pacific Rubiales, a Canada-based natural gas and crude oil producer; Houston oil and gas explorer Midstates Petroleum (MPO) ; Halcon Resources (HK) , another oil and gas company out of Houston; Denver oil and gas explorer Resolute Energy (REN) ; and Houston-based oil and gas company Swift Energy (SFY) - Get Report.
Officials at Goodrich Petroleum, Halcon Resources, Midstates Petroleum, Pacific Rubiales, Resolute Energy, Swift Energy and Vantage Drilling couldn't be reached for comment.
Many industry experts agree that distressed investing is likely to heat up during the third and fourth quarters this year and the first quarter of 2016 as borrowing bases are redetermined and hedging agreements begin to run off.
But as debt investors evaluate these opportunities, they must, ultimately, take a stance on a variable fraught with geopolitical uncertainties: oil prices.
"There's been overcorrection on certain E&P producers, and if you form a view that oil is going to rise, then there will be opportunities in those bonds," Liscio said.
"But if oil stays the same or in a range one or two clicks above where it is today, a lot of the bonds are underwater," he said. "You have to form a view on where you think oil is going to go."
Must Read:10 New Stocks Billionaire David Einhorn Loves
Read more from
: