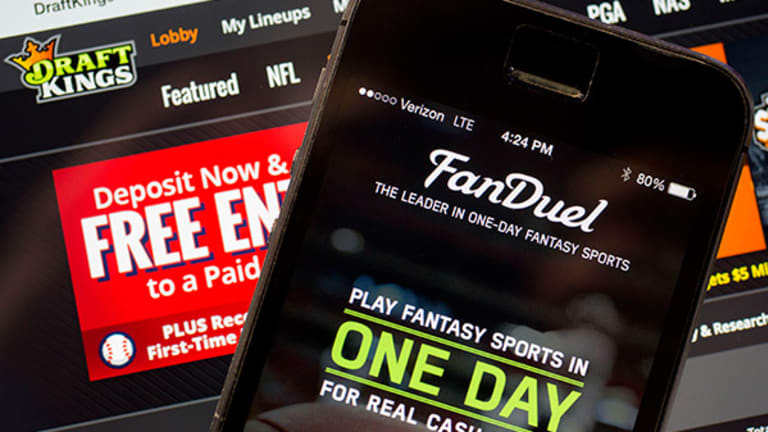 Daily Fantasy Sites FanDuel, DraftKings Launch Desperation Hail Mary as Deadline Looms
The two companies are reportedly in merger talks, citing increased costs associated with regulatory scrutiny and some 100 class action lawsuits. The move is aimed to put pressure on lawmakers.
The two companies are reportedly in merger talks, citing increased costs associated with regulatory scrutiny and some 100 class action lawsuits. The move is aimed to put pressure on lawmakers.
How do we know that daily fantasy sites FanDuel and DraftKings are in big trouble? They just told us. 
The daily fantasy industry is struggling amid increased scrutiny from state governments. Investors are losing confidence -- and money -- and it looks like a missed deadline this week could cut the company off from a huge source of revenue until 2017.
Given these troubles, these bitter rivals have proposed the unthinkable. Reports emerged earlier in the week that FanDuel and DraftKings, the industry's two largest players, are in talks to combine. Why would these once-billion-dollar companies, which reportedly hate each other, try to merge so quickly after launching? It's a Hail Mary meant to save the firms.  
The two companies have lost nearly half their value as their operations have been halted in 11 states, including New York and Texas. Lawmakers are currently deliberating whether to allow the sites to start operating again. In February, Rupert Murdoch's 21st Century Fox (FOXA) - Get Report revealed in a regulatory filing that it had marked down the company's $160 million investment into DraftKings by more than 60%. 
Other investors can't be happy. For DraftKings, they include Madison Square Garden Co. (MSG) - Get Report , and the Kraft Group, which owns the New England Patriots. FanDuel is backed by KKR & Co. (KKR) - Get Report and Time Warner Inc. (TWX) , among others. They both have also received funding from venture firms including Shamrock Capital Advisors LLC, GGV Capital and Atlas VentureLP as well as non-traditional investors like Major League Baseball, National Hockey LeagueLP, National Basketball Association and Major League SoccerLLC.
Time is running out on these investments. New York's legislature is set to recess on June 16 and, if no decision is made as to the legality of daily fantasy sports in the state before the session ends, the companies would be forced to wait until at least January 2017 to hear their fates. The proposed merger ups the public pressure on lawmakers to take up the issue before recess. The move is aimed at getting approval for the companies to start operation in key states again and not miss out on the bulk of the NFL and MLB seasons and the start of the NBA season -- all huge potential moneymakers, especially the NFL season, which starts on September 8.
"The leak of the rumor was by no means accidental, in my opinion" said Dan Wallach a gaming and sports law attorney at Becker & Poliakoff. "The leak appears to be designed to underscore the seriousness of the situation and the position of these companies that [regulators] need to get something done."
Some 12% of daily fantasy players live in New York, Wallach explained, and this leak applies pressure on the legislature and Attorney General Eric Schniederman to rule now on the legality of the games.
If June 16 comes and goes without a decision in New York, the outlook is bleak for daily fantasy. FanDuel and DraftKings are facing more than 100 class-action lawsuits and are under scrutiny by a number of states for potentially violating online gaming laws. In addition to putting pressure on lawmakers, a merger could be necessary to counteract regulatory costs, which could run to $1 million per state or more, according to experts. 
"The unicorn era is over. This is a battle for survival," Wallach said. "The burn rate is astounding. These guys are hemorrhaging money in legal fees and are on parallel tracks. It makes sense for them to combine both in the short term and long term."
The sites have already pulled out of a number of states and are fighting with lawmakers in other states about the legality of their contests. Proponents say the games are predominantly based on the skill of the player, while opponents say the games are simply bouts of chance. Things may be shifting. On June 7, a deal was rumored to have been struck on a bill that would legalize daily fantasy sports, per New York State Senator John Bonacic. Still, legislation needs to be passed by the state legislature and Governor Andrew Cuomo's needs to sign it -- a tall order in a short week before recess.
In New York, loose guidelines attempt to define a game of chance as something that depends on future events that bettors can't control. Federal regulation stems from the Unlawful Internet Gambling Enforcement Act of 2006, under which season-long fantasy is permitted but rules for daily play are not specified. The statute left it to the states to decide whether other forms of fantasy gaming constitute illegal sports betting.
Outside of the looming deadline, a merger could make sense for the firms for other reasons. 
Sources say the companies have had trouble raising new funds, as investors are skittish of the potential for increased regulation and in turn, more regulatory costs.
Dan Etna, a partner at law firm Herrick & Feinstein, said it would be easier for the companies to raise funds as a combined entity with greater technological capabilities and a larger customer base.
But it's a risky move as antitrust officials have been increasingly critical of deals combining No. 1 and No. 2 companies in a given industry. Together FanDuel and DraftKings control about 95% of the daily fantasy sports marketplace in North America, according to Sports Illustrated.
"I think they've come to realize that their resources are better deployed for different business purposes than fighting with each other," Etna said. "I think they realize that the best way to survive and go forward is to go forward as one company that's unified."