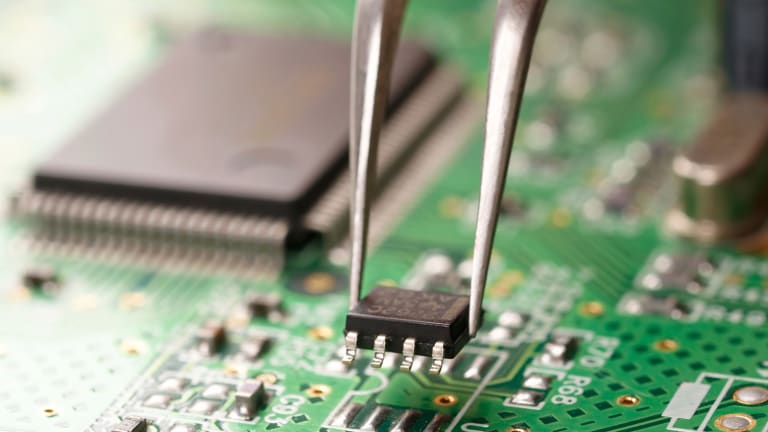 Cypress Puts Pressure on Integrated Silicon as Bidding War Approaches End
Cypress and Uphill Investment have been in a bidding war for ISSI.
Cypress and Uphill Investment have been in a bidding war for ISSI.
NEW YORK ( The Deal) -- Cypress Semiconductor (CY) - Get Report is tightening its last screw on Integrated Silicon Solution (ISSI) as a heated bidding war for the semiconductor company approaches the finish line, and the chip giant appears to be keeping the door open for a potential deal with its smaller peer.
Cypress said Wednesday that the chip maker is putting down its "best and final offer" to acquire Milpitas, Calif.-based ISSI for $22.60 per share, or $718 million. The semiconductor company's offer is 35 cents per share higher than its previous offer, but still lower than Uphill Investment Co.'s current proposal of $23 per share, or $730 million.
ISSI of Milpitas, Calif., has been the target of a bidding war for almost eight weeks. ISSI agreed in March to be acquired for $19.25 per share by the consortium of Chinese investors when it was being pressured by activist Starboard Value LP. Cypress then launched a spoiler bid of $19.75 in May, starting the round of bids.
In a letter Wednesday to ISSI Chairman Jimmy Lee and CEO Scott Howarth, Cypress CEO T.J. Rodgers wrote that the San Jose, Calif., semiconductor company's latest offer is "the maximum price justified for ISSI."
Rodgers said that Cypress' sweetened offer represents a superior, risk-adjusted proposal with committed financing and a ticking fee that lacks regulatory risk.
At the same time, Cypress could be interested in acquiring ISSI in the future should the Uphill transaction face delays or fails to close, he added, while noting that a later offer from Cypress may be substantially below its current bid.
"We fully expect that Uphill, with its backing from the Chinese government, will increase its offer price subsequent to the release of this letter, thereby acknowledging and attempting to compensate for the higher level of risk in completing their transaction," Rodgers concluded.
Cypress' strategy so far in the negotiating game has been to let the Chinese bidders dictate the terms and counteroffer with slight premiums, typically by 25 cents. On the other hand, Uphill has been aggressive with its bids with the support of the Chinese government which has declared the semiconductor industry to be a crucial area for development.
By choosing not to top Uphill's current bid, Cypress is signaling that it has reached its limit either from a valuation or financing point of view, Craig-Hallum Capital Group analyst Richard Shannon said.
"They're basically saying (to ISSI), you better be sure," he said, adding that Cypress is putting pressure on the target's board by highlighting the potential regulatory risks in the Uphill deal.
Sources had previously told The Deal that they believed the Uphill deal would allow ISSI's Jimmy Lee to stay involved at the company. ISSI has pointed to potential regulatory risks that the Cypress deal could pose -- though sources had characterized that as a negotiating tactic to persuade its shareholders to vote in favor of the Uphill transaction.
Shannon said Thursday that though Cypress appears to be still interested in the target, it is putting pressure on ISSI by warning that the price would be lower in the future.
At the same time, he wondered whether shareholders would vote against Uphill, as some investors could look to jump on a numerically higher bid.
Sources had said Cypress has wanted to acquire ISSI for a long time, but ISSI repeatedly turned down offers to engage in deal discussions. Sources had also said that Cypress CEO Rodgers is also known for his determination, as evidenced by his three months-long pursuit of Ramtron International Inc. in 2012 that resulted in a successful acquisition.
Meanwhile, 11.5% shareholder Starboard Value has been agitating for change at ISSI with hedge fund Oliver Press Partners. One source familiar with the situation had previously said Starboard was holding off on getting more involved as long as Cypress was still in the picture.
The back and forth in the bidding war exploded last week, with Uphill offering $22 per share on Friday and Cypress matching with $22.25 per share on Monday. Uphill then sweetened its offer again to $23 per share on Tuesday.
ISSI is scheduled to hold a special meeting to vote on the Uphill transaction and related matters next Monday.
Shares of ISSI dropped 6.5% on Thursday to $22.01, while shares of Cypress fell 8 cents to $12.28.
Officials with Cypress, ISSI and Uphill could not be reached Thursday.