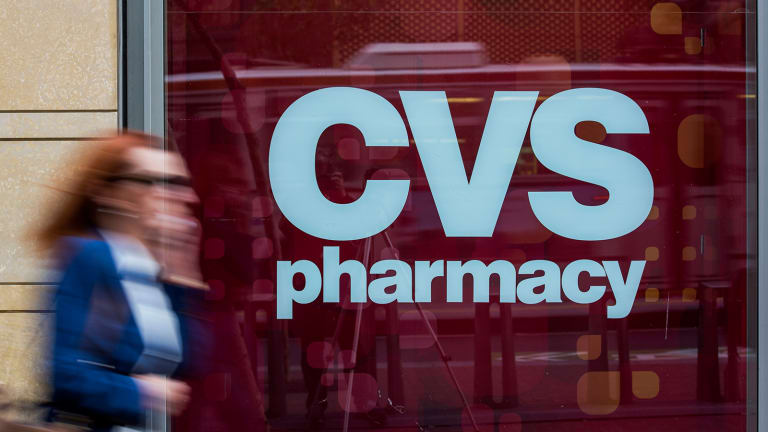 Publish date:
CVS Health Buys Target's Pharmacy, Clinic Businesses for $1.9 Billion
The deal allows CVS to expand its MinuteClinic walk-in care centers. The aim is 1,500 clinics by 2017.
The deal allows CVS to expand its MinuteClinic walk-in care centers. The aim is 1,500 clinics by 2017.
NEW YORK (The Deal) -- CVS Health (CVS) - Get CVS Health Corporation Report said Monday it is buying Target's (TGT) - Get Target Corporation Report pharmacy and clinic businesses for $1.9 billion with an aim of growing CVS' MinuteClinic walk-in care presence.
CVS will acquire over 1,660 pharmacies in 47 states to operate as a "store within a store" format branded under the CVS name, according to a statement by the company. Target's already existing 80 clinic locations will become MinuteClinic urgent care walk-in center franchises and CVS Health will open 20 new clinics in Target stores within three years of the deal closing.
The purchase is part of CVS' effort to operate 1,500 clinics by 2017. CVS expects that, in combination with its previously announced acquisition of Omnicare (OCR) , the company's debt to Ebitda ratio will be 3.2 times. CVS Health also reduced its share repurchase guidance for 2105 by $1 billion to $5 billion. The CVS Health-Target deal is expected to close around the end of this year and is expected to be 6 cents dilutive to CVS's adjusted earnings per share in 2016.
According to its most recent filing with the Securities and Exchange Commission, CVS currently has 986 MinuteClinics with 978 of them located within CVS/pharmacy stores. The walk-in urgent care clinics treat minor health conditions, perform health screenings, monitor chronic conditions and deliver vaccinations. MinuteClinic reports as part of CVS' retail pharmacy segment, which had revenues of $16.9 billion in the three months ending March 31.
In addition to opening more MinuteClinics, CVS Health and Target also expect to develop five to 10 flexible format stores over the next two years known as Target Express, which will include a CVS pharmacy. The collaboration between CVS and Target will expand CVS Health's retail presence in new markets such as Seattle, Denver, Portland and Salt Lake City.
After-tax proceeds from this deal are expected to be $1.2 billion, according to a statement by the company. In-store changes will be instituted over several months after the deal closes.
As a part of the deal, Target guests will have access to CVS Health's pharmacy care programs. CVS Health has also committed to providing a low-cost generic drug option to Target's customers that pay with cash.
"This strategic relationship with Target supports the highly complementary customer base, brand and culture we share," said Larry Merlo, CVS Health president and CEO, in a statement. "When we introduced the new name for our company, CVS Health, we began a new era of growth with a broader health care focus and an appreciation of the rise of health care consumerism with consumer choice and accountability growing. This relationship with Target will provide consumers with expanded options and access to our unique health care services that lead to better health outcomes and lower overall health care costs."
CVS has been highly acquisitive of late. Last month the company acquired Omnicare, a pharmacy benefits manager for $12.7 billion. The deal was seen as another push into the wellness category for CVS because Omnicare acts as a pharmacy services provider to nursing homes, assisted living facilities and other institutional healthcare providers. The acquisition also aimed to target a large and growing population of American seniors, as baby boomers age and the population begins to gray.
Urgent care has been a popular space for both private equity and strategic buyers. The walk-in centers have been seen as alternatives to long waits for primary physicians or expensive copays for emergency room visits. CVS has had a presence in walk-in centers since 2000 when it opened QuickMedx Centers, before rebranding the service as MinuteClinic in 2002.
Most recently in the urgent care area, North Carolina and Arizona-based urgent care centers FastMed Urgent Care was sold to private equity group Abry Partners. In early April UnitedHealth Group's (UNH) - Get UnitedHealth Group Incorporated Report OptumHealth services platform purchased walk-in urgent care platform MedExpress.
Read more from: