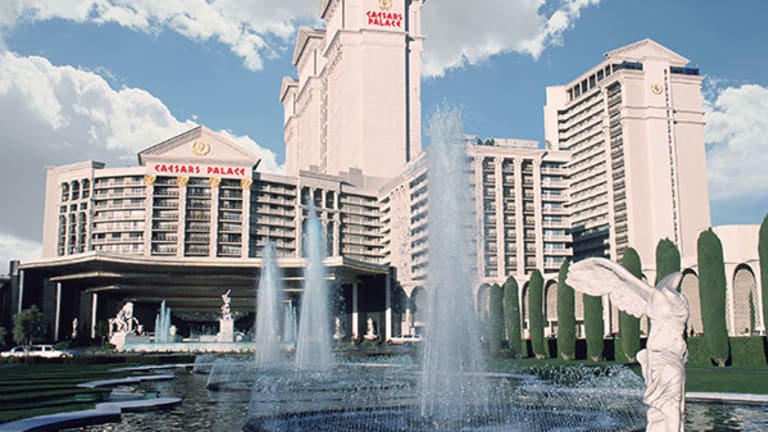 Creditors' Committee Wants Caesars to Consent to Involuntary Bankruptcy
Caesars Entertainment Operating Co. will once again have to provide reasons for not agreeing to an involuntary bankruptcy petition filed by certain junior lenders ahead of its voluntary petition.
Caesars Entertainment Operating Co. will once again have to provide reasons for not agreeing to an involuntary bankruptcy petition filed by certain junior lenders ahead of its voluntary petition.
NEW YORK (TheDeal) -- Caesars Entertainment (CZR) - Get Report will once again have to provide reasons for not agreeing to an involuntary bankruptcy petition filed by certain junior lenders ahead of its voluntary petition.
Judge A. Benjamin Goldgar of the U.S. Bankruptcy Court for the Northern District of Illinois in Chicago on April 29 is scheduled to preside over a hearing on the matter.
In a filing earlier this week, the official Committee of Unsecured Creditors said the Las Vegas gaming company should consent to an involuntary petition filed in Delaware.
"To carry out its statutory duties to its estate, CEOC must consent to the involuntary petition and thereby preserve the estate's ability to avoid the lien it granted against cash less than 90 days before the filing of the involuntary petition," the motion said. "If it does not, CEOC's estate loses approximately $200 [million to] $500 million in cash that is otherwise available for the benefit of unsecured claimholders."
The committee emphasized the debtor has a "fiduciary duty to maximize value for all creditors."
The motion continued: "CEOC recognizes the likely reason the involuntary petitioners filed the involuntary petition is 'to preserve potential preference claims related to liens on certain cash that CEOC perfected in mid-October.' Incredibly, CEOC never explains why its statutory duties to preserve such preference claims for the benefit of its estate should be ignored, although, CEOC is clearly acting under the control of its shareholders who get released and receive favorable settlements of their affiliates' avoidance action liabilities" if a Chapter 11 plan based on a restructuring support agreement is confirmed.
"CEOC is neither allowed, nor empowered, to waive that defense in its voluntary Chapter 11 case," the committee said. "CEOC does not have the right or power to discard its preference claim unless the court grants approval, which would be unwarranted here. To add insult to injury, CEOC is retaining its right to claim it is using unencumbered cash to pay for its attempt to forfeit its avoidance action that would create more unencumbered cash."
To head off criticism of those aforementioned prepetition transactions, CEOC earlier this year requested an examiner look into the dealings. Goldgar on March 25 approved the appointment of former Weil, Gotshal & Manges partner Richard J. Davis for the role.
CEOC said in a Feb. 13 filing that certain prepetition transactions have been "challenged by various creditors and resulted in contentious litigation."
Second-lien bondholders have argued CEOC has not acted as a fiduciary for its creditors in its prepetition transfers, in its search for a Chapter 11 venue or in the terms of the reorganization plan proposed in a restructuring support agreement.
In August, parent Caesars Entertainment had attempted to rescind its guarantee on some of the prepetition debt without consulting the debtholders. A group of these creditors, including holders of 5.75% unsecured notes, sued Caesars Entertainment and CEOC in the U.S. District Court for the Southern District of New York, alleging the action violated the Trust Indenture Act of 1939.
Judge Shira A. Scheindlin of the district court on Jan. 15 ruled the parent's stripping of its guarantee "an impermissible out-of-court debt restructuring achieved through collective action."
Scheindlin wrote that the parent's actions "impaired plaintiffs' right to payment under the notes." Caesars has maintained that it disagrees with the ruling.
CEOC said in court filings it has "launched an extensive, independent internal investigation into these transactions" while it engaged in negotiations for the restructuring support agreement.
"As fiduciaries with the duty to maximize estate value for all stakeholders, the debtors recognize the need for a fair process to review the challenged transactions, while avoiding the potential for these cases to devolve into a value-destructive litigation free-for-all," the debtor said. "Thus, by this motion, the debtors seek the immediate appointment of an independent examiner to thoroughly, expeditiously and efficiently investigate the prepetition transactions."
A Delaware judge previously dealt certain junior creditors a blow by opting to keep Caesars' bankruptcy in Chicago, the debtor's choice of venue. Judge Kevin Gross of the U.S. Bankruptcy Court for the District of Delaware in Wilmington on Jan. 28 ordered the involuntary case commenced by creditors there to be transferred to Chicago, where CEOC had filed its own Chapter 11 petition on Jan. 15.
The filing came days after second-lien bondholders led by affiliates of Appaloosa Management (owed $13.11 million), Oaktree Capital Management ($18.24 million) and Tennenbaum Capital Partners ($9.73 million) had sought a stay of any parallel bankruptcy proceeding. The creditors on Jan. 12 commenced an involuntary Chapter 11 case for CEOC in Wilmington.
Gross on Jan. 15 then stayed the proceedings in the Chicago case until the Delaware court issued an order resolving the venue dispute.
In court papers filed in Delaware, CEOC said it did not take its decision to file in Illinois lightly, maintaining the Midwest is an "important hub" of operations for the company. The debtor said the area is home to seven of its 27 owned or operated casinos, more than any other region. Its properties span from Las Vegas to Atlantic City, N.J., in the U.S. as well as several in the U.K. and other international locations.
The petitioning creditors had argued that Gross should "issue an order staying any later-filed, parallel Chapter 11 case involving the debtor" pending the court's determination of venue. The creditors argued that "allowing two Chapter 11 cases involving the same debtor and the same debts to proceed simultaneously is both practically untenable and contrary to applicable law."
CEOC maintained the junior creditors were simply attempting to gain leverage in the "imminent voluntary bankruptcy." CEOC also said it had made no secret of its intent to file for Chapter 11 to implement the restructuring supported by first-lien noteholders.
Goldgar on Jan. 15 approved joint administration of CEOC's case with those of dozens of subsidiaries. The same day, Goldgar also cleared the debtor to tap its cash collateral, which it plans to use to fund its Chapter 11 case. CEOC said it has about $864 million in cash on hand, much of which is the cash collateral of secured creditors. These lenders received replacement liens on the cash and will receive adequate protection payments.
In its voluntary petition, CEOC reported $12.35 billion in assets and $19.87 billion in liabilities.
The company intends to implement a restructuring while in bankruptcy that would slash its debt by $10 billion, but a hearing has yet to be set on the disclosure statement for its reorganization plan.