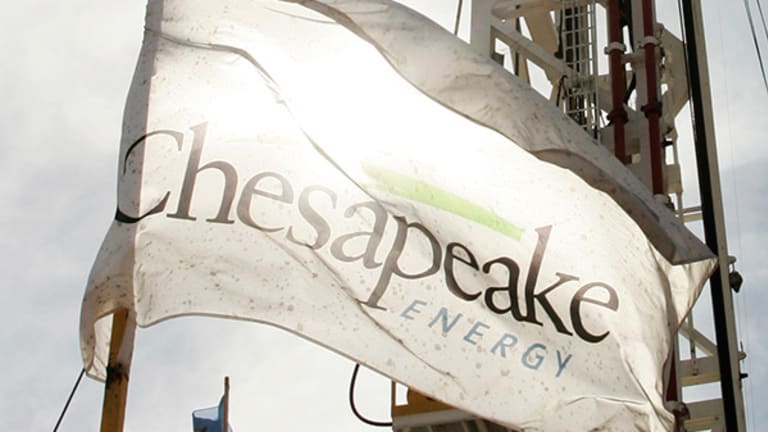 Chesapeake Energy Exceeds $2 Billion Divestiture Target for 2016
The distressed natural gas producer, which has been working to reduce its debt, announced a $465 million asset sale Tuesday and the early results for its senior note tender offers.
Chesapeake Energy (CHK) - Get Chesapeake Energy Corporation Report said Tuesday, Dec. 20, it has reached an agreement to sell the second portion of the company's acreage and producing properties in the Haynesville Shale in northern Louisiana to an affiliate of private equity-backed Covey Park Energy LLC for $465 million. 
The deal brings Chesapeake's total Haynesville divestiture proceeds to $915 million after the company announced earlier this month it would sell a portion of its assets in the play to an undisclosed party for $450 million. 
The $915 million divestiture mark is toward the high end of the $700 million to $1 billion range the Street has expected, Capital One Securities analysts wrote Tuesday. Indeed KLR Group analysts said Tuesday they only expected the second portion to fetch about $300 million.
Oklahoma City-based Chesapeake has now exceeded its $2 billion asset sale goal for 2016 by about $500 million, Capital One's Phillips Johnston said, and the company will retain 250,000 net acres in the core of the gassy Haynesville shale play.
The divested package consists of 41,500 acres and 326 operated and non-operated wells producing about 50 million cubic feet of natural gas per day, Chesapeake said in its Tuesday statement. 
For Covey Park, Tuesday's deal continues the operator's already prevalent roll up of natural gas assets in the Haynesville shale. The Denham Capital Management LP portfolio company in November said its affiliates acquired 90,000 net acres in the Haynesville and Bossier shale plays in Texas and Louisiana from an undisclosed party for an undisclosed sum.
And in March, Covey Park picked up assets in the Haynesville and Bossier shale plays from distressed operator EP Energy (EPE) - Get EP Energy Corp. Class A Report for $420 million in cash. Denham formed Covey park in April 2014 with an undisclosed equity commitment. 
Considering the private operator's holdings and production levels following the November transaction, Covey Park will now presumably own interests in nearly 260,000 net acres between the Haynesville and Bossier, with daily net production of about 375 million cubic feet of natural gas per day. 
That puts it ahead of Chesapeake in terms of acres held in the region, as the distressed public operator, which has been working this year to improve its highly leveraged balance sheet amidst a two-year commodity downturn, said it will retain about 250,000 net acres in the core of the Haynesville following the sale. 
EOG Resources (EOG) - Get EOG Resources, Inc. (EOG) Report and QEP Resources (QEP) - Get QEP Resources, Inc. Report have also been mentioned as potential Haynesville asset sellers this year as a number of public players have dispensed of holdings in the region to private operators during the downturn. 
And valuations in the play are seemingly ticking up from the $4000-per-acre mark many were getting earlier this year and last year. Covey Park is paying about $6,000 per acre, excluding $200 million of production value assuming $4000 per million cubic feet of natural gas per day, according to Capital One's Johnston.
The price tag represents about 3% of Chesapeake's enterprise value, while the divested volumes represent about 1% of Chesapeake's production, he wrote. Capital One estimates the assets generate $28 million of annual Ebitda at $3 natural gas. 
KLR Group analysts meanwhile see the deals terms coming in closer to $7,600 per acre net of production assuming a production rate multiple of $3000 per million cubic feet of natural gas. 
KLR's John Gerdes and Gail Nicholson wrote in a Tuesday note that the deal should decrease Chesapeake's year-end 2017 net debt-to-Ebitda multiple from 4.8 times to 4.6 times. 
"At strip pricing, given net asset sales, debt financing and equity exchanges to date, along with [about] $3.15 billion of available revolver capacity, Chesapeake has more than sufficient liquidity to fund the [about] $1.22 billion of debt maturities through YE'18 and execute its capital plan," the analysts noted. 
Meanwhile, Chesapeake announced on Tuesday the early results for its non-convertible senior note tender offers. Chesapeake is expected to purchae about $498.5 million of its so-called priority one senior notes due 2017 through 2019, which represent about 46% of its outstanding principal balance, according to KLR, at 105% of par value; $38.6 million of its so-called priority two senior notes due 2020 (3.5% of its outstanding principal balance) at 101% of par value; and $15.4 million of its priority three senior notes due 2021 through 2023 (0.4% of its outstanding principal balance) at 98.5% of par value. 
While KLR expects the divestitures, which are set to close in the first quarter of 2017, to have a short-term positive impact on Chesapeake's stock, the firm doesn't expect the note offer to affect the company's shares.