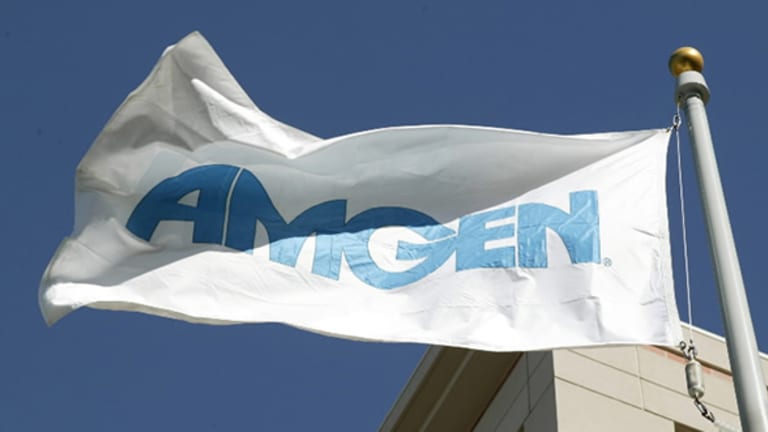 Court Ruling on 'Biosimilars' Sets Stage for More Drug Acquisitions
A Supreme Court ruling is likely to stir interest in more than a dozen biosimilars either approved for the market or in later stages of the R&D pipeline.
One of the hottest areas in the pharmaceutical business is the creation of biosimilar drugs to compete with expensive biologics. Biosimilars are analogous to generic drugs but, unlike generics, aren't exact copies of the original drugs they are based on. And a ruling by the Supreme Court last month promises to make the area even hotter. 
Only two biosimilars are currently on the market in the U.S., but industry players say those two are already pushing down the price of the blockbuster biologics they compete with. With more than a dozen biosimilars either approved for the market or in later stages of the R&D pipeline, the U.S. biologic market is likely to face much more downward price pressure and disruption in the biologic space, two ingredients for spawning M&A and product spinoffs.
Biologics are drugs made from complex molecules manufactured, often through recombinant DNA techniques, using living cells, and they have revolutionized the treatment of many serious and chronic illnesses. Today, seven of the 10 top selling drugs are biologics—including the AbbVie's (ABBV) - Get AbbVie, Inc. Report Humira, a treatment for rheumatoid arthritis, psoriasis, Crohn's disease and other conditions. In fact, Humira, with annual sales of $16 billion, is the globe's top selling drug, according to Genetic Engineering & Biotechnology News. Biologics rounding out the top 10 are Amgen Inc. (AMGN) - Get Amgen Inc. Report and Pfizer Inc.'s (PFE) - Get Pfizer Inc. Report Enbrel at $9 billion, Roche Holding AG's (ROG) - Get Rogers Corporation Report Rituxan at $8.6 billion, Johnson & Johnson (JNJ) - Get Johnson & Johnson Report and Merck & Co.'s (MRK) - Get Merck & Co., Inc. Report Remicade at $7.8 billion, Roche's Avastin and Herceptin—both at $6.8 billion—and Sanofi SA's (SFY) - Get SoFi Select 500 ETF Report Lantus at $6.1 billion.
Worldwide, the annual market for biologics was estimated to be $150 billion in 2011 and is expected to be greater than $250 billion this year. Their price tags are a big reason these drug ranks so high on the top seller list. Biologics are among the most expensive medications because they are hard to make. Because of their high cost, the U.S. Food and Drug Administration is pushing to bring biosimilars to market.
The two biosimilars now on the market in the U.S. have demonstrably forced prices down. After the FDA approved Zarxio as a biosimilar to Amgen's Neupogen for the prevention of chemotherapy-related infections, the biosimilar version has captured one-quarter of the market and sells for 15% less than Neupogen, according to a study pharmacy benefit manager Express-Scripts (ESRX) conducted to promote the introduction of biosimilars.
Pfizer launched Inflectra in November 2016 at a 15% discount to Remicade for the treatment of rheumatoid arthritis and other inflammatory auto immune conditions. A few months from now, Inflectra is expected to be joined by Renflexis, developed by a joint venture of South Korea's Samsung and U.S. biotech firm Biogen Inc. (BIIB) - Get Biogen Inc. Report . Merck will market the drug in the U.S. Together Inflectra and Renflexis are expected to capture between 10% and 15% of the market, according to Express Scripts.
More biosimilars are on the way. According to Express-Scripts, 16 companies currently have biosimilars in the R&D pipeline targeting 12 original biologics with a combined market value of $38.5 billion.
Other biosimilars expected to be approved soon include Coherus' CHS-1701, which is targeted at Amgen's Neulasta; Mylan and Biocon's MYL-1401O, aimed at Roche's Herceptin; Amgen and Allergan's ABP 215, lining up against Roche's Avastin; and Boehringer Ingelheim's BI 695501, which is targeting AbbVie's Humira.
The global biosimilars market is expected to reach $10.9 billion by 2021, up from $3.39 billion in 2016, according to research firm Market & Markets.
Congress and the FDA have taken significant steps to speed the introduction of biosimilars and the U.S. Supreme Court recently stepped in to do the same. In a unanimous June 12 ruling, the justices provide some needed interpretation of the 2010 Biologics Price Competition and Innovation Act, which Congress passed to facilitate the rollout of biosimilars. The court's findings on two key issues raised by Amgen v. Sandoz give biosimilar applicants more control over how patent disputes with the makers of the targeted biologic drugs are addressed.
The case landed before the court when Amgen sued Sandoz after the Novartis unit informed Amgen in 2014 that it would not participate in a so-called "patent dance," a timetable established by the 2010 law for sharing patent information and manufacturing process details between a biologic patent holder and the biosimilar applicant, and that Sandoz considered the 180-day countdown to have been triggered when the FDA has accepted its application to consider Zarxio. The 2015 approval of Zarxio was the FDA's first for a biosimilar.
Despite the law's stipulations, the court found that biosimilar applicants do not have to participate in the "patent dance." It also ruled that biosimilar applicants to not have to wait until they have received FDA approval for their products before notifying the patent holder of their plans to bring the biosimilar to market. Notification triggers a 180-day waiting period, so the court's decision allows them to bring a product to market immediately after receiving FDA approval if they are ready rather than waiting an extra six months as Amgen had argued.
The court's ruling gives biosimilar applicants a choice about how they go about resolving possible patent issues with the maker of the original biologic.
Applicants that want to resolve intellectual property issues quickly could go through the patent dance and notify the original product sponsors of their application plans so that patent holders could bring a suit immediately after the dance ends. If FDA approval comes and there are no outstanding court injunctions blocking a biosimilar's marketing, the products can be marketed as soon as they are approved.
Alternatively, a biosimilar applicant could opt out of the patent dance and perhaps challenge the patents in a traditional inter partes review or post grant review proceeding at the U.S. Patent and Trademark Office. That approach is slower but the applicant faces a lower burden of proof for invaliding a patent in this venue than the would in court.
Michael Lawhead, a shareholder at Stradling Yocca Carlson & Rauth, P.C and a member of the firm's life science practice group, said the Supreme Court ruling is in line with congressional intent to ease the application process for biosimilars, but he stressed that there are still legal issues that must be resolved before there is the kind of clarity that exists today for bringing standard generics to market. For instance, the FDA must still finalize guidance on other aspects of implementing the 2010 biologics law and it's still unclear how much authority state courts have to prevent a biologic from coming to market.
And for all the expectations about biosimilars, it's going to be very long time (and maybe never) before there are five, six or even seven competitors to an original biologic, as there are for many drugs that face generic competition. That's because of the complexity required to develop and manufacture biologics and biosimilars and the fact that that the initial biologics have 12 years of exclusivity in the market after they are first offered for sale. Under federal statute, less complex, chemical-based branded drugs have only five years of market exclusivity.
Europe's experience is instructive. Although the European Medicines Agency approved its first biosimilar in 2006, only 19 more biosimilars have been approved since.
Editors' pick: Originally published July 28.