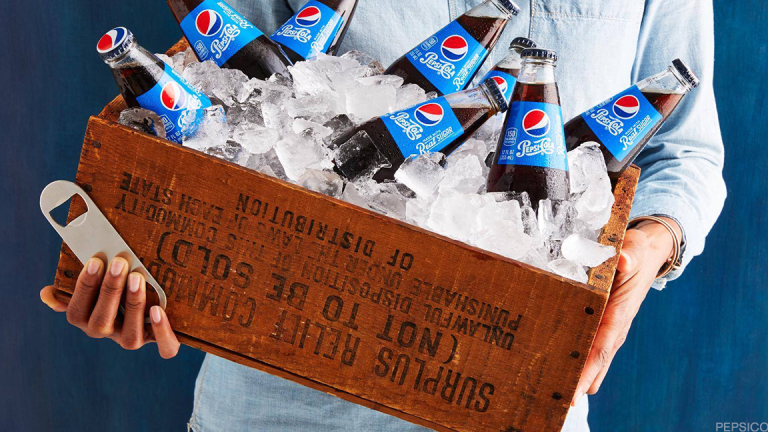 Could Pepsi Buy Hain Celestial?
Beyond Nestle, Pepsi could seek to buy the organic foods company as it pushes into healthier foods.
Beyond Nestle, Pepsi could seek to buy the organic foods company as it pushes into healthier foods.
Activist-targeted Nestle SA is reportedly interested in buying Terra Chip maker Hain Celestial Group Inc. (HAIN) - Get Report , as part of an effort to expand into healthier offerings. 
However, the Swiss food giant isn't the only significant, global packaged-goods company that could make a play for the New Hyde Park, NY-based maker of organic and vegetarian foods.
PepsiCo. Inc. (PEP) - Get Report , Campbell Soup Co. (CPB) - Get Report , Hormel Foods Corp. (HRL) - Get Report , General Mills Inc. (GIS) - Get Report Kraft Heinz Co. (KHC) - Get Report and Unilever NV (UN) - Get Report could all be interested as they seek to hike their exposure to organic foods. Hain is the last remaining pure-play independent organic natural and foods company, making it an attractive target. Also, consider that activist hedge fund manager Glenn Welling succeeded at installing six directors onto the company's board in September. Now a majority of the board is new and Welling, one of the recently installed directors, often pushes for M&A as part of his activist endeavors. 
PepsiCo. could be seriously interested in buying Hain or some of its brands. In recent years, Pepsi has been pushing to expand into the health and wellness space. It would be a blow to that big push to see the collection of Hain Celestial assets, including Health Valley cereal, be sold to a rival food conglomerate.
The purveyor of sugary drinks has been making a push away from its soft drink background into healthier products for years. In 2000 it acquired Quaker Oats, and its Gatorade sports drink brand, for $13.4 billion. In 2010, it acquired a 66% stake in Wimm-Bill-Dann Foods, a Russian food-and-beverage company for $3.8 billion. Some health-focused acquisitions have been on a smaller scale. Last year, Pepsi acquired KeVita, a fermented probiotic and Kombucha beverage company.  In 2005 it acquired Stacy's Pita Chip Co, which joined its Frito Lay operation.
It is true that a Hain Celestial acquisition would be a particularly big deal for Pepsi and a bit unusual, especially since Pepsi CFO Hugh Johnston last month told TheStreet, that the packaged goods company is only interested in making so-called tuck-in acquisitions annually with total valuations of roughly $500 million a year.
"You see the prices on some of the assets in our industry are very, very high, the multiples are very high. As a result, we are financially disciplined -- if we can't create value out of a deal we won't do the deal," Johnston said.
A Pepsi spokesman did not return calls for comment.
Nevertheless, an analyst specializing in the packaged foods space said that it was a real possibility that Pepsi, a $164 billion market capitalization company, could be interested especially considering its portfolio push into healthy foods. He added that Pepsi will always consider potential acquisitions and that it was extremely likely that bankers helping Hain with a strategic review will bring the portfolio to Pepsi for consideration. Hain is working with Centerview Partners to explore a strategic review, including the potential for a sale.
It is possible that Hain will just sell some brands, rather than the entire business, as a mechanism to raise cash to invest in operations and for stock buybacks. The analyst suggested that Pepsi might argue that Hain's portfolio of dozens of brands spanning teas, chips, organic bread and other items could be too fragmented for Pepsi. He suggested that the Purchase, the NY-based company might rather pick up some Hain brands rather than the whole portfolio if that is an option.
Another benefit -- Pepsi and other large global packaged goods companies would be able to add Hain brands to their international procurement and distribution networks. Pepsi has a direct-store-delivery model for many of its products, a distribution network that could be employed for Hain Celestial brands. In addition, the acquisition would save corporate structure costs, by reducing selling, general and administrative costs.
And it is a serious possibility that Welling and his activist fund, Engaged Capital, could be pushing for a sale of the company. Following the September settlement, a majority of Hain's board became made up of new members, according to relationship mapping service BoardEx, a service of TheStreet. Welling is also one of four directors on the company's strategic review working group, which is examining whether a sale is an option. Also, Welling often pushes for M&A and he has a mostly successful track record when it comes to organic and healthy food companies and M&A.
Boulder Brands, which makes Earth Balance and Evol Foods, was sold to Pinnacle Foods in 2015 shortly after Engaged became involved. Also, Engaged Capital helped negotiate an $85 million investment by Oaktree Capital last year at Canadian natural and organic foods processor SunOpta Inc. (STKL) - Get Report , an investment that helped drive the company's shares up to its recent price of around $7.92 a share from about $6 at the time.
PepsiCo is a holding in Jim Cramer's Action Alerts PLUS Charitable Trust Portfolio. Want to be alerted before Cramer buys or sells PEP? Learn more now.
More of What's Trending on TheStreet:
Here Are the Lessons 2007 Bull Market's Peak Can Teach Investors