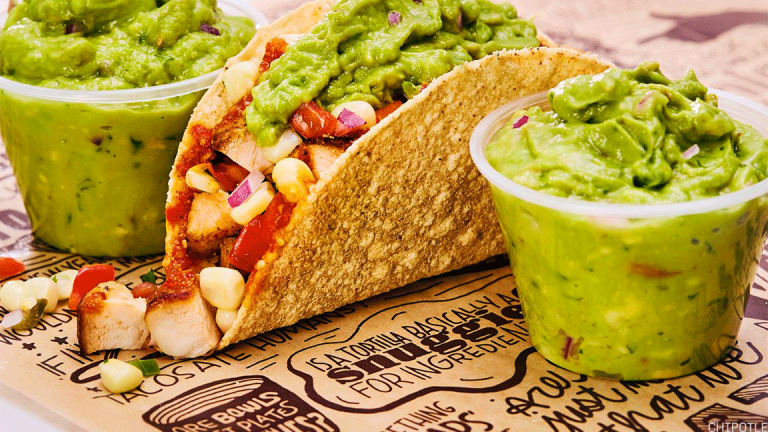 Could McDonald's or Arby's Buy Bumbling Chipotle?
Private equity firms are awash in cash, they are going after restaurant chains and Chipotle has an activist that could push to sell the business.
Private equity firms are awash in cash, they are going after restaurant chains and Chipotle has an activist that could push to sell the business.
Last week, Chipotle Mexican Grill Inc. (CMG) - Get Report announced its co-founder, Steve Ells, will be relinquishing his position as CEO, as the beleaguered fast-casual chain began a process to search for a new chief executive.
However, the move raises questions about whether Chipotle might instead put itself on the auction block in the hopes of escaping the volatility of the public markets - it has been a rocky ride for the chain in the public markets over the past few months, capped by third-quarter earnings in October that missed Wall Street estimates by nearly $1.
Specifically, on Nov. 29, Chipotle said Ells would step down but remain as executive chairman at the firm. Governance experts argue that it may be hard for Chipotle to find a CEO, in part, because whoever is chosen will have to deal with Ells, who observers insist will still be effectively in charge despite relinquishing the chief executive role.
Also, Chipotle has four directors on its board who were brought in by activist fund manager Bill Ackman, including Ali Namvar, a member of the insurgent investor's investing team. Ackman said he fully supports Ells decision. Nevertheless, activist-pressured companies often sell themselves when they are pushed to improve results and have no full-time CEO. Consider activist Mick McGuire's success at installing three dissident directors onto the board of Buffalo Wild Wings (BWLD) earlier this year in a move that also drove the wing and beer chain's CEO, Sally Smith, to announce her resignation. But instead of finding a new CEO, BWLD agreed to sell itself to Arby's Restaurant Group owner Roark Capital for $2.9 billion.
John Gordon, a restaurant analyst at Pacific Management Consulting Group, argues that it will be difficult for a new CEO to come in and have full control with Ells overseeing the board. As a result, he contends, it was possible that Chipotle may seek to sell itself at the same time as it seeks out a permanent CEO, especially given all the volatility in the company's shares in recent months. Chipotle has experienced problems with its new Queso sauce and a string of bad news in recent months, including rodent sightings at one location and sick customers at another.
"The publicly-traded world is driving brands like Chipotle crazy," Gordon said. "Strategically it makes sense for Chipotle to recover outside of the public eye. And there is no doubt that the worldwide bandwidth for money and underwriting exists for a consortium of PE firms to acquire Chipotle. There is a lot of cheap money at reasonable interest rates available to buy restaurant chains."
A buyer or group of buyers would need to pay roughly $400 a share to buy Chipotle, considering a 30% premium, putting a price tag of roughly $11.3 billion on Chipotle, which also would assume current liabilities and deferred rent, Gordon estimates.
Nevertheless, he argued that it was more likely that a consortium of buyout shops would be interested rather than a publicly-traded restaurant chain, partly because of a large amount of capital available for take-private deals.
Roark Capital, the PE shop that acquired Buffalo Wild Wings, is seeking to raise $2 billion to buy additional restaurant chains, according to an Axios report. However, Roark Capital wouldn't be able to acquire Chipotle on its own, Gordon notes. However, he added that the fund could find partners to help with an acquisition.
According to Axios, Roark would like to make further acquisitions with the goal of taking its entire restaurant platform public. However, Gordon said didn't believe the markets would recognize the underlying value of such a wide variety of different kinds of restaurant and coffee brands. "One combined restaurant entity offering is not going to work because Roark already has a grab bag of brands," Gordon said. "Investors get confused when there are too many restaurant chains in one company."
Gordon suggested that Roark could seek to break up its restaurant chains into categories, such as fast-casual or quick-service chains, and take those public separately.
When it comes to a Chipotle acquisition, strategic operating rivals may also have a difficult time. Gordon said he did not believe McDonald's Corp., (MCD) - Get Report which spun off Chipotle in 2006, would ever be interested in rebuying the company. "The McDonalds demographic is more blue collar at the same time Chipotle is still very expensive and would require taking on a lot of debt," he said.
One additional caveat is Pershing Square's Chipotle investment. The Deal has learned that Ackman's fund has a cost basis of about $404 or $405 a share on its Chipotle investment, well below its current $315.56 a share trading price. Ackman may see more value in the chain and could oppose an acquisition. Alternatively, he may be willing to take the cash and liquidate his position in the hopes that it could be allocated to a more favorable investment elsewhere.
For more coverage like this, sign up for the Activist Daily.
More of What's Trending on TheStreet:
Alibaba Just Found a Novel Way to Use Your Face