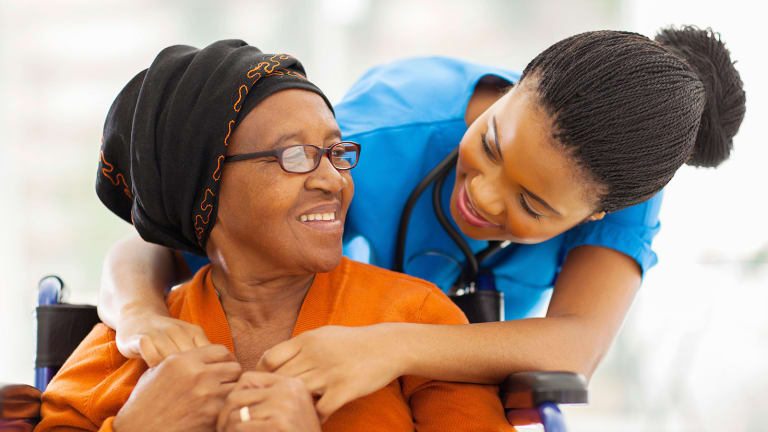 NEW YORK (The Deal) -- Two specialty health care services providers, Option 1 Nutrition Solutions and D&S Community Services are on the auction block, according to sources, as their private equity backers look for exits in a strong health care M&A market.
Thompson Street Capital Partners has retained Livingstone Partners for a sale of enteral therapy provider Option 1 Nutrition Solutions, according to an industry banker. 
D&S Community's backer, Progress Equity Partners, meanwhile, retained Cain Brothers & Co. for a sale of the company, according to two industry bankers. The company manages residences for the developmentally disabled and provides them with specialized services.
Option 1 is projected to have EBITDA between $6 and $7 million and revenue around $35 million and could bring in a multiple between seven and eight times EBITDA, according to an industry banker.
Option 1 and Thompson Street did not return calls seeking comment.
The Chandler, Ariz.-based therapy provider treats 5,600 patients across six states in the home environment. Option 1 has a large pediatric base, according to the company, and provides tube feeding by administering nutrients directly into the gastrointestinal tract.
Private equity suitors are said to be interested in the company, along with strategic companies such as acquisitive Epic Health Services, according to two industry bankers. Webster Capital-backed Epic provides pediatric skilled nursing, therapy and adult home health care services. Webster declined to comment and Epic couldn't immediately be reached for comment.
Most recently, Epic acquired Clarity Service Group for an undisclosed sum in March. In January, Epic purchased Loving Care Agency in its 10th acquisition since it became part of Webster's portfolio in 2010.
Option 1 was purchased by Thompson in August 2007 from Progress Private Equity, and was Thompson's first foray into health care. Currently, the private equity sponsor is home to Infinity Behavioral Health Services, a revenue cycle management company for behavioral health.
D&S Community has EBITDA around $9 million and is expected to bring in a multiple between 8 to 9 times, according to the bankers.
The sale of Austin, Tex.-based D&S is likely to attract interest from strategic players Civitas Solutions (CIVI) and ResCare -- the subject of its own sales process last year led by Jefferies & Co. D&S manages over 330 residential homes in Texas, Tennessee and Kentucky.
The company aims to provide residential homes for those with intellectual and developmental disabilities. D&S was founded in 1991 and provides group homes, supported living homes as well as staffed residences and specialty services homes. D&S provides independent living training such as etiquette, reading and language and money management as well as employment training, social skill development and the opportunity to experience art.
D&S is in the market at the same time that GI Partners-backed Advoserv is exploring a sale via Harris Williams & Co. The sponsor originally invested in the company, which operates group residence homes for individuals with intellectual and developmental disabilities, in March of 2010.
D&S and Progress Equity Partners did not immediately return calls seeking comment. Civitas and ResCare could not be immediately reached for comment.