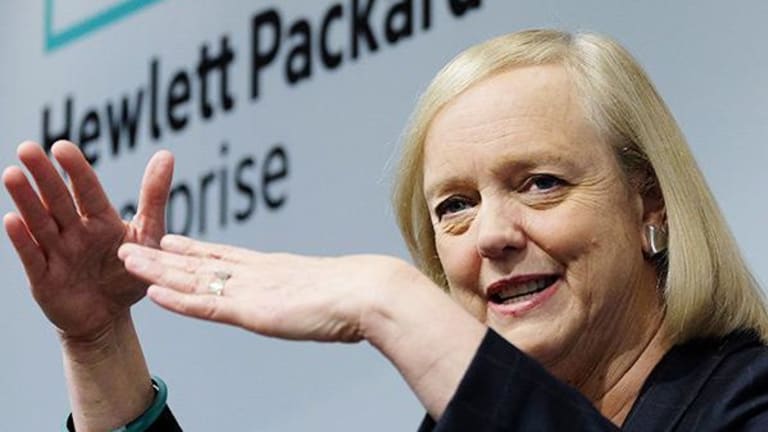 Now Meg Whitman Must Deal With This Wolf Pack at Hewlett Packard Enterprise
Three of the most well-known activist funds have quietly been accumulating shares in recent months. A wolf pack is forming.
For more coverage like this, sign up for the Activist Daily newsletter. 
When three high-profile activist investors begin accumulating shares in a targeted company, expect spinoffs, stock buybacks a sale or a director-election proxy fight to come next.
At Silicon Valley enterprise technology group Hewlett Packard Enterprise Co.  (HPE) - Get Free Report , three of the most aggressive and well-known activist investors have been accumulating shares over the past few quarters, and two of them doubled their stakes over the previous three months.
Starboard Value's Jeff Smith increased his HPE investment in the second quarter of 2017 to 0.6% from 0.3%. Smith's fund, which has owned shares since the third quarter of 2016, now owns about 10 million shares up from approximately 5 million previously.
Jana Partners' Barry Rosenstein accumulated an original 0.3% stake in HPE in the first quarter of 2017 but doubled it in recent months to 0.6% -- reporting a position of about 10 million up from 4.4 million. Finally, Third Point LLC's Dan Loeb maintains a 0.4% stake it accumulated in the first quarter.
And while it is unclear what precisely the activists may want, if anything, it is clear that Hewlett Packard Enterprise CEO Meg Whitman has been channeling her inner activist in recent years, first by splitting up Hewlett Packard in 2015 and then by conducting two major spin-offs in the last few months.
Why Apple Shares Are Likely to Dip in September
"A big reason why you see activist interest here is because Meg Whitman has been very active over the last three-plus years and I don't mean just with HPE, but also with HP. She decided to split the company apart," said Angelo Zino, an analyst at CFRA Research.
More recently, in May 2016, HPE agreed to spin out its enterprise services unit and merge the business with Computer Sciences Corp. (CSC) in an $8.5 billion transaction. Then, in August 2016, Whitman announced a deal to break off its software operations and sell the unit to Micro Focus International in an $8.8 billion deal. Also, HPE has conducted a few smaller acquisitions recently, including flash storage company Nimble Storage for $1 billion and IT infrastructure outfit SimpliVity for $650 million.
CFRA's Zino argues that the net result of the big spin offs and minor acquisitions is a smaller, narrowly-focused hardware company that can more easily become a candidate for an acquisition. That may be what is attracting the activists at the gate.
"I think when you look at what is left in HPE there is a possibility that Meg Whitman may want to go out with a bang here by selling the rest of the company, what's left of it," Zino said. "That's a possibility. It is more likely to happen today than two or three years ago."
Zino suggested that the most interested buyers are located in China. Huawei Technologies Co. Ltd., a Chinese telecom company with ties to that country's military, could be interested. However, it may have given up on U.S. purchases after U.S. regulators focusing on national security issues rejected its acquisition efforts in recent years. Potential domestic buyers include Dell Inc. or Cisco Systems Inc. (CSCO) - Get Free Report .
Activists often seek to identify companies with a lot of cash and push for stock buybacks - and HPE is delivering. Whitman said during HPE's June earnings call that the firm likes to return about half of its cash to shareholders, but could do more if the stock is low. HPE's CFO Tim Stonesifer recently said that "we are biased towards share buybacks right now." The Palo Alto, Calif., company recently reported that it had roughly $8 billion in cash and cash equivalents on hand, which suggests that more distributions are coming. 
However, buybacks are only part of the strategy. If no blockbuster deal is forthcoming and the stock price continues to underperform, as it has recently, look for an activist campaign to emerge in the coming months. The deadline for nominating dissident directors for the 2018 annual meeting, likely in March, is Dec. 22.
An HPE spokeswoman declined to comment on whether company officials have been in contact with the activist investors. Officials from Starboard and Jana Partners did not respond to a request for comment. A Third Point spokeswoman declined to comment.
More of What's Trending on TheStreet: