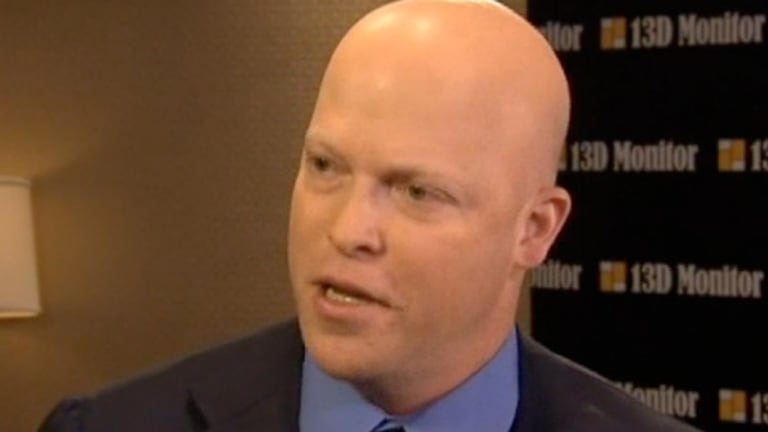 Corvex's Meister Turns the Tables on CenturyLink in Level 3 Merger
Some shareholders cheer as Corvex's Keith Meister pushes to remake CenturyLink in Level 3's image. A brutal proxy contest could lie ahead if CenturyLink's cozy board doesn't comply.
Keith Meister, CEO of Corvex Management, was a perfect gentleman when he laid out his views on telecom-provider CenturyLink (CTL) - Get CTL Report  at last week's Sohn Conference.
But his prescription for the ailing company -- which the high-profile activist investor unveiled as its largest position, with a 5.5% stake -- was nonetheless a sharp change in direction. It was also exactly what some other CenturyLink investors are rightly clamoring for.
While commending the $34 billion acquisition of communications provider Level 3 Communications (LVLT) announced last year, Meister insisted that it should be Level 3 CEO Jeff Story who takes the helm of the combined business after a yearlong integration following the deal's completion, not CenturyLink CEO Glen Post as planned.
The view outlined by Meister, now CenturyLink's largest shareholder that is not an index fund,  may force CenturyLink's board to reshuffle its C-suite or face a prolonged proxy war. 
"Frankly, I was a little surprised Meister was so nice about it," says Forrest Wilson, an investor in CenturyLink and former equity research associate at JPMorgan Chase, where he covered CenturyLink, which has a market cap of $13.5 billion, and other telecoms. "Shaking up CenturyLink's management and board is exactly what is needed, and I'd be thrilled if Meister had a shareholder vote to force them out."
Of course, Meister may just be engaging in early-stage diplomacy: With so much riding on his plan's success,it may be easier to get what he wants without an initially confrontational posture.
Either way, the combined company now faces a fork in the road. Will it be run in the mold of CenturyLink, a cozy rural consumer telecom with disappointing execution, or that of Level 3 -- a high growth fiber-optic provider that has thrived in a hyper-competitive market for government and business clients.
Meister may grow more aggressive if CenturyLink's management oppose his goal of achieving the latter. Corvex has launched 17 campaigns, including five proxy fights, at 14 companies since 2011, according to FactSet. In each of the proxy campaigns, Corvex was successful in securing at least some concessions, and in two, it won by majorities of 85% and 81%.
The Level 3 acquisition was a key reason for Meister's investment, he said. It makes the rural phone company a global provider of Internet connectivity as traffic soars -- it climbed fourfold from 2010 to 2015 -- with lucrative business clients accounting for 76% of its customer book. That would strengthen the combined company's ability to compete with giants like AT&T (T) - Get AT&T Inc. Report and  Verizon (VZ) - Get Verizon Communications Inc. Report .
It also allows CenturyLink to reap the advantages of Level 3's $9 billion of tax losses and -- combined with the bolstered revenue of the two operations -- keep up its attractive 9% dividend yield, which Meister forecast could otherwise dwindle by next year.
The risk: The ineptitude of CenturyLink's management team and its complacent board has long troubled Wilson. CenturyLink frequently misses earnings targets, he says -- a point echoed by Meister -- and did not lower expectations enough to live up to its most recent forecast.
"If you look at history, they constantly over-promise and under-deliver," Wilson says.
There are also operational blunders like Prism TV, a poorly received attempt to deliver TV over CenturyLink's ailing DSL lines and fend off cable rivals, as well as vanity projects like buying the naming rights for the Seattle Seahawks stadium, an agreement it renewed through 2033 on Monday.
"The stadium really irks me given the stock performance," Wilson says. "While the merger was a great move, management could run the combined entity into the ground."
Indeed, shares of CenturyLink have lost 37% over the past five years, while the S&P 500 gained 83% in the same period.
The board is part of the problem: Not only does it have relatively small ownership, its members have lengthy tenures, Wilson says. Their average length of service is 19 years, according to relationship mapping service BoardEx, a business unit of TheStreet, with four directors having a tenure of more than 20 years.
CenturyLink's board only has 0.5% of the company's stock, or $678 million at current valuations, Wilson added. Meister's Corvex now owns ten times as much.
And despite the lackluster performance, management compensation has soared, Wilson says. Post took home $13.9 million in 2016, compared with $8.6 million in 2012, and top managers' compensation as a whole rose 60% to $28.1 million in the period.
Meister argues that his plan to put Level 3 CEO Jeff Story in the top spot would reverse the disappointing performance of the company's shares.
Level 3 has gained 179% since Story took over in April 2013, outpacing a 49% increase on the S&P 500 as well as a 34% decline at CenturyLink. Revenue for Level 3 grew from $6.3 billion to $8.2 billion in the period.