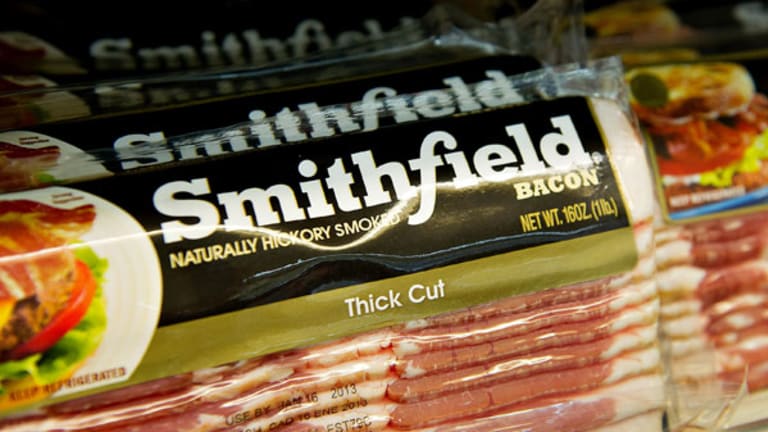 NEW YORK (
) --
Continental Grain
, a top shareholder in
Smithfield Foods
(SFD)
is supporting the company's
to
Shuanghui International Holdings
of China for $34 a share in cash.
"Continental Grain congratulates Smithfield on the proposed merger with Shuanghui International. We have been advocating for value creation and are pleased that the Smithfield board of directors and management are being proactive in realizing value for the benefit of all of its shareholders," Paul J. Fribourg, Chairman and Chief Executive Officer of Continental Grain, said in a statement.
Fribourg added that the 200-year old food and agribusiness company has exited its stake in Smithfield.
"
We have elected to exit our long-term ownership position in Smithfield because we are satisfied with our investment return," Fribourg said.
Prior to Smithfield's May 29 announcement of a takeover proposal, Continental Grain had sought to split up the vertically integrated pork manufacturer. Continental Grain argued the sum of Smithfield's hog production unit and its meat processing and distribution operations internationally could be worth $40 a share.
According to press reports, Continental Grain's proposal to break apart Smithfield's vertically integrated operations was a catalyst for the company's eventual sale to Shuanghui, China's largest meats processor.
Smithfield will allow Shuanghui International to meet the growing demand in China for pork by importing high-quality meat products from the United States, the company said in a statement when announcing the May 29 acquisition. "The combination creates a company with an unmatched set of assets, products and geographic reach."
The deal is expected to close in the second half of 2013 and still faces key approvals from Smithfield shareholders, in addition to the Committee on Foreign Investment in the United States, which reviews takeovers of U.S.-based companies.
"We think the acquisition is likely to be approved, and could close as early as six weeks from now," Timothy Ramey, a D.A. Davidson & Co. analyst wrote in a May 29 note to clients.
Continental Grain holds nearly 6% of Smithfield's outstanding shares, according to
Bloomberg
compilation of Securities and Exchange Commission filings as of May 31.
A SEC filing shows Continental Grain exited its Smithfield position May 30 and May 31 share sales.
Smithfield shares fell slightly in after-hours trading to $32.90, below Shuanghui's offer price.
-- Written by Antoine Gara in New York