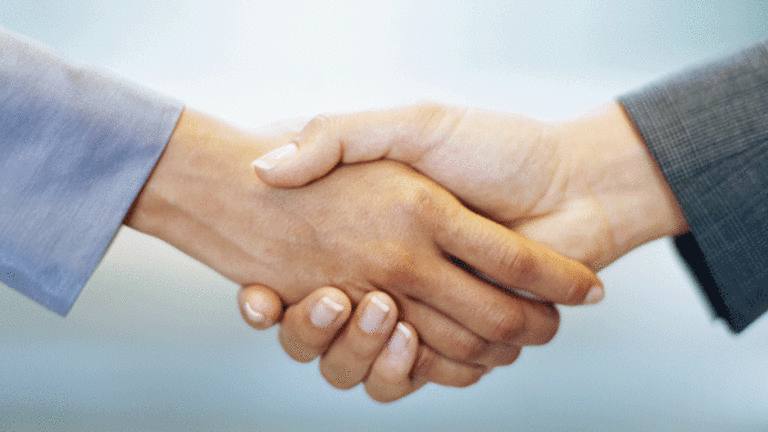 Community Health Inks Favorable Terms on M&A Debt
Community Health Systems may close its $7.6 billion acquisition of Health Management Associates, but with the uncertainties of a new healthcare law and the merger partners' own legal problems, it needed good timing to put reasonable financing in place.
NEW YORK (The Deal) -- Community Health Systems (CYH) - Get Community Health Systems, Inc. Report may close its $7.6 billion acquisition of Health Management Associates, (HMA) but with the uncertainties of a new healthcare law and the merger partners' own legal problems, it needed good timing to put reasonable financing in place.
The financing saga is also an example of what can happen when companies, even those with issues, can still rely on strong sector indicators.
Franklin, Tenn.-based Community Health is lining up $10.5 billion in loans and bonds to pay for the acquisition and to refinance existing debt, as it waits for the last word from the Federal Trade Commission's ruling on the merger. The agency has asked for a second request on the merger, but while the FTC may require some divestitures, the deal is on track to close by the end of January.
"Creditors like the hospital sector because it's steady," said John Ransom, an analyst at Raymond James Financial Inc. "But this is a tough credit."
But Community Health couldn't have timed its visit to the market much better. High-yield bonds are at their lowest yields since May, according to Bloomberg data. This allowed the company to ink $4 billion in notes with $1 billion in 7.5-year secured notes at 5.125% and $3 billion of eight-year unsecured notes at 6.875%. It also encouraged the company to shift over a portion of the secured bonds to the loans, which provides more financial flexibility. The loans are slated to wrap up Friday.
The company originally set price talk on $4.625 billion of loans at Libor plus 375. That included a new $2.925 billion loan due in 2021 and the extension of $1.7 billion of existing loans to 2021 from 2017, as well as amending additional debt due in 2017. It is also arranging a $1 billion five-year term loan and a $1 billion five-year revolver with talk of Libor plus 250.
Investor demand allowed the company to end up cutting price talk on the seven-year loans to Libor plus 325, which is about in line with previous financing, something that didn't look like it would happen originally.
The original terms that looked as though investors would demand higher rates were due, in part, to financials. Ransom said that when you look at Community Health's numbers, you could argue that it's a minimal and almost nonexistent cash-flow generator.
Net income for the first nine months of 2013 was $165 million versus $260 million in 2012, according to the company's third-quarter earnings report, while adjusted Ebitda for the same time period was $1.28 billion compared with $1.50 billion for the same period in 2012, representing a 14.2% decrease. The numbers are not trending in the right direction either. On Jan. 6, the company said it expects to see admissions on a same-store basis decrease by 7.2% in 2013 compared to 2012.
"If those had been a retailer, we'd be talking about J.C. Penney," Ransom said.
However, investors are looking at a change in the healthcare systems as a catalyst, he said. Moody's Investors Service said it anticipates the company will bring down leverage to below 5 times by the end of 2015 as the company integrates Naples, Fla.-based HMA. The ratings agency affirmed the company's B1 rating.
"The bet that The Street's making implicitly is that the ACA [Affordable Care Act] can essentially bail out a struggling business model," Ransom said.
HMA isn't faring too much better after missing analyst expectations on sales and profits over the past three quarters, Gimme Credit LLC said in an analyst report. The firm dropped its rating on the company to underperform from outperform on Jan. 9.
HMA is also facing legal issues. The company said in December that the government had intervened in whistle blower lawsuits alleging that some of the company's hospitals inappropriately admitted patients and then submitted reimbursement claims to federal healthcare programs in violation of the False Claims Act. HMA is contesting the allegations.
Former HMA chief Gary Newsome announced his retirement in May, a few months after one of those lawsuits had the bad luck to land on TV news program "60 Minutes." In November, prosecutors charged former HMA executive Joshua Putter with allegedly obstructing a federal investigation. Putter has pleaded not guilty.
Community Health has set aside a $101.5 million reserve for legal issues, according to its preliminary results for 2013 released Jan. 6. Some of those include Community's negotiations with the Department of Justice over charges for short-stay observation visits over a five-year period.
"Community might miss revenue and profit target the next 2-3 quarters," analyst Vicki Bryan wrote in Gimme Credit's note.
Gimme Credit estimated Community Health's 2014 Ebitda will total $2.86 billion, which is slightly below the company's estimates of between $2.9 billion and $3.2 billion. That would put the company's leverage at about 4.3 times.
Still, this is an acquisition and a new company that investors still could view as a good long-term prospect.
JPMorgan said in an analyst report that it anticipates the acquisition won't help immediately and will be close to neutral in 2014. However, it anticipates the deal will be accretive to earnings by 17% in 2015 and 24% in 2016.
The report noted that Community Health is in a solid position to benefit from the new federal healthcare exchanges. In fact, 83% of the company's hospitals have contracts with the lowest-cost plans under the ACA, that will presumably be used by the hospital operator's patient demographics.
That all showed up in the way the financing package went out and came back from investors.
In addition to the loan pricing dropping 50 basis points, Community Health is looking to issue the loan with a discount of 99.5 instead of 99. The amendment fees to continuing lenders on the extended loans also dropped to 15 basis points from 25 basis points. The company was also able to change the terms to a covenant-light basis during the financing process, according to Standard & Poor's Leveraged Commentary & Data.
The 6.875% price on the unsecured notes allowed the company to increase the size of the offering to $3 billion from $2.875 billion. The secured notes pricing of 5.125% was equivalent to the last time the company went to the bond market -- August 2012 -- but the maturity profile is now 7.5 years instead of just six years. Community Health also has $1.2 billion of 7.125% notes due in 2020 and $2 billion of 8% notes due in 2020.
Credit Suisse Group and Bank of America Merrill Lynch are leading the loan financing, while Bank of America Corp. is leading the notes offering.
Community Health did not return calls seeking comment.