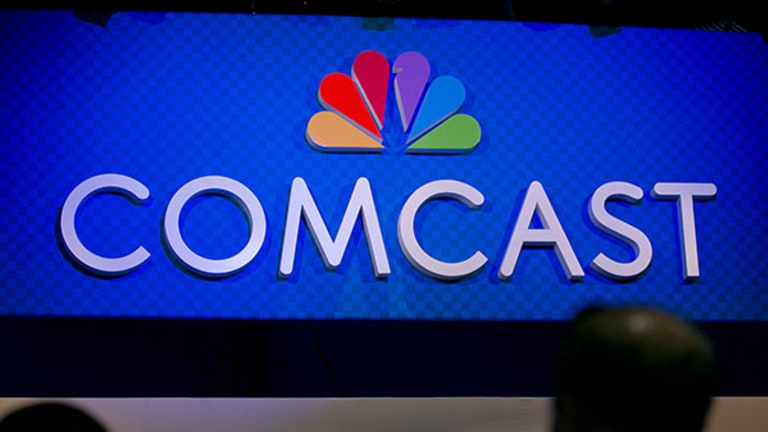 Publish date:
Comcast's Netflix Punt May Assuage Time Warner Cable Merger Skeptics
Why a deal with Netflix and Comcast further underscores positive developments in the broadband industry.
Why a deal with Netflix and Comcast further underscores positive developments in the broadband industry.
NEW YORK (TheStreet) -- Netflix (NFLX) - Get Netflix, Inc. (NFLX) Report and Comcast (CMCSA) - Get Comcast Corporation Class A Report have been in talks for months on a direct IP interconnection deal that will increase speeds the streaming video service has on Comcast's IP network. However, it is no surprise Comcast and Netflix announced it on Sunday. The move is likely to help Comcast in its controversial efforts to buy cable industry competitor Time Warner Cable (TWC) for $45 billion in stock.
Comcast said on Sunday its interconnection agreement will provide Comcast's U.S. broadband customers with a high-quality Netflix video for years to come. "Working collaboratively over many months, the companies have established a more direct connection between Netflix and Comcast, similar to other networks, that's already delivering an even better user experience to consumers, while also allowing for future growth in Netflix traffic," the cable giant said, while noting that Netflix will receive no preferential network treatment under the agreement.
The agreement amounts to a multi-year punt by Netflix and Comcast on a controversial network-access issue that's hung over the broadband industry for years. A punt, instead of a stand-off between Netflix and Comcast is a win for consumers and pushes a confrontation between streaming content providers and ISPs years down the line.
Read: Death of Net Neutrality in Netflix-Comcast Deal is Exaggerated
Sunday's move effectively ends speculation that Netflix service on Comcast would deteriorate as both companies stood their ground on broadband network access. When subscribers stream Netflix video there is an interchange between Netflix a subscriber's internet service provider. Whether Netflix should or shouldn't pay for that interchange has been an issue hanging over the broadband industry for a long time.
It also impacts so-called "peering" where there is a two-way connection between broadband networks. Netflix, through its Open Connect program and relationships with third parties, however, has generally accounted for about 30% of an ISP's Internet traffic in peak hours, meaning the streaming service has benefited from a one-way flow of data.
Now, after saying it wouldn't pay ISP's for that asymmetrical data flow, Netflix is doing just that. Terms of the interchange deal, however, weren't disclosed. 
Comcast will interconnect directly with Netflix and terminate its IP traffic, in exchange for some form of payment, Carlos Kirjner, a Bernstein Research analyst said in a Sunday client note.
The deal is likely a win to both Netflix and Comcast consumers.
Read: Nokia Finally Joins the Android Phone Club
It forestalls the types of service issues that have historically happened in the cable industry when providers and networks dig in their heels: think of recent CBS (CBS) - Get CBS Corporation Class B Report and MSG Networks (MSG) - Get Madison Square Garden Co. Class A Report blackouts. The agreement also highlights that, contrary to general media reports, the merger of Comcast and Time Warner Cable could provide a move rational and financially viable broadband industry, whereby ISPs have the flexibility to enter in deals like Netflix's interchange deal.
"We have very little doubt that in the near- and perhaps in the medium-term this agreement means Comcast will not exert leverage over Netflix through interconnection: approval of its merger with Time Warner under the minimum number of conditions is much more important," Kirjner wrote.
The analyst said the fees Netflix will pay to Comcast aren't likely to impact the company's 2014 earnings guidance or its contribution margins. He did say that in the longer-term, Comcast could change its mind over the long-term after the expiry of Sunday's deal.
Comcast and Time Warner Cable's Merger
"We suspect the fundamental motivation for this deal is an attempt by Comcast to remove the IP interconnection issue from the regulatory review of its proposed merger with Time Warner Cable," Kirjner wrote.
The Federal Communications Commission recently lost a court decision that would have allowed it to regulate IP interconnection, however, such issues are within the regulator's purview in a merger review, the analyst noted.
Comcast, it is worth noting, will be subjected to net neutrality rules in its deal with Time Warner Cable. The FCC was interested in regulating net neutrality, but failed to prove to courts that it had the right to do so, raising some concern that ISP's would use a victory to begin charging for broadband access. If ISPs did begin charging for access, Netflix CEO Reed Hastings vowed to fight such a move in Washington.
Kirjner said he wouldn't be surprised if Sunday's agreement was conditional on an agreement by Netflix not to lobby regulators to add IP-interconnection to its Time Warner Cable merger review.
Instead of chronic standoffs that basically amount to nickel and diming of subscribers, ISPs like Comcast may be more willing to re-invest in their networks and their subscriber base.
TheStreet characterized Comcast's merger with Time Warner Cable as "good for America" because it appeared to be the least risky and most financially compelling option for subscribers in the struggling cable operator as it fielded acquisition efforts.
Read: Don't Read into Barnes and Noble's New Deal

Netflix Saw an Opportunity?
"With the prospect of Comcast buying Time Warner Cable, we suspect Netflix knew it was time to cut a deal with Comcast," BTIG Research analyst Rich Greenfield wrote in a Monday client note. He characterized the deal as a 180 degree turn for Netflix, and one that might not have been consummated were it to be a major hit to Netflix's earnings.
"Despite the new peering costs to be borne by Netflix to improve its subscribers' experience on Comcast, we have seen no release from Netflix reducing its guidance for calendar Q1 2014. We believe this speaks to the relatively small total dollars being exchanged at this point," Greenfield wrote.
Verizon Communications (VZ) - Get Verizon Communications Inc. Report, on a Monday conference call confirmed they were in similar negotiations with Netflix and said the company was pleased with the arrangement, even if financial details were light.
"To view that we are going to be advantaging one over another really is a lot of histrionics at this point," Verizon said, while noting that heavy users like Netflix should bear some cost.
"We believe Comcast and Netflix reaching a deal illustrates how both companies were able to work out a mutually-agreeable market based solution without government intervention or regulation. We believe this bodes well for how heavy a hand the FCC and Congress have in deciding how to handle peering/interconnection policy, as well as for the approval of a Comcast/Time Warner Cable merger." BTIG's Greenfield concluded.