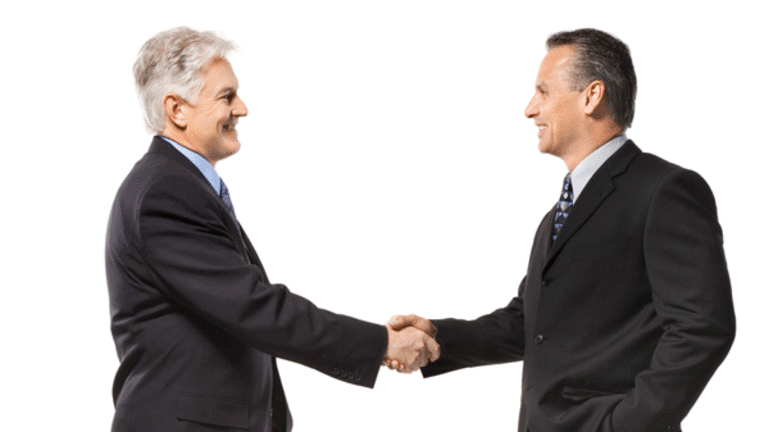 Clouds With a Golden Lining: Enterprise Software Targets
As large tech groups and private sponsors shop for software companies, outfits with enterprise clients and cloud services have come into focus.
Microsoft's (MSFT) $26.2 billion acquisition of LinkedIn (LNKD) has piqued already high expectations for technology consolidation in the second half of the year. Salesforce.com (CRM) , which lost the LinkedIn bidding but was able to pick up Demandware (DWRE) for $2.8 billion, and others are among a field of strategics that have been aggressive buyers. Joining them have been private equity stalwarts such as Vista Equiy Partners, Thoma Bravo, Acel Partners and KKR. Meanwhile, companies outside of the immediate sector -- giants such as Cisco Systems (CSCO) and General Electric (GE) -- are looking to enterprise software.
Hovering over this mix of buyers is the ultimate power in the technology space, Alphabet's (GOOGL) Google, a dominant factor in search, mobile and other consumer-focused applications with an appetite to do even more. 
Evercore ISI analyst Kirk Materne has noted that software acquisition activity tends to occur six to nine months after a trough in the S&P 500, which occurred in February. If the pattern holds true, merger activity in the software sector in mid-August to October could make the dealmaking climate before it look like a mere windstorm. Cybersecurity firms such as FireEye, Fortinet and Imperva could be appealing as reduced valuations and increased fraud could present an alluring combination.
There follows below a list of possible targets and a review of what their most appealing attributes are. It's time to reconsider these candidates, because since a February trough and through the subsequent redo very in many stocks, buyers and sellers have had time to reset their prices.
Workday (WDAY)
Market Cap: $14.3B
Revenue: 
Acquiring Workday would push Oracle (ORCL) closer to Larry Ellison's goal of $10 billion in cloud revenue, but don't count on it. Founders Dave Duffield and Aneel Bhusri were veterans of PeopleSoft, which Oracle acquired through a bruising hostile takeover, and a sale to Ellison would likely be anathema. "That management team will never sell to Oracle, and they have designed the governance structure so that will never happen," said Steve Koenig at Wedbush Securities. Oracle uses its scale and breadth of its software platform to deter clients from moving their business to Workday, he added, which puts pressure on the company. "It's a major challenge," Koenig said. "Is it a large enough challenge that they would be motivated to sell?" Meanwhile, Morningstar analyst Rodney Nelson observed recently that SAP (SAP) is said to be eyeing Workday.
Netsuite (N)
Market Cap: $6.5 billion
Revenue: 
Netsuite would be more digestible than Workday. The company has partnerships with Oracle and Larry Ellison has a 39.7% stake in the company, according to Securities and Exchange Commission filings. The stock is about 20% off its 52-week high of $102.
Ultimate Software Group (ULTI)
Market Cap: $6.3 billion
Revenue: 
Ultimate Software is another NetSuite partner. "They would go very well together as part of a suite," Wedbush analyst Koenig said, though a third-party acquirer might be necessary. UBS analyst Thill wrote in a July report that Ultimate Software's high level of recurring revenue gives it "one of the most reliable business models." The stock is near its 52-week high of $221 per share.
Twitter (TWTR)
Market Cap: $12.4B
Revenue: $2.7B
With the sale of LinkedIn, Twitter seemed to gain scarcity value in the field of large social media groups. However, a sale this year is unlikely. Jack Dorsey has been CEO for less than a  year, and the company has recently retooled. SunTrust Robinson Humphrey analyst Bob Peck suggested that a 2017 sale is more likely if some of Twitter's projects like Periscope, Vine and curated "moments" of tweets and other trending media don't soon click.
HubSpot (HUBS)
Market Cap: $1.85 billion
Revenue: 
"Digital marketing is really a burgeoning industry," Morningstar's Nelson said, noting that Vista Equity Partners is taking peer Marketo (MKTO) private. Even after a bullish July, HubSpot is 12% off its 52-week high of $60.11. UBS analyst Thill noted that the company has tough quarter-to-quarter earnings comparisons because of strong 2015 results, among other factors. Thill cited the "strong and improving fundamentals, which have shown acceleration" since a $125 million IPO in 2014.
New Relic (NEWR)
Market Cap:
Revenue: 
The software analytics company has climbed more than 10% since its June close, but is still more than 15% from its 52-week high of $40.13. Thill of UBS noted that New Relic is moving to "upmarket" clients and has "some of the fastest growth in software" with a 64% increase in fiscal year 2016 sales.
Cornerstone OnDemand (CSOD)
Market Cap: $2.37B
Revenue: $339.7M
The software market has long anticipated Cornerstone OnDemand to be taken out, and the cloud-based talent management software maker continues to look attractive to its bigger peers including SAP, Oracle and Salesforce.com (CRM) , according to Wunderlich Securities' MacDonald. In fact, the Santa Monica, Calif.-based company may receive more spotlight following the LinkedIn takeout since both are in the human resources management software segment. Meanwhile, Cornerstone OnDemand has also caught the attention of activist Praesidium Investment Management. The firm disclosed a 6% stake in Cornerstone in March, arguing that the software maker was undervalued and revealing that it has held discussions with the management about a wide range of topics including strategic alternatives and business operations.
LogMeIn (LOGM)
Market Cap: $1.6 billion
Revenue:  $271.6 million
LogMeIn develops cloud applications for connecting workers, IT departments and customers. The offerings range from chat to apps that let tech departments remotely access computers and servers. Like other cloud software groups, LogMeIn has recovered from a February trough but is nearly 15% below its 52-week high of $75.42.
Imperva (IMPV)
Market Cap: $1.65B
Revenue: $234.3M
Imperva could be among the next takeout candidates in the cybersecurity sector that is poised to experience healthy levels of deal activity in the second half of 2016. In fact, the question surrounding Imperva's potential buyout isn't if -- it's when. Elliott Management launched a campaign at Imperva in June, revealing a 4.6% stake and claiming that there are strategic and operational opportunities for the Redwood City, Calif., company. Paul Singer's activist fund has had a strong track record of successfully pushing for M&A at undervalued tech companies, as exemplified by the sale of Qlik Technologies (QLIK)  to Thoma Bravo earlier this year. Check Point Software Technologies (CHKP) , which needs some spark to re-accelerate its top-line growth, could take a look at the target, according to MacDonald of Wunderlich Securities.
FireEye (FEYE)
Market Cap: $2.76B
Revenue: $622.9M 
If FireEye decides to pursue a sale, there wouldn't be a shortage of prospective buyers. The Milpitas, Calif.-based cybersecurity company could be a strong fit for IBM (IBM) , said Wunderlich's MacDonald, adding that Symantec (SYMC) may also be interested once it digests its Blue Coat Systems acquisition. Symantec took Blue Coat off the initial public offering runway by offering $4.65 billion. Cisco Systems (CSCO) , too, has been out in the market as an active acquirer of cybersecurity assets. In fact, the IT giant has purchased CloudLock Inc. for $293 million, Lancope for $452.5 million and OpenDNS for $635 million over the past year. Dell would have been a logical buyer of FireEye but spun off its cybersecurity unit Secureworks (SCWX) in April.
EXCLUSIVE LOOK INSIDE: Twitter, Cisco, Alphabet and General Electric are holdings in Jim Cramer's Action Alerts PLUS charitable trust portfolio. Want to be alerted before he buys or sells the stocks? Learn more now.

Box (BOX)
Market Cap: $1.38B
Revenue: $302.7M
The attractive customer base of content management provider Box could appeal to legacy players looking to add a cloud story to their business, said Piper Jaffray's Zukin. Among Box's customers are AstraZeneca (AZN) , Whirlpool (WHR) , Gap (GPS) and Live Nation Entertainment  (LYV) . While Box doesn't necessarily have scarcity value given that it has a number of competitors in the market including Microsoft (MSFT) , Amazon.com's (AMZN) Amazon Web Services and privately held Dropbox, its recurring revenue, unique customers and offerings make the Redwood City, Calif., company appealing as a potential target.
Tableau (DATA)
Market Cap: $4.2 billion 
Revenue: 
Tableau creates software dashboards integrate charts, graphics and other tools to analyze information. Rival Qlik Technologies (QLIK) sold to Thoma Bravo for $3 billion earlier this year, and Tibco Software (TIBX) , another peer, went private in a $4.3 billion leveraged buyout with Vista Equity Partners in 2014. SunTrust Robinson Humphrey analyst John Rizzuto has noted that the company grows faster than Qlik and trades at a discount to Thoma Bravo's takeout of its rival. The company trades at less than half its 52-week high of $131.
ServiceNow (NOW)
Market Cap: $11.8 billion
Revenue: 
About 23% of revenue comes from Europe, UBS analyst Thill notes. However, cost-cutting cloud offerings such as web portals that perform HR or customer service tasks allow businesses to cut costs, he noted, which provides a business case for keeping the service. Clients include Accenture (ACN) and Computer Sciences (CSC) . The stock is 20% off its 52-week high of $91.28.
EDITORS NOTE: This article was originally published by The Deal, a sister publication of TheStreet that offers sophisticated insight and analysis on all types of deals, from inception to integration. Click here for a free trial.