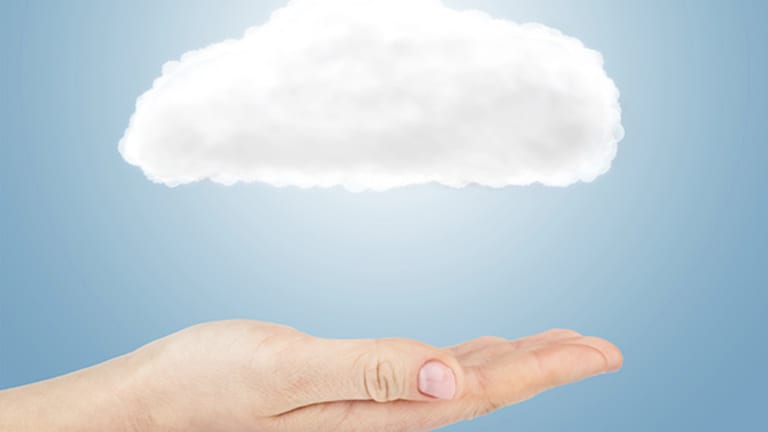 Clouds With a Golden Lining: Enterprise Software M&A Could Fly Sky High
As frenzied as the M&A activity has already been among software companies, the pace of such deals may actually quicken. Here is a list of candidates who may be next.
As frenzied as the M&A activity has already been among software companies, the pace of such deals may actually quicken. Here is a list of candidates who may be next.
The bidding war over LinkedIn (LNKD) has piqued already high expectations for technology consolidation in the second half of the year.
Microsoft (MSFT) - Get Report  , which prevailed with a $26.2 billion offer, and Salesforce.com (CRM) - Get Report , which lost the LinkedIn bidding but was able to pick up Demandware (DWRE) for $2.8 billion, are among a field of strategics that have been aggressive buyers. Joining them have been private equity stalwarts such as Vista Equity Partners, Thoma Bravo, Acel Partners and KKR. Meanwhile, companies outside of the immediate sector-giants such as Cisco Systems (CSCO) - Get Report and General Electric (GE) - Get Report -are looking to enterprise software.
Hovering over this mix of buyers is the ultimate power in the technology space, Alphabet's (GOOGL) - Get Report Google, a dominant factor in search, mobile and other consumer-focused applications with an appetite to do even more.
Outfits that develop software for corporations and other large enterprises are in vogue, especially if they make cloud applications. A drop in valuations earlier in the year, evidence that cloud models can work, the emergence of private equity buyers and other factors are already driving what Salesforce founder, chairman and CEO, Marc Benioff, has called "the most intense" M&A cycle he has seen.
"The activity and the kicking of tires is going to continue, at least for the near term," Morningstar analyst Rodney Nelson said.
Alas, as frenzied as the M&A in the sector has been, the pace of deals could actually quicken.
Evercore ISI analyst Kirk Materne has noted that software acquisition activity tends to occur six to nine months after a trough in the S&P 500, which occurred in February. If the pattern holds true, merger activity in the software sector in mid-August to October could make the dealmaking climate before it look like a mere windstorm.
Tom Roderick of Stifel, Nicolaus suggested that the array of candidates is broad.
"I would encourage you to think about anything under $3 billion in software as a reasonable acquisition target," he said.
Throw a dart at the public cloud computing sector, and you'll likely hit a target for one of the large software strategics or financial sponsors.
"I'm sure that all of the publicly traded software-as-a-service names, if not the large majority, are on somebody's radar screen," Wedbush Securities analyst Steve Koenig said.
While the LinkedIn acquisition was a blockbuster, the large tech groups have generally favored smaller, earlier-stage public companies.

EXCLUSIVE LOOK INSIDE: Alphabet, General Electric and Cisco are holdings in Jim Cramer's Action Alerts PLUS charitable trust portfolio. Want to be alerted before he buys or sells the stocks? Learn more now.
For a full list of targets in the enterprise software industry, click here.


Oracle (ORCL) - Get Report , for example, agreed to acquire utility software developer Opower, construction software company Textura and cloud application Ravello Systems, for $551.6 million, $663 million and $500 million, respectively. Indeed, the latest blockbuster made by founder Larry Ellison was when Oracle acquired Peoplesoft in an epic, $10.3 billion hostile deal in 2005.
"They are on the prudent side of what they will pay for a company," Koenig said.
Ellison has said that Oracle could be the first to $10 billion in cloud sales, which would entail passing Salesforce.com and almost certainly would involve more aggressive acquisitions.
"Oracle is again rumored to to be interested in Netsuite, which is a rumor that is probably a decade old at this point," said Morningstar's Nelson. The company declined to comment.
Fueling the rumor, no doubt, is the fact that Ellison holds a 39.7% stake in the enterprise resource planning software company.
Like Ellison, Salesforce's Benioff has also targeted $10 billion in sales, with the auctions of LinkedIn and Demandware reflecting just how aggressively Benioff has pursued growth.
Thumbing through merger proxies, JMP Group analyst Patrick Walravens notes that on May 20, Salesforce bid $23.1 billion, net of cash, for LinkedIn, and submitted a $2.3 billion offer for Demandware. On June 1, Benioff upped the Demandware bid to $2.8 billion and on June 5 boosted the LinkedIn offer to $24.7 billion.
"The concern some investors have is simply that Salesforce.com was willing to accept too much risk by trying to do these two acquisitions at the same time," Walravens wrote.
Having lost out on LinkedIn, Benioff could look to other segments of enterprise software. Enterprise resource planning is a $27 billion to $28 billion market, Nelson said, and represents a hole in Salesforce's portfolio.
While Benioff went head to head with Microsoft for LinkedIn, Nelson suggested that Salesforce isn't likely to make other megadeals and is likely to concentrate on opportunities in its home turf of customer relationship management applications.
Certainly, Saleforce could shake up the enterprise software sector, given that its current pecking order -- SAP (SAP) - Get Report , IBM (IBM) - Get Report and Hewlett Packard Enterprise (HPE) - Get Report  -- hasn't been expansionary.
"You've seen most of the transactions basically be assets that were sold, not bought," said Piper & Jaffray analyst Alex Zukin of the role that most of the software groups have played in recent auctions.
Jack Andrews of DA Davidson expects more acquisitions by software developers. "That is potentially going to be the next wave," he said adding that too many software companies are chasing too few opportunities. Acquisitions could help mature companies boost their growth.
The last big software M&A cycle was in 2011.
SAP, Oracle, Salesforce, Cisco and IBM dominated the action in the prior wave. Among buyouts during the 2011 cycle include SAP's $3.4 billion purchase of SuccessFactors, Oracle's $1.5 billion acquisition of RightNow Technologies and $1.9 billion buy of Taleo, and IBM's $1.3 billion buy of Eloqua.
This time around, Microsoft, Alphabet, Hewlett Packard Enterprise and Amazon.com (AMZN) - Get Report have joined the action, and that's among the reasons that Barnicle believes the current software M&A wave could last well into 2017. 
For a full list of targets in the enterprise software industry, click here.
EDITORS NOTE: This article was originally published by The Deal, a sister publication of TheStreet that offers sophisticated insight and analysis on all types of deals, from inception to integration. Click here for a free trial.