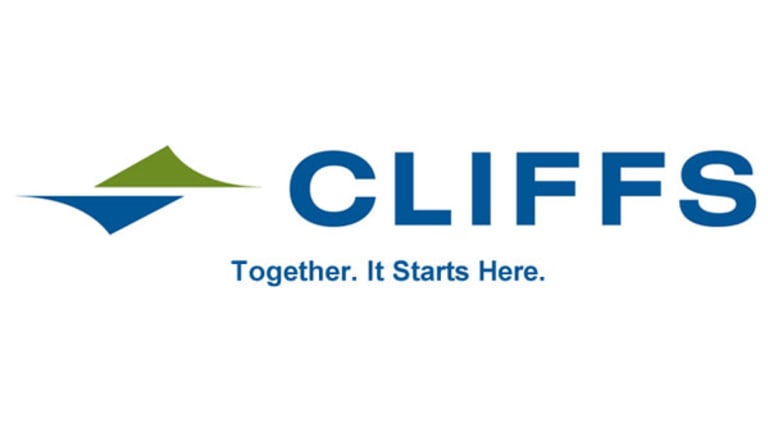 Cliffs Natural Resources Stock Surges as Activist Hedge Fund Wins Board Majority
Cliffs Natural Resources shareholders have voted in favor of a majority slate of directors proposed by fledgling activist hedge fund Casablanca Capital.
NEW YORK (TheStreet) - Cliffs Natural Resources (CLF) - Get Free Report shareholders have voted in favor of a majority slate of directors proposed by activist hedge fund Casablanca Capital, which has vowed to sell or spin the mining company's international operations and refocus on its iron ore business in the U.S.
Cliffs stock surged over 9% on news, released by Casablanca, that the fund believes six of its directors had been voted onto the company's board. Those gains suggest investors believe positive change is imminent at the struggling miner.
Tuesday's voting results also represent Casablanca's first successful proxy campaign. The fund was created in 2010 and spent most of 2013 raising money and studying prospects for an activist investment. After six months of research, Casablanca disclosed a 5.2% stake in Cliffs and an outline to disentangle the company from a failed international expansion and $9 billion in wasted acquisitions and capital expenditure.
Many analysts immediately panned Casablanca's proposals. Right up until Tuesday's shareholder vote, proxy advisory firms like Glass Lewis and Institutional Shareholder Service waffled over whether they would recommend Cliffs' proxy or the one pitched by Casablanca. 
Cliffs has yet to announce results of the shareholder vote. "We look forward to receiving the final results of today's vote, and the Board and management team remain deeply committed to continuing to create long-term value for all of our shareholders," Cliffs said on Tuesday.
In recent quarters, Cliffs has worked hard to cut its costs and capital expenditure, idling some mine expansions and projects in the U.S., Canada and Australia to conserve cash until commodity prices recover. While those efforts yielded some positive results, Casablanca remained steadfast that strategic change was necessary.
The Nuclear Option
At times during an over half-year battle between Cliffs and Casablanca, it appeared a settlement between the two parties was near. In one proposed settlement, Cliffs would even retain control over its board, but install a Casablanca director as executive chairman.
On March 14, Cliffs' executive chairman James F. Kirsch indicated he was willing to take three of Casablanca's director nominees onto its board, with one director, Lourenco Goncalves, assuming his role of executive chairman. That offer, Casablanca believed, was acceptable.
Initial sketches of the settlement, disclosed in a June 11 filing with the Securities and Exchange Commission, show that Kirsch agreed Cliffs CEO Gary Halverson would report to Goncalves as executive chairman, subject to interviews with the company's board. Over the next month, Goncalves flew to Cleveland, Milwaukee, Houston, Washington and Ft. Lauderdale to interview with Cliffs' board members.
Cliffs decided Goncalves didn't have the right experience and said it would not accept a settlement that gave any Casablanca representative an executive role. After the deal fell apart, Casablanca ran a proxy campaign for a majority slate consisting of six directors, something Cliffs quickly fought.
Cliffs brought up the prospect that, if successful, Casablanca's slate could force the company to repurchase its outstanding debt, creating a liquidity crisis. That move, seen as a so-called "proxy put," has been used unsuccessfully by companies as a means to defend themselves against activists. To remove a proxy put, all a board has to do is approve a hostile slate of nominees, even if they run their own slate.
Last year, a judge forced Sandridge Energy (SD) - Get Free Report to approve activist board nominees. Recent cases such as Morgans Hotels Group and Health Management Associates (HMA) , where a company threatened a proxy put, ultimately broke the way of activists.
Cliffs eventually approved Casablanca's board nominees. Perhaps, after invoking a nuclear option, some Cliffs shareholders were convinced that change was in order.
Earlier in July, TheStreetreported that Casablanca appeared to have some key shareholder support in its campaign for a majority slate. 
When Casablanca nominee Patrice Merrin was given a seat on Glencore Xstrata's board in late June, Cliffs shareholders reached out to Casablanca to ask for a replacement nominee, ensuring a full six-member slate, according to one source familiar with the situation.
Those calls indicated an appetite for change after years of apparent missteps. On July 1, Casablanca nominated James Sawyer, a longtime CFO at chemicals producer Praxair (PX) , to replace Merrin on its six-director slate.
Pension funds appear to have been particularly supportive of Casablanca's board nominees.
Spins, Sales and Dividends
Some analysts said that Tuesday's vote would come down to the bullishness of Cliffs investors on the iron ore market. If investors believed a recovery was imminent, they might be inclined to side with Cliffs management. 
Goldman Sachs analysts said on Monday they believed Cliffs' Bloom Lake mine and its Australian mines "are not viable projects" if iron ore remains below $90 a ton. Goldman Sachs commodity analysts expect iron ore prices to average $80 over the next few years.
Instead of remaining hopeful of a recovery in iron ore, investors appear to have sided with Casablanca's proposal to pull Cliffs back from a bet on permanently high commodity prices and international expansion.
Without the burden of money-losing international operations and costly development projects, Casablanca believes Cliffs will be able to focus on its profitable U.S. operations and return capital to investors.
With Casablanca's board in control of Cliffs, it is unclear what if any immediate management changes will occur. Previous discussions had centered on giving board nominee Goncalves an executive chairman role, while keeping CEO Gary Halvorson with the company.
"We are grateful to our fellow Cliffs shareholders for their careful consideration of the issues and gratified that they have sent a resounding message of support for our efforts to drive meaningful change at Cliffs, bring true accountability to the Company's leadership, and restore shareholder value," Casablanca Donald Drapkin chairman said in a Monday statement. 
"The conclusion of this proxy contest marks not an end but a beginning," Laurenco Goncalves said. "We look forward to working collaboratively with the continuing members of Cliffs' Board and the Company's hardworking, dedicated and talented employees to set Cliffs on a course to improve performance and restore shareholder value," he added.
Cliffs shares were rising 9.7% to $18.20 on Tuesday despite having fallen over 31% year-to-date. Casablanca acquired its Cliffs stake at an average price of about $25 a share, indicating that the fund's work is only beginning.
"If Casablanca assumes control of the Board, we believe this will have meaningful long-term ramifications on Cliffs' operational strategy (including potential asset sales and/or mine closures)," KeyBanc analysts said on Monday.
Okapi Partners ran Casablanca's proxy contest, while D.F. King worked for Cliffs.
-- Written by Antoine Gara in New York