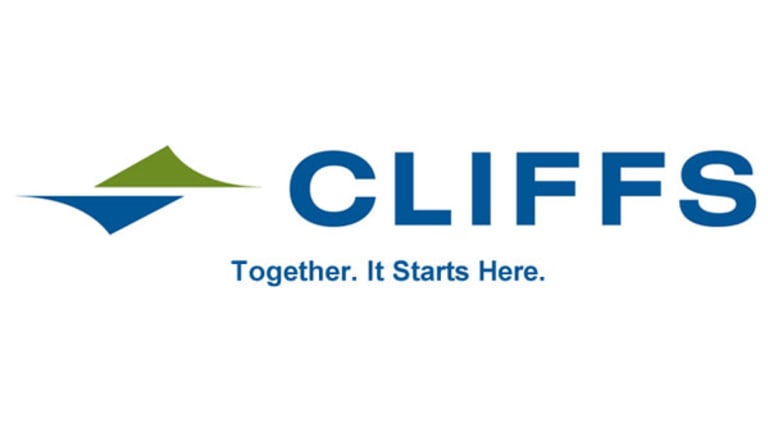 Cliffs Natural Resources Future Heads to Shareholder Vote
For six months, Cliffs and Casablanca have battled over their competing strategies in what looks to be one of the thorniest activist investments in recent memory.
NEW YORK (TheStreet) -- In early 2011, Cliffs Natural Resources (CLF) - Get Cleveland-Cliffs Inc Report made an all-in bet on recovering iron ore prices through a $4.9 billion acquisition of Quebec-based miner Consolidated Thompson. Within 18 months, iron ore prices plummeted to lows not seen since the depths of the financial crisis, and in January 2014, fledgling activist hedge fund Casablanca Capital bought $200 million of Cliffs' stock and said it had a plan to turn the company around.
For six months, Cliffs and Casablanca have battled over their competing strategies in what looks to be one of the thorniest activist investments in recent memory. If the price of iron ore has dropped nearly 50% since Cliffs signed its Consolidated Thompson deal, the company's shares have fallen almost as much since Casablanca disclosed its 5.2% stake in late January 2014.
In mid-March, after lengthy discussions between Casablanca and Cliffs over strategy and board seats, it appeared a settlement to bring a slate of Casablanca-nominated directors onto Cliffs' board was near. By April, Cliffs abruptly ended those talks and by May, the company insinuated that a successful hostile campaign by Casablanca could force the company to repurchase outstanding loans, triggering a liquidity crisis.
Push to Break Up Cliffs Turns Hostile
Casablanca Banking on Change at Cliffs
With no settlement on the horizon, Cliffs and Casablanca sent their proposals to shareholders to vote on at the company's July 29 annual shareholder meeting. Casablanca wants six seats on a nine-member board at Cliffs with one nominee, Laurenco Goncalves, acting as the company's senior most executive officer. Casablanca has also promised to withdraw Cliffs from what it sees as a failed international expansion, helping the company re-focus on its profitable U.S. operations.
By contrast, Cliffs is asking shareholders to support its nine-member slate of board directors and a plan to cut the company's expense to preserve value for investors as it awaits a bottom in the iron ore market. Cliffs shares are off over 40% year-to-date and are within striking distance of 10-year lows.
Some signs indicate that as Casablanca has suffered large paper losses on its Cliffs investment -- the fund's only major current holding -- it may be gaining support for its activist effort.
Some key shareholders appear to be supportive of Casablanca's majority slate of directors. So much so, when Casablanca nominee Patrice Merrin was given a seat on Glencore Xstrata's board in late June, Cliffs shareholders reached out to Casablanca to ask for a replacement nominee, ensuring a full six-member slate, according to one source familiar with the situation.
Those calls are perhaps indicative of shareholders' appetite for change after years of apparent missteps. On July 1, Casablanca nominated James Sawyer, a longtime CFO at chemicals producer Praxair (PX) , to replace Merrin on its six-director slate. Still, Casablanca's recommendations are controversial.
Can Cliffs Be Fixed?
When Casablanca first unveiled its investment, analysts were generally lukewarm on the feasibility of the firm's plans. One issue is that Cliffs' past mistakes are so great it may only have a limited ability to change. The Consolidated Thompson acquisition may be Cliffs' most crucial mistake.
Cliffs took on billions in debt to make the all-cash acquisition and it has plowed a further $1.5 billion in capital expenditure to develop an initial phase of the company's Bloom Lake mine in Quebec. For all that spending, Bloom Lake's first phase of mine development is running at a loss. Earlier in 2014, Cliffs decided to idle Bloom Lake's phase two expansion until a recovery in iron ore prices takes hold.
Ignace Proot, a mining analyst with Bernstein Research, believes Cliffs may have a hard time ultimately selling or shuttering Bloom Lake as a result of debt commitments attached to the mine. He also questions the mine's economics even with a moderate recovery in iron ore prices.
"Fundamentally, the problem with Cliffs is they overpaid for assets in Canada," Proot said in a July 14 telephone interview. "An activist shareholder cannot change the asset," Proot added.
For Casablanca, Bloom Lake stands as the biggest example of the company's waste. Others include $1.4 billion the company invested in coal assets in West Virginia and Mississippi, and $500 million it spent on chromite assets in Canada's so-called "ring of fire." In total, Casablanca calculates that most of Cliffs' current board has approved M&A and investments that wasted roughly $9 billion across the company.
Many of those assets have also recently been put on ice. Cliffs recently halted the development of its chromite project, and idled both its Wabush mine in Labrador and its Pinnacle coal mine in West Virginia.
In its response to Casablanca's six-member slate, Cliffs asked shareholders to re-elect nine members, effectively ceding two seats to Casablanca. The company also noted in its July 14 proxy, it has cut capex by 65% since 2013 and improved the company's financial flexibility.
Cliffs understands "how to protect their assets in today's environment," the company said in its proxy, while urging investors to vote against Casablanca's "irrational" plans and "inexperienced" board candidates. "We believe that Casablanca's notion of "fixing" Cliffs is ill-conceived and short-sighted," the company said in its proxy.
Meetings Lead to Standoff
It didn't always appear that Casablanca would need to run a hostile campaign. According to SEC filings posted by Casablanca, the fund believed a settlement with Cliffs was imminent in mid-March.
On March 14, Cliffs' executive chairman James F. Kirsch indicated he was willing to take three of Casablanca's director nominees onto its board, with one director, Lourenco Goncalves, assuming his role of executive chairman. That offer, Casablanca believed, was an acceptable starting point to bring about change.
Initial sketches of the settlement, disclosed in a June 11 filing with the Securities and Exchange Commission, show that Kirsch agreed Cliffs CEO Gary Halverson would report to Goncalves as executive chairman, subject to interviews with the company's board. Over the next month, Goncalves flew to Cleveland, Milwaukee, Houston, Washington and Ft. Lauderdale to interview with Cliffs' board members.
Cliffs concluded that Goncalves didn't have the experience the company required and said it would not accept a settlement that gave any Casablanca representative an executive role on its board.
A month later, Cliffs brought up the prospect that, if successful, Casablanca's slate of nominees could cause the company to have to repurchase its outstanding debt, creating a liquidity crisis. That move, seen as a so-called "proxy put," has been used unsuccessfully by companies as a means to defend themselves against activists. To remove a proxy put, all a board has to do is approve a hostile slate of nominees, even if they run their own slate.
Last year, a judge forced Sandridge Energy (SD) - Get SandRidge Energy, Inc. Report to approve activist board nominees. Recent cases such as Morgans Hotels Group and Health Management Associates (HMA) , where a company threatened a proxy put, ultimately broke the way of activists.
Cliffs eventually approved Casablanca's board nominees.
Read TheStreet's Feature: How Family Dollar Lost Its Way
Walgreen's US Fate Could Be Sealed By Labor Day
Analysts React
Proot, the Bernstein mining analyst, doesn't think Cliffs' objections to the experience of Casablanca's board nominees hold much water. He, however, is equally skeptical of Casablanca's proposals for change.
Once Cliffs' North American businesses are freed from burdensome international assets, Casablanca expects to either convert the company to a master limited partnership (MLP) or have the company sold. However, Proot believes Cliffs U.S. businesses are too volatile to be MLP'ed.
"I would agree with Casablanca that something needs to happen at Cliffs," Proot said. "On Casablanca's specific proposals, I really don't agree with them." He rates Cliffs as "underperform" with a $13 a share price target. On a discounted cash flow analysis, Proot believes the company is worthless.
Recently, Casablanca began to criticize Cliffs' pay practices, which show rising compensation and low stock ownership among top executives even as shares continue to tumble. Perhaps, after testing one of the most ambitious and unusual activist efforts of 2014, Casablanca is now looking for established ways to rally shareholders.
Okapi Partners is running Casablanca's proxy contest, while D.F. King is working with Cliffs. Cliffs Natural Resources and Casablanca Capital declined to comment beyond their public statements and proxy filings. 
Hedge Funder Sees KKR's Next Deal In Washington Mutual's Shell
TheStreet's Top 5 Dealmakers
-- Written by Antoine Gara in New York