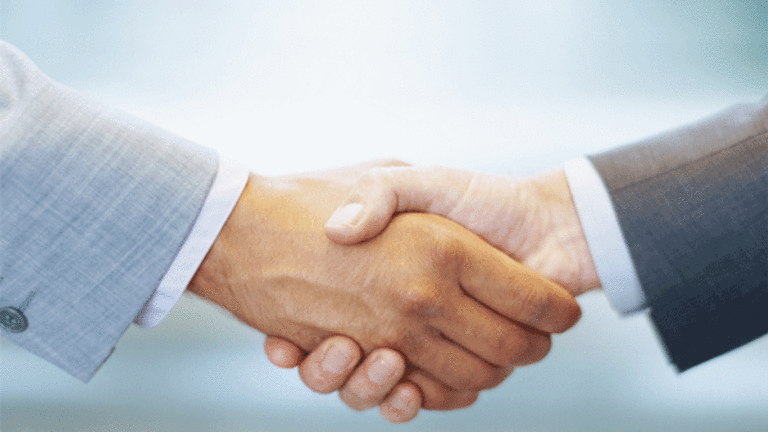 Clearwire's Surge Signals Higher Bidding
Clearwire's surge suggests bids may go higer for the Bellevue, Washington-based wireless broadband provider.
NEW YORK (
) --
Clearwire
(CLWR)
raced past a $4.40 per share takeout offer from Charlie Ergen's Dish Network Corp. as the shares surged 29% to close at $4.50.
The outsized move suggests investors expect a greater payout for the Bellevue, Washington-based wireless broadband provider. Dish said after the close that it has launched a tender offer.
Ergen's satellite-TV company increased its offer for Clearwire on May 29, topping Sprint Nextel Corp.'s bid to acquire the nearly 50% it doesn't already own for $3.40 per share.
The maneuver may well lead to a second postponement of a vote by Clearwire shareholders on a sale, which was originally scheduled for May 21 and later pushed to Friday, May 31.
Clearwire shareholders Crest Financial Ltd., Mount Kellett Capital Management LP, Highside Capital Management LP, Glenview Capital Management LLC and Chesapeake Partners Management Co. have opposed the deal with Sprint. Together they hold more than 26% of Clearwire's Class A shares, or about 13% diluted for securities held by Sprint.
Clearwire said that a special committee of its board would review the offer. Ergen's company has also made a takeout bid for Sprint, which has agreed to sell a 70% position to Softbank Corp. The Japanese telecom has already said that part of the reason for its Sprint bid is the appeal of Clearwire and its spectrum licenses.
Separately, Ergen is a player in the reorganization of Harbinger Capital Partners LLC-backed LightSquared Inc. He could amass a substantial portfolio of wireless licenses.
"Dish is positioning itself to eventually becoming the largest holder of spectrum in the US, thereby increasing its long-term competitive status in the wireless industry," Amy Yong of Macquarie Group Ltd. suggested in a Thursday report.
"With a potential acquisition of LightSquared also on the horizon, Dish's portfolio of spectrum could include 132MHz from Clearwire, 53MHz from Sprint, and its own 45MHz," Yong added. If forced to reduce debt, she suggested, Ergen could sell some of the spectrum or parlay licenses into a wholesale deal.
Dish has conditioned its offer for Clearwire on receiving at least 25% of the fully diluted vote, and said it would want at least three board seats.The satellite company also offered Clearwire up to $800 million in funding, available in installments of $80 million per month.
"We can't see how Charlie doesn't win here," Wells Fargo Securities LLC analyst Marci Ryvicker stated in a Thursday report.Ergen would either get a three-way wireless partnership between Dish, Sprint and Softbank or would add to his spectrum hoard.
"CHECKMATE," Ryvicker concluded.