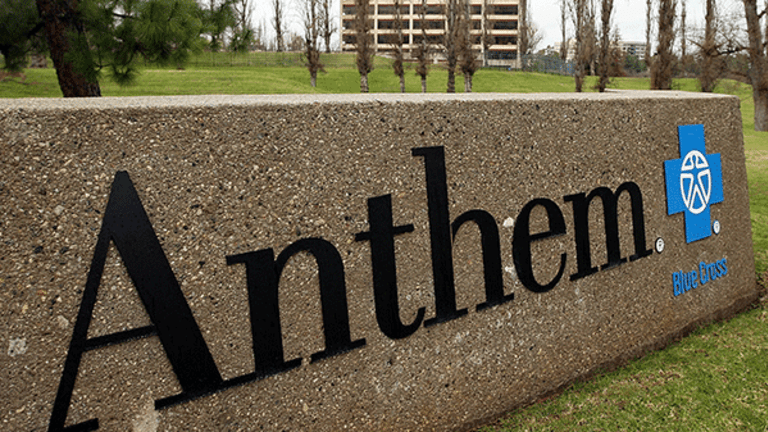 Cigna Case Could Upend Decades-Old Merger Law
Anthem's appeal of a decision to the Supreme Court relies on a dissent that says today's precedents pre-date antitrust enforcers' 'modern approach.'
Anthem's (ATH) - Get Athene Holding Ltd. Class A Report announcement Friday that it will seek Supreme Court review of lower court rulings blocking the health insurers' plan to acquire Cigna (CI) - Get Cigna Corporation Report would, if the justices take the case, be the first time they rule on a substantive merger issue in more than 40 years.
Anthem's bid for a Supreme Court hearing is a long shot. The high court has shown no inclination to take up a true merger case even though the most -relied upon merger precedents date from the 1960s. Also, Anthem hinted that its appeal would make heavy use of the dissent of Judge Brett Kavanaugh, of the U.S. Appeals Court in Washington, who penned a strident 19-page dissent against his colleagues' decision uphold a lower court's decision to block the $54 billion merger. His colleagues derided Kavanaugh's dissent in their opinion blocking the merger.
Anthem said in a statement Friday that stopping the merger "would limit access to high quality affordable care for millions of Americans and deny them more than $2 billion in medical cost savings annually." Anthem quoted Kavanaugh's dissent, which maintained that "the record evidence decisively demonstrates that this merger would be beneficial to the employer-customers who obtain insurance services from Anthem and Cigna."
Anthem also argued that "1960s-era merger precedents relied upon by the courts . . . must be updated to reflect the modern understanding of economics and consumer benefit."
Anthem's plans may be moot if a Delaware judge rules in favor of Cigna's effort to terminate the merger and collect a $1.85 billion reverse breakup fee. A hearing on Anthem's lawsuit to keep Cigna in the deal will be held Monday, May 8, in Delaware Chancery Court.
The government was previously able to upend another mega-merger in the insurance space in February when a federal judge blocked Aetna's (AET) $37 billion takeover of Humana (HUM) - Get Humana Inc. Report , citing anti trust concerns.
Cigna officials, who reported first-quarter earnings Friday, declined to discuss either the Delaware case or Anthem's plans to seek Supreme Court review. 
"We not going to expand further in terms of speculating [on] the outcome," Cigna CEO David Cordani told analysts during the company's earnings call. "Well leave it to the courts to draw the conclusion and we will communicate ... as soon as there is clarity in terms of next steps."
This article was originally published by The Deal, a sister publication of TheStreet that offers sophisticated insight and analysis on all types of deals, from inception to integration. Click here for a free trial.
Kavanaugh claimed that the Department of Justice, which sought a federal court ruling stopping the merger and the federal district judge who originally granted the DOJ's request, failed to adequately examine the pro-consumer efficiencies created by the merger. The problem for Anthem is that, even though antitrust enforcers recognize efficiencies as a possible benefit that could help merging parties win approval for an otherwise anticompetitive deal, there is little court precedent addressing efficiencies and no merging party has ever successfully used the efficiencies defense to defeat a government merger challenge.
In arguing for the case to be sent back to district judge Amy Berman Jackson, Kavanaugh cited a report prepared by the Anthem-Cigna integration planning team in consultation with McKinsey & Co. that "calculated $2.6 billion to $3.3 billion" in projected annual savings for the combined company's customers.
Kavanaugh wrote that he would have reversed Berman on the efficiencies point but remanded the case to her to determine if a merged Anthem/Cigna would have too much pricing power over hospitals and doctors.
Kavanaugh indicated that he's not worried about the insurers' pricing power, however, because he views them as mere "purchasing agents" and who limit the more relevant pricing power that hospitals, doctors and other healthcare providers have over the employers, who are the primary customers in the health coverage business.
"These insurance companies act as purchasing agents on behalf of their employer-customers in the upstream market where the insurers negotiate provider rates for the employer-customers," Kavanaugh argued. "When the insurers negotiate lower provider rates, those savings go directly to the employer-customers. The merged Anthem-Cigna would be a more powerful purchasing agent than Anthem and Cigna operating independently. The merged Anthem-Cigna would therefore be able to negotiate lower provider rates on behalf of its employer-customers."
In her ruling upholding Berman Jackson's opinion, appeals court judge Judith Rogers, criticized Kavanaugh's contention that efficiencies weren't adequately considered.
Rogers derided as "wishful thinking" his claim that previous court rulings on efficiencies can be disregarded because they predate what he called the "modern approach" adopted after three Supreme Court decisions since the mid-1970s. None of those cases addressed efficiencies, she wrote.
"Our dissenting colleague applies the law as he wishes it were, not as it currently is," she said. Despite the lack of Supreme Court rulings on horizontal merger issues since 1975, it still is not a lower court's role to ignore onpoint precedent so as to adhere to what might someday become Supreme Court precedent," she wrote.
If the court does take up Anthem's appeal, it would create a stir in the antitrust bar because of the dearth of recent rulings. The last Supreme Court case directly addressing a direct merger issue was when it ruled in Citizens and S. National Bank. The court's last substantive ruling was in 1974's U.S. v. General Dynamics, in which the court rejected a merger challenge by federal antitrust authorities, finding that current market share statistics alone do not always paint a proper picture of a company's future ability to compete and ruled that a merger that might otherwise be viewed as anticompetitive may go forward if the target is struggling and not considered a factor in the competition for new business.
Even more striking, most of the Supreme Court rulings cited in merger cases were handed down in the 1950s and 1960s and reflect merger review standards that are much different than those currently practiced. They include 1962's Brown Shoe Co. Inc. v. United States, in which the justices blocked a merger that would have given the maker of Buster Brown shoes control of more than 8% of the country's retail shoe outlets. Another is United States v. Philadelphia National Bank, a 1963 ruling in which the Supreme Court ruled that mergers creating a 30% market share were nearly always illegal.
Since then, antitrust enforcers at the DOJ and the Federal Trade Commission have incorporated more economic analysis into their merger reviews and tolerate much higher market shares by competitors in an industry.
In 2013 the court did rule for the FTC in the agency's challenge to a Georgia hospital merger, but the issues in that case didn't directly address merger law but rather the extent to which the "state action doctrine" allowed state government's to allow antitrust violations.
Trending on TheStreet:
Even One of the World's Richest People Thinks Amazon Is an Indestructible Beast
Here's a Big Clue That Warren Buffett Is Very Bullish on Bank of America's Future