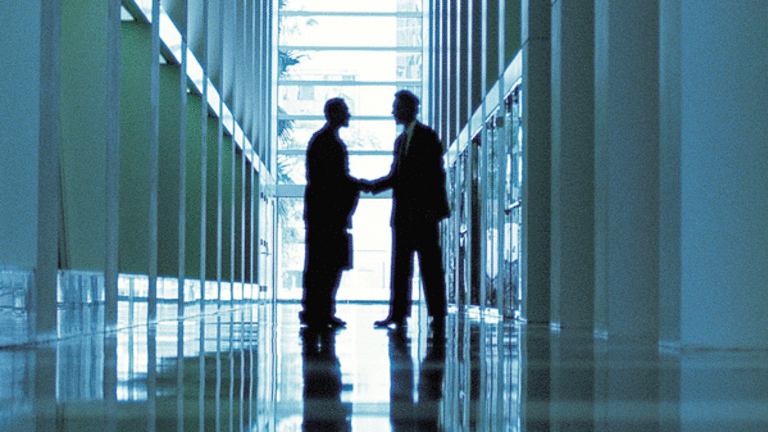 Chiquita Becomes Top Banana in Fyffes Merger With New Deal Terms
Still determined to merge, Chiquita Brands International and Ireland's Fyffes announce a revised agreement.
NEW YORK (The Deal) -- Still determined to merge, Chiquita Brands International (CQB)  and Ireland's Fyffes on Friday, Sept. 26, announced a revised agreement giving Chiquita a bigger chunk of the combined company after the Charlotte, N.C. group attracted the interest of Brazilian bidders.
Under the new terms, Chiquita shareholders would own about 59.6% of the future ChiquitaFyffes rather than 50.7% under the previous agreement, while Fyffes shareholders would own about 40.4% rather than 49.3% as originally planned.

Watch the video below for a closer look at the revised merger agreement between Fyffes and Chiquita:

WATCH: More market update videos on TheStreet TV
The produce distributors have also agreed to increase the breakup fee payable to Fyffes if the deal to form the world's leading banana company doesn't come to fruition, from 1% to 3.5% of Chiquita's total issued share capital. Fyffes shares rose 4.7% in Dublin Friday morning to €1.12, putting its market capitalization at around €333.4 million ($424.9 million). Chiquita shares closed at $14.00 in New York on Friday, for a market value of about $657.5 million.
The changes come after Brazilian orange juice maker Cutrale Group and investment company Safra Group made an unsuccessful takeover proposal for Chiquita in August. Chiquita has since entered talks with the duo after Fyffes earlier this month granted its merger partner a waiver allowing it to do so.
"The news is a positive development and increases the likelihood of the deal between Fyffes and Chiquita completing," said David Holohan, head of research at Merrion Capital Stockbrokers Ltd. in Dublin. "The increased proportion in the combined company being provided to Chiquita shareholders will likely assume concerns that shareholders had regarding the ownership structure. We continue to believe that the deal is extremely attractive for all parties."
Chiquita CEO Ed Lonergan, and chairman-designate of the enlarged group, said his company is "pleased with the increased value that these enhanced terms for Chiquita bring to our shareholders."
Fyffes Chairman David McCann will become CEO if the deal proceeds.
Chiquta and Fyffes shareholders must both approve the merger, which also requires clearance at the High Court of Ireland. The Chiquita shareholders' meeting is expected to take place on Oct. 24, while the Fyffes meeting and the court hearing are expected on Oct. 28.
The deal is still being examined by EU competition regulators, who have until Oct. 3 to reach a verdict in their routine probe. Chiquita and Fyffes have offered regulators unspecified concessions and reiterated on Friday that they "remain of the view that there is a good prospect that their proposed transaction can be cleared by the European Commission during its Phase I review."
The rejigged stock-for-stock agreement would give Fyffes 0.1113 ChiquitaFyffes share for each Fyffes share held, while Chiquita shareholders would get one ChiquitaFyffes share for each Chiquita share owned.
ChiquitaFyffes would have close to $4.6 billion in 2013 sales and be listed on the New York Stock Exchange. The combined company would surpass Westlake Village, Calif.-based Dole Food Co. as the world's top banana company but will hold the No. 2 slot behind Dole in the U.S.
ChiquitaFyffes would be the U.S. market leader in packaged salads and its top melon importer, as well as the third-largest pineapple distributor in the U.S. and Europe.
The combination would bring two companies back together nearly three decades after a part of what is now Fyffes was sold in 1986 by United Fruit Co., which later became Chiquita.
Lazard, Fyffe's financial adviser on the deal, provided its board with a fairness opinion on the revised agreement.