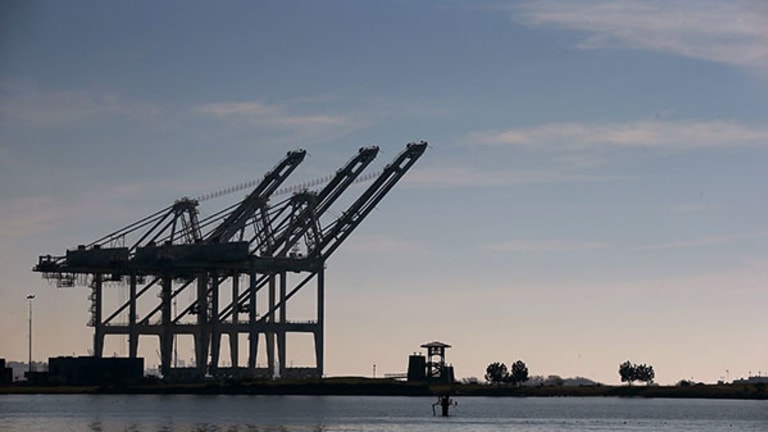 China's Zoomlion Makes Unsolicited $3.3B Bid for Terex
The Chinese company is attempting to break up a planned merger between the U.S. crane and equipment manufacturer and Finland's Konecranes.
Terex (TEX) on Tuesday confirmed receipt of an unsolicited $3.3 billion offer from China's Zoomlion Heavy Industry Science and Technology (ZLIOY) , calling into doubt the heavy equipment manufacturer's planned combination with Konecranes (KNCRF) .
Westport, Conn.-based Terex, a maker of cranes and construction machinery, in a statement said Zoomlion is offering $30 per share in cash, nearly double Terex' $15.01 per share Monday close. But the Zoomlion offer is conditioned on receipt of U.S. and Chinese regulatory approval, among other factors. Terex shares traded up more than 30% on Tuesday and closed at $20.48.
In August Terex announced plans to combine with Finnish crane builder Konecranes to create a company with about $10 billion in sales. The deal was billed as a merger of equals, though Terex holders would own 60% of the combination, which is to be called Konecranes Terex plc and be incorporated in Finland.
Executives with both Terex and Konecranes including Kone Chairman Stig Gustavson argued the original deal would give both companies "the critical scale" to remain competitive against competitors including against growing threats from emerging markets. The original deal called for Gustavson to be chairman of Konecranes Terex, with Terex CEO Ron DeFeo to be chief executive of the combination.
Shares of Terex, which traded near $30 last May, have been hit hard by fears of slowing global growth. The company prior to announcing a deal with Konecranes attempted a series of restructuring moves, including selling certain product lines that were deemed noncore and adding Germany's Demag Cranes AG in 2011 for about $1.4 billion.
Terex said it has entered into a confidentiality agreement with Zoomlion and is engaging in discussions, though its board has not so far changed its recommendation that the company proceed with the Konecranes transaction.
Reports surfaced Tuesday prior to Terex's confirmation that the U.S. company had rejected a Zoomlion offer. It is unclear whether the Chinese suitor is prepared to sweeten its bid to more than $30 apiece.
Zoomlion, of Changsha, is among the largest construction equipment makers based in China with an estimated more than $4 billion in annual sales. It is unclear whether U.S. regulators including Committee on Foreign Investment in U.S. would allow Terex to be acquired by a Chinese suitor, in part because of Terex's position as a maker of equipment used at U.S. ports.