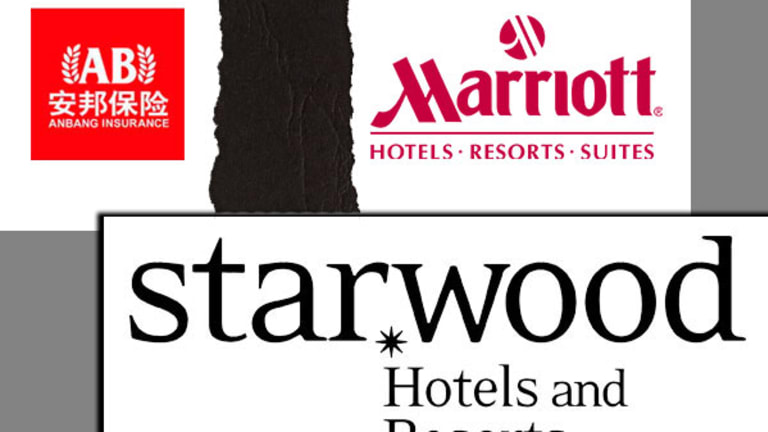 China's Anbang Walks Away from Starwood Bidding
The Chinese bidder's failure to counter clears the way for Marriott to acquire the hotel giant for $13.6 billion in cash and stock.
UPDATE: The story has been updated with a statement from Anbang confirming the withdrawal. 
China's Anbang Insurance Group Co. Ltd. after hours Thursday walked away from the bidding war for Starwood Hotels & Resorts Worldwide Inc. (HOT) , seemingly clearing the way for Starwood to be acquired by Marriott International Inc. (MAR) .
Bethesda, Md.-based Marriott agreed to acquire Starwood last November, but Anbang, joined by partners J.C. Flowers & Co. LLC and Primavera Capital Ltd., entered the fray earlier this month with a competing offer. Starwood recommitted to Marriott on March 21 after the original suitor sweetened its offer to $13.6 billion, but Anbang had made a tentative bid to top the Marriott offer again.
Anbang and its partners on Thursday called off the pursuit, citing "various marketing conditions." The announcement caused shares of Starwood to fall nearly 5% in after hour trading. Marriott's deal would pay Starwood holders $78.84 per share in cash and stock, compared to a tentative Anbang offer that was to potentially offer $82.75 per share in cash.
Though Stamford, Conn.-based Starwood's board had signed off on Anbang's original proposal, there were swirling doubts about the potential followup. Marriott last week hinted at questions about Anbang's financing options, and reports out of China indicated that the insurance company was facing some criticism from local regulators about the amount of capital it was deploying overseas.
Anbang already owns New York's Waldorf Astoria, acquiring it in 2014 for $1.95 billion, and has a separate deal pending to buy Strategic Hotels & Resorts Inc. from Blackstone Group LP (BX) for $6.5 billion. Chinese financial publication Caixin reported last week that the China Insurance Regulatory Commission has a "disapproving attitude" towards the Starwood bid and is worried that the deal would push Anbang's offshore asset total above approved thresholds.
Had Anbang's revised offer lead to a definitive agreement Marriott would have been entitled to a breakup fee of $450 million, with Starwood also required to reimburse Marriott for up to $18 million of actual costs incurred by Marriott in connection with the transaction financing.
Starwood and Marriott holders are scheduled to vote on their companies proposed transaction on April 8, a vote that will now likely proceed as planned absent some last minute development. The merger would create the world's largest hotel operator, with more than 5,000 properties worldwide and brands including St. Regis, Luxury Collection, W, Westin, Ritz-Carlton, Courtyard and Residence Inn.